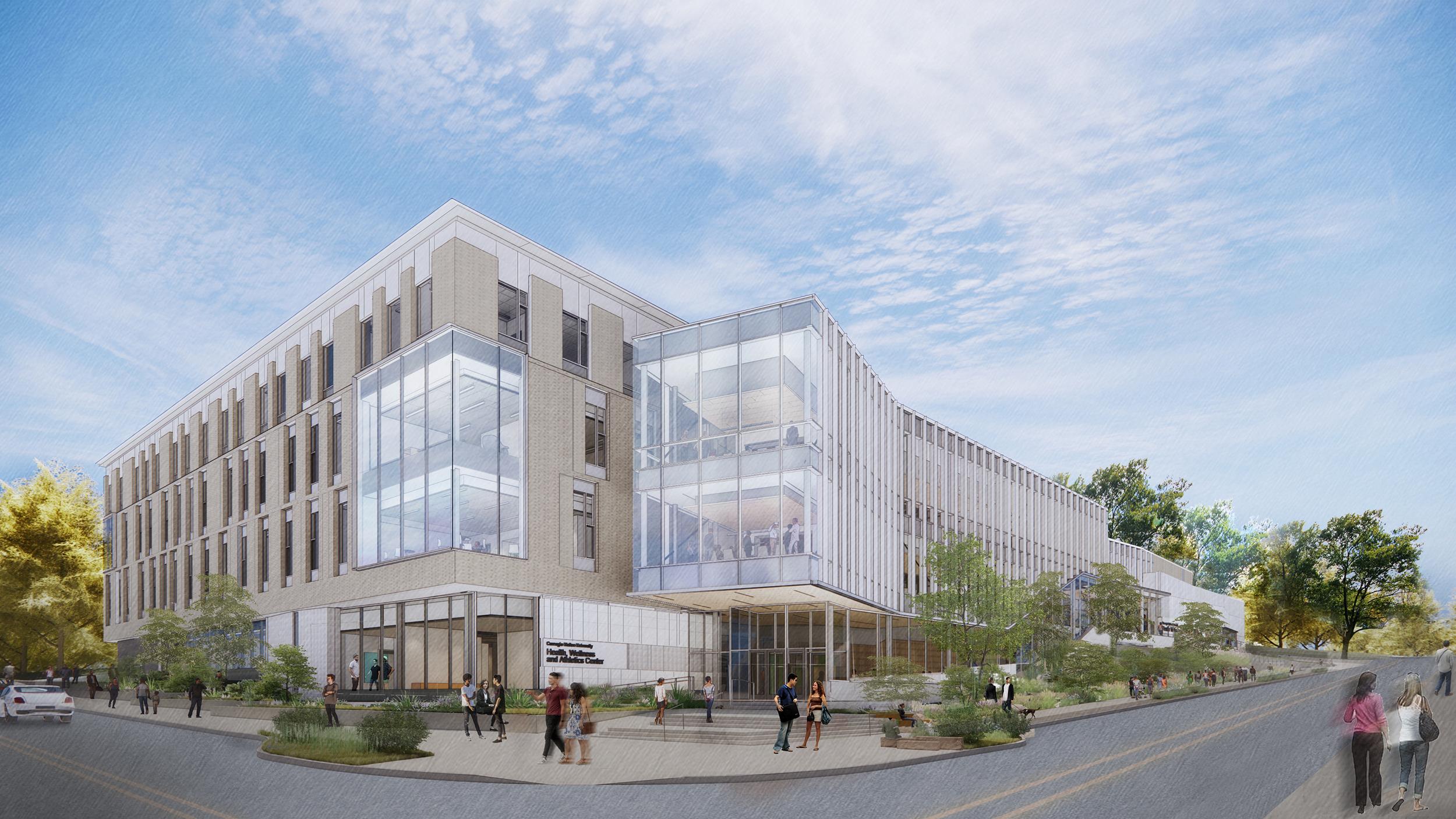 Carnegie Mellon University, Highmark Center for Health, Wellness, and Athletics
Pittsburgh, Pennsylvania
An integrated, inclusive wellness center will provide a new paradigm for holistic student health on campus, supporting interconnected emotional, physical, and spiritual needs.
With mounting academic, social, and environmental pressures, universities around the country are seeking ways to provide holistic wellness services to support students as they navigate the challenges of academic life. Thanks to a lead gift from Highmark Health, the new Highmark Center for Health, Wellness & Athletics will co-locate CMU's University Health Services (UHS), Counseling and Psychological Services (CAPS), Wellness Initiatives, Religious and Spiritual Life Initiatives, and Athletics, ensuring students have access to the support they need to thrive. Whether it's an athlete meeting with a therapist to help manage anxiety, a grad student who needs a quiet place for daily prayers, or an engineering undergrad playing pick-up basketball with friends—the new Highmark Center for Health, Wellness & Athletics will be a welcoming hub for student life and whole-self well-being. The LEED Gold design integrates wellness and nature throughout with strong connections to the outdoors and a focus on creating healthy indoor spaces with access to natural light, ventilation, natural materials, and is designed to provide inclusive facilities, like all-gender restrooms, as they become allowed by code.
The new integrated wellness center is positioned at the southern campus entrance along the border of lush Schenley Park, presenting an inviting "front door" that connects with the surrounding natural context and puts wellness on display. The center will restore and integrate the historic 1923 Skibo Gymnasium with a design that respects the beloved Henry Hornbostel-designed structure with a complementary, modern material palette and a fine-tuned sense of scale and proportion. The center provides abundant flexible spaces for student life, ranging from public and extroverted, like the cascading staircase along Tech Street, to quiet and contemplative, like the interior wellness garden. The building's program is as diverse as the student body it serves.