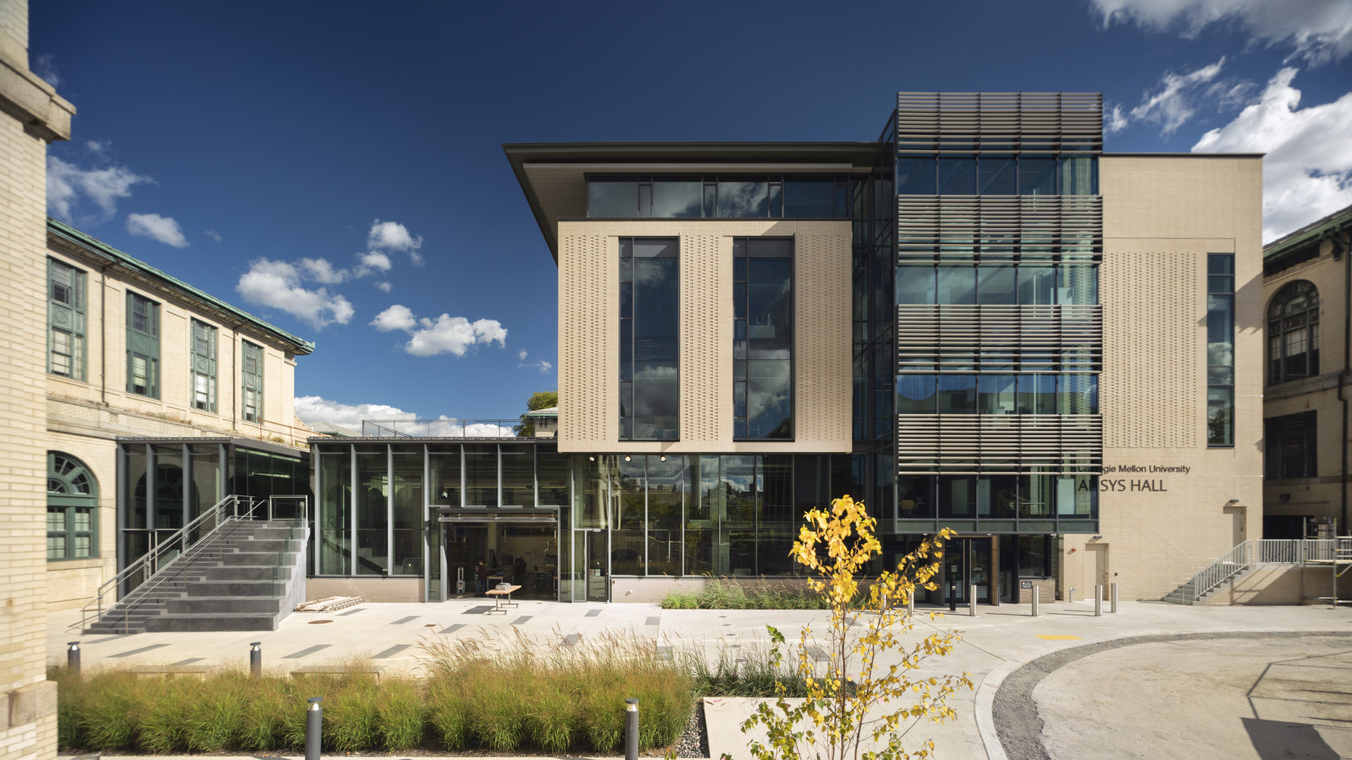 Carnegie Mellon University, ANSYS Hall
Pittsburgh, Pennsylvania
Designed for Carnegie Mellon University's College of Engineering in collaboration with the engineering software company ANSYS, Inc., ANSYS Hall is a hive for teaching, prototyping, and implementation.
ANSYS Hall centers innovation, with a flexible high bay, laboratories, and collaboration areas that open onto an outdoor maker court. The 36,000 square-foot project serves as a connective framework—acting as a physical bridge between the surrounding buildings while bringing together multiple academic departments, ANSYS Inc., and extracurricular groups.
Centrally located and highly visible, this campus hub for making employs ample use of glass, providing layers of transparency and visual connection to foster interdisciplinary exchange. Wherever you are within the building, you can enjoy views of bustling activity occurring in other spaces. When walking across the elevated outdoor bridge, campus visitors catch glimpses of undergraduates assembling full-scale prototypes in the high bay below. In turn, students working in the high bay enjoy views to the ANSYS Simulation Room where colleagues experiment with the ANSYS software—simulating interactions for physics, structures, vibration, fluid dynamics, heat transfer, and electromagnetics. The facility allows ANSYS, Inc., and students to collaborate openly and freely while providing ANSYS, Inc. with a secure office suite. Ensuring a long-term academic-corporate partnership, ANSYS Hall creates an environment where students learn and test cutting-edge simulation software, provide direct feedback to the manufacturer, and create a pipeline for future industry employment and leadership.
ANSYS Hall marks a new gateway at the southwest corner of campus, a strikingly contemporary response integrated within the historic Hornbostel-designed buildings. It is the final link to the College of Engineering "Maker Ecosystem" that includes nano-, micro-, and macro- fabrication, bringing together undergraduate and graduate students from multiple disciplines in a hands-on environment that encourages and displays the cross-pollination of ideas and innovation. The iconic design responds to the underlying principles of the existing architecture and campus context while offering a high-performing, adaptable space.