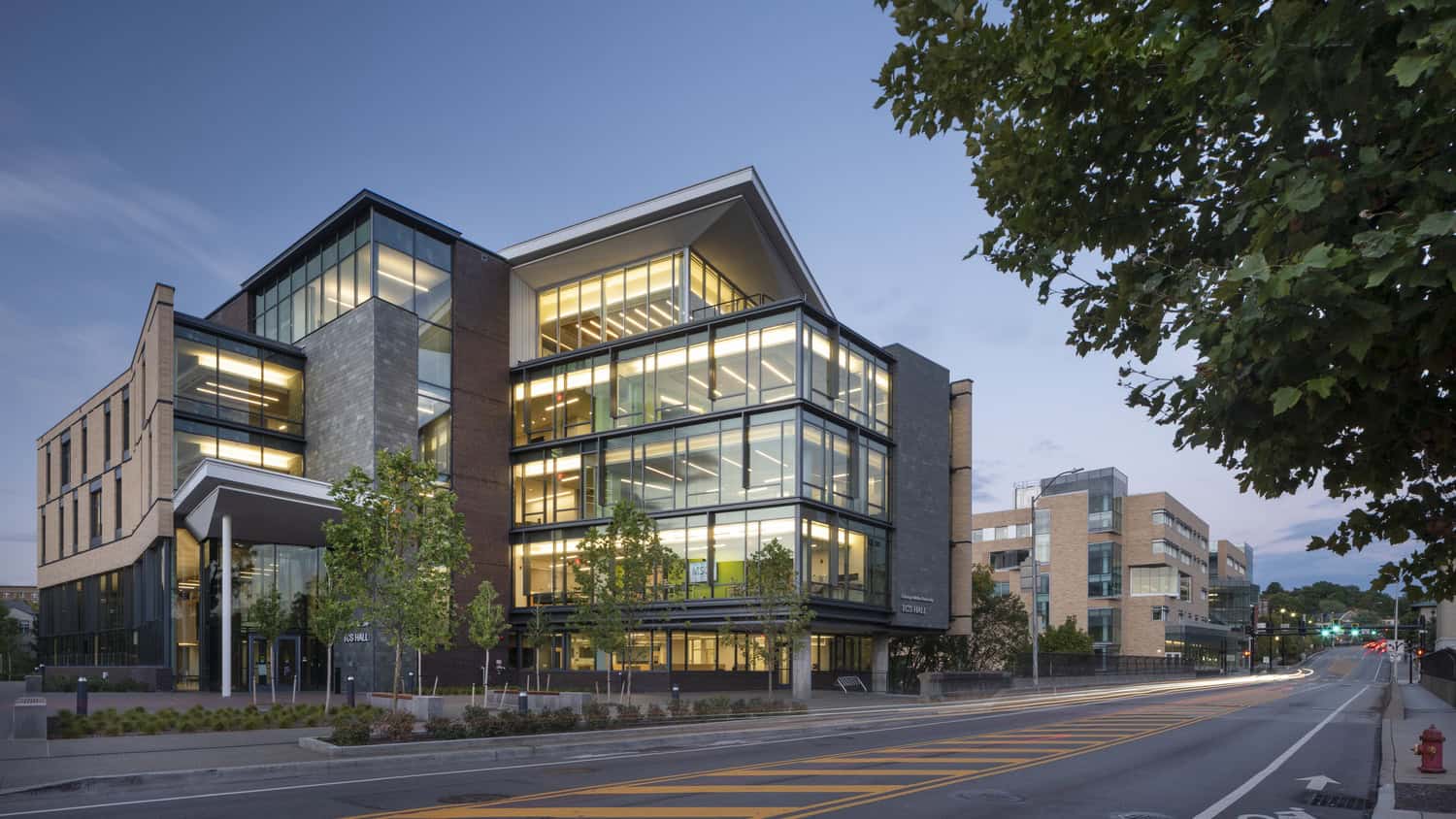 Carnegie Mellon University, TCS Hall
Pittsburgh, Pennsylvania
Realized in partnership with Tata Consultancy Services (TCS), an international technology and business solutions company, TCS Hall links campus with surrounding urban context, and academic research and innovation with professional pathways.
A dynamic academic-workplace hybrid, TCS Hall co-locates the Institute for Software Research (ISR), Master of Science in Computational Finance program, the University Business Engagement Center, and the TCS Pace Port research collaboration center under one roof, while providing a new campus gateway along Forbes Avenue. The 88,800 square-foot building features an asymmetrical core to create large floorplates that easily adapt to various uses and technology over time.
The LEED Gold design provides a spectrum of spaces supporting public, private, and shared functions—from individual remote learning to interdisciplinary collaboration to hosting events. The public-facing Center for Business Engagement is located at the ground floor and is a welcoming first point-of-contact for businesses looking to engage with Carnegie Mellon University. A new urban plaza with a two-story student "collaboration porch" provides an informal lobby and gathering space where students can meet for a quick study session at a laptop counter and enjoy views to the plaza and bustling Forbes Avenue beyond.
TCS Hall acts as a beacon and front door to campus, with collaborative spaces positioned along the street to foster connections between the dynamic activity within and the civic life below. In the evenings, these spaces glow, providing a fitting "welcome sign" for visitors. Situated against a steep hillside with sweeping views to main campus and the new business school across a large ravine, the building incorporates underground parking and services along the hillside, providing clarity to the architectural expression of the upper floors without sacrificing function. TCS Hall's architectural language responds to the surrounding urban context as well as Carnegie Mellon University's historic campus through the use of brick, terracotta, and aluminum.