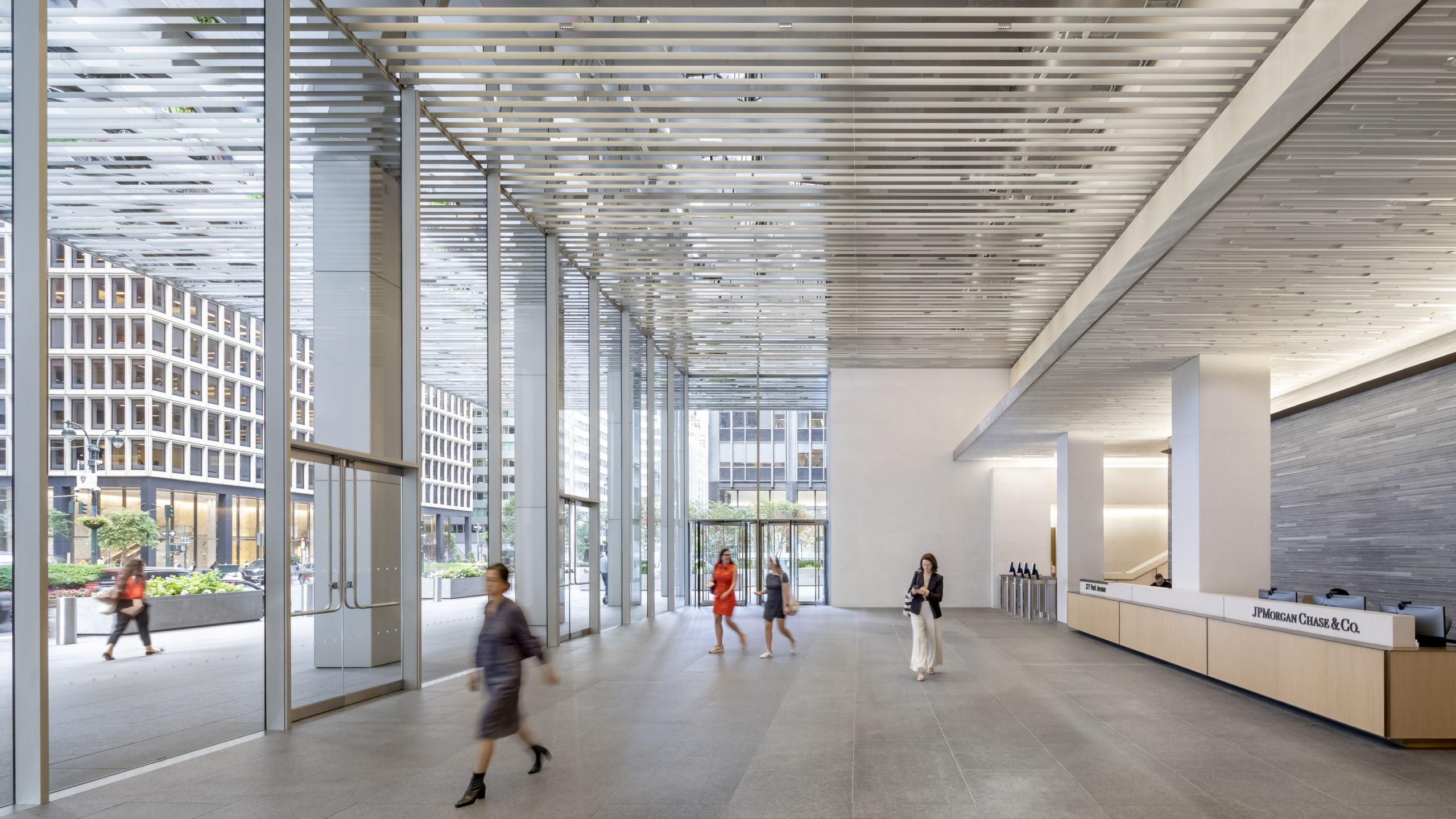 277 Park Avenue
New York, New York
An overhaul of 277 Park Avenue's public spaces will foster a reinvigorated sense of place for office tenants and visitors at this storied location, integrating new materials and advanced lighting techniques with original detailing and character.
Completed in 1964, 277 Park Avenue is a modernist, 50-story Class A skyscraper occupying a full city block just north of Grand Central Terminal. It is the flagship building of the Stahl Organization, a major New York real estate and investment group. Although immaculately maintained, the building's public face aged over time, while interior spaces like the plaza, lobbies, concourses, and elevators needed significant updates. To properly support the building's high-profile tenants and reflect its premier address, Stahl engaged our practice to revitalize all public areas of 277 Park Avenue.
We reconfigured the elevated public plaza to allow easier access at the corners of Park Avenue and integrated a dramatic metal and glass canopy that suspends over the plaza, establishing a fitting presence along this iconic thoroughfare. Reflective surfaces on the underside of the canopy visually expand the interior lobby space, as well as provide abstract imagery of light and movement from the street, during the day and at night. The plaza along Park Avenue leads to the building's formal lobby. The sense of scale is enhanced by the full transparency of a double height all-glass façade, and seamless treatment of interior and exterior elements, with floor and ceiling materials that extend from the lobby to the plaza.
A carefully choreographed sequence of material and light orients visitors and tenants throughout the public spaces, with warmer materials and light signifying destination points. We paid careful attention to the quality of light throughout the interior redesign, and advanced illumination techniques evoke the well-being and placemaking qualities of daylight in areas without access to direct natural light. Light panels in the elevator lobby are programmed to change in dimming and color temperature depending on the time of day and year, supporting natural circadian rhythm. In the morning, lights are dimmer and warmer in color; they become brighter and cooler in the afternoon, before adjusting back to dimmer and warmer in the evening. Common themes of reflectivity, texture, grain, and rhythm tie together the two lobby spaces, connecting concourses, elevator banks, and cabs. The secondary Lexington Avenue lobby carries over many of the same elements as the Park Avenue lobby, maintaining a cohesive identity at each entrance.