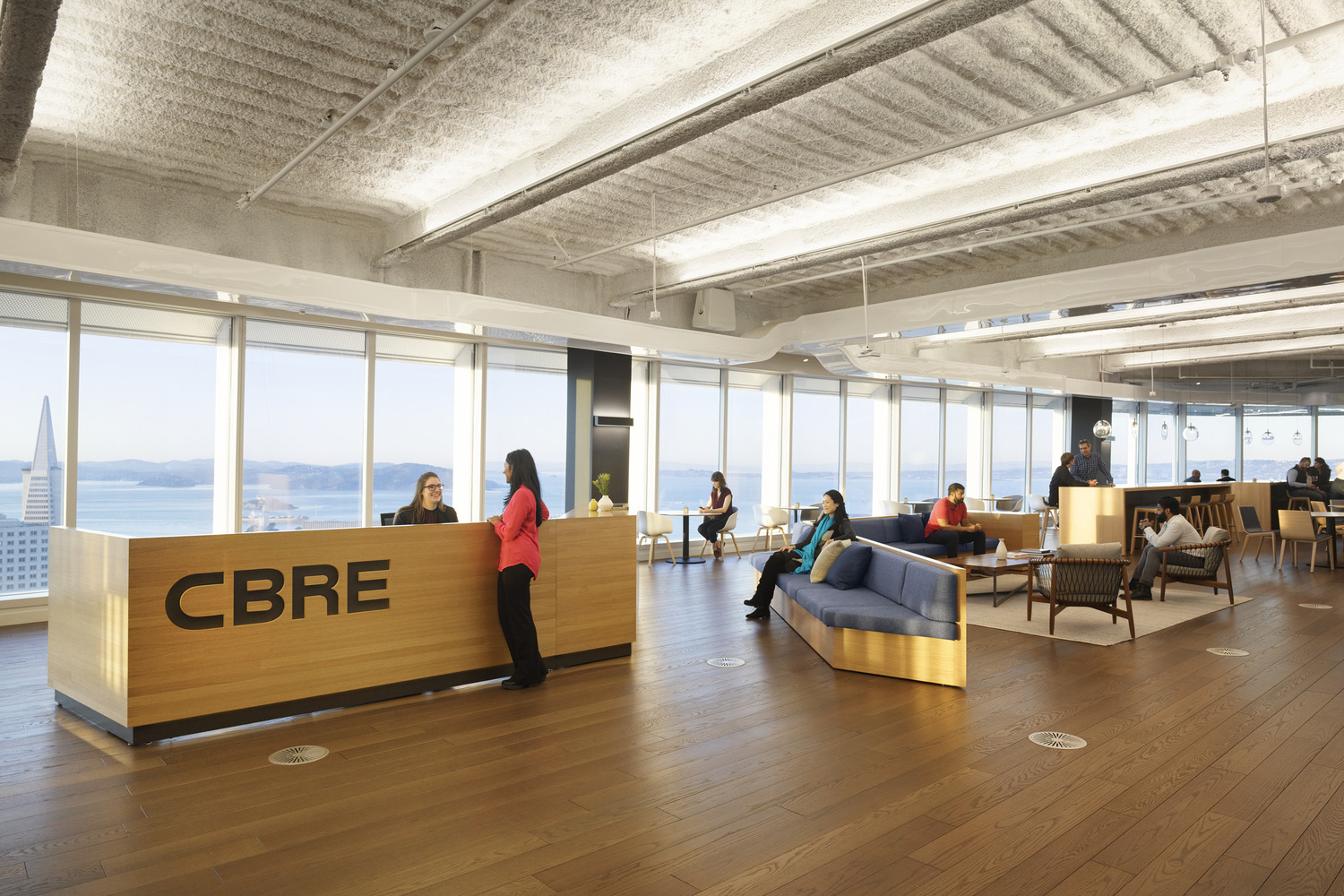 CBRE San Francisco
San Francisco, California
CBRE's San Francisco headquarters, located on the 45th and 46th floors of the Salesforce Tower, implement the company's innovative Workplace 360 program within a light-filled LEED Gold design.
SIZE
40,000 SF
COMPLETED
2018
PRESS
The commercial real estate brokerage CBRE, founded in San Francisco, wanted to provide its employees with an open and healthy new workplace that would also deploy its Workplace 360 program – a "free-address" strategy that transforms the workplace into a flexible and efficient environment in which there are no assigned desks or private offices. This strategy serves dual purposes, offering a variety of settings tailored to an increasingly mobile workforce, while providing a model for clients interested in optimizing their real estate footprint by building out only what is truly needed and eliminating underutilized space.
The 40,000 square-foot floorplan is organized around a continuous loop of circulation that hugs the Salesforce Tower's massive concrete-walled core. This circulation loop is defined by texture and tone, layering a signature slatted oak wood screen over the concrete and subtly exposing its characteristics. The material richness of the core creates a visual counterpoint to the bright white surfaces, exposed ceilings, and floor-to-ceiling glass curtainwall of the airy office environment. "Free-address" desks are arranged as small neighborhoods in a pinwheel configuration around the core, oriented perpendicular to the perimeter glass to offer all employees democratic access to light and views. Employees enjoy panoramic views and an abundance of natural light from their 700-foot-high perch above the city.
Each corner of the floor is anchored by a distinctive lounge that occupies the curving contour of the tower's façade. These corners offer a variety of alternative work environments that encourage employees to collaborate away from their desks: a lounge for brokers to discuss real estate opportunities with their clients, a bar for evening cocktail events, a teaming space for internal employee meetings, and a "map room" that showcases CBRE's collection of Sanborn-style parcel maps dating from the company's origins following San Francisco's 1906 earthquake. The design team used color strategically at each lounge, inspired by landmarks and vistas unique to its particular corner of the building.