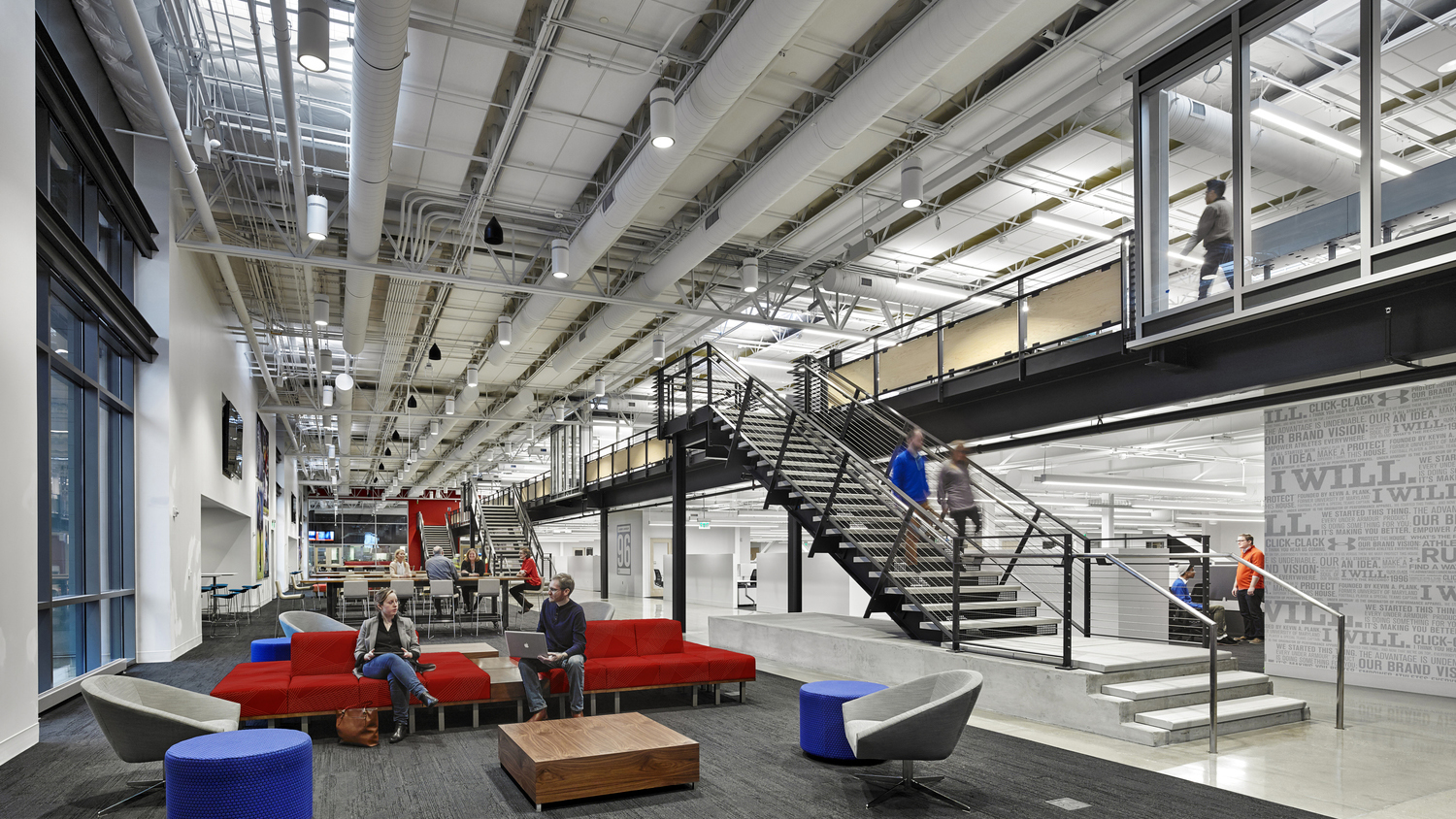 Under Armour, Building 37
Baltimore, Maryland
The first phase of a long-term master plan for Baltimore's Port Covington, the design of Under Armour's headquarters re-envisioned a former big-box store as a modern, light-filled workplace.
SIZE
170,000 SF
COMPLETED
2015
AWARDS
Certificate of Merit, Interior Architecture
Honor Award, Interior Architecture
PRESS
An abandoned Sam's Club building, with its industrial-height interior, may have seemed like an unlikely candidate for an office conversion. Located on the Port Covington Peninsula, the building turned its back to sweeping views of the Patapsco River. Redefining the building for its new use, we brought more natural light into the interior, reorganized the layout to take advantage of its waterfront location, and inserted a partial second level to create needed additional floor area.
With capacity for 600 employees, Building 37 amenities include a fitness center, 350-seat auditorium, coffee shop and café, conferencing spaces, and gathering places for impromptu collaboration. The new upper level creates a variety of spatial scales for office, dining, athletic and collaboration functions. Several tall concourses interconnect with large gathering areas, offering opportunities for collaboration and expansive harbor views.
The project was extraordinarily economical in terms of cost and construction duration. Detailed with modest materials, it creates an iconic representation of Under Armour's spirit. Supergraphics, bold color, over-scaled windows and interconnected public space energize the spirit of place and reinforce Under Armour's core principles of teamwork, sportsmanlike competition, and innovation.