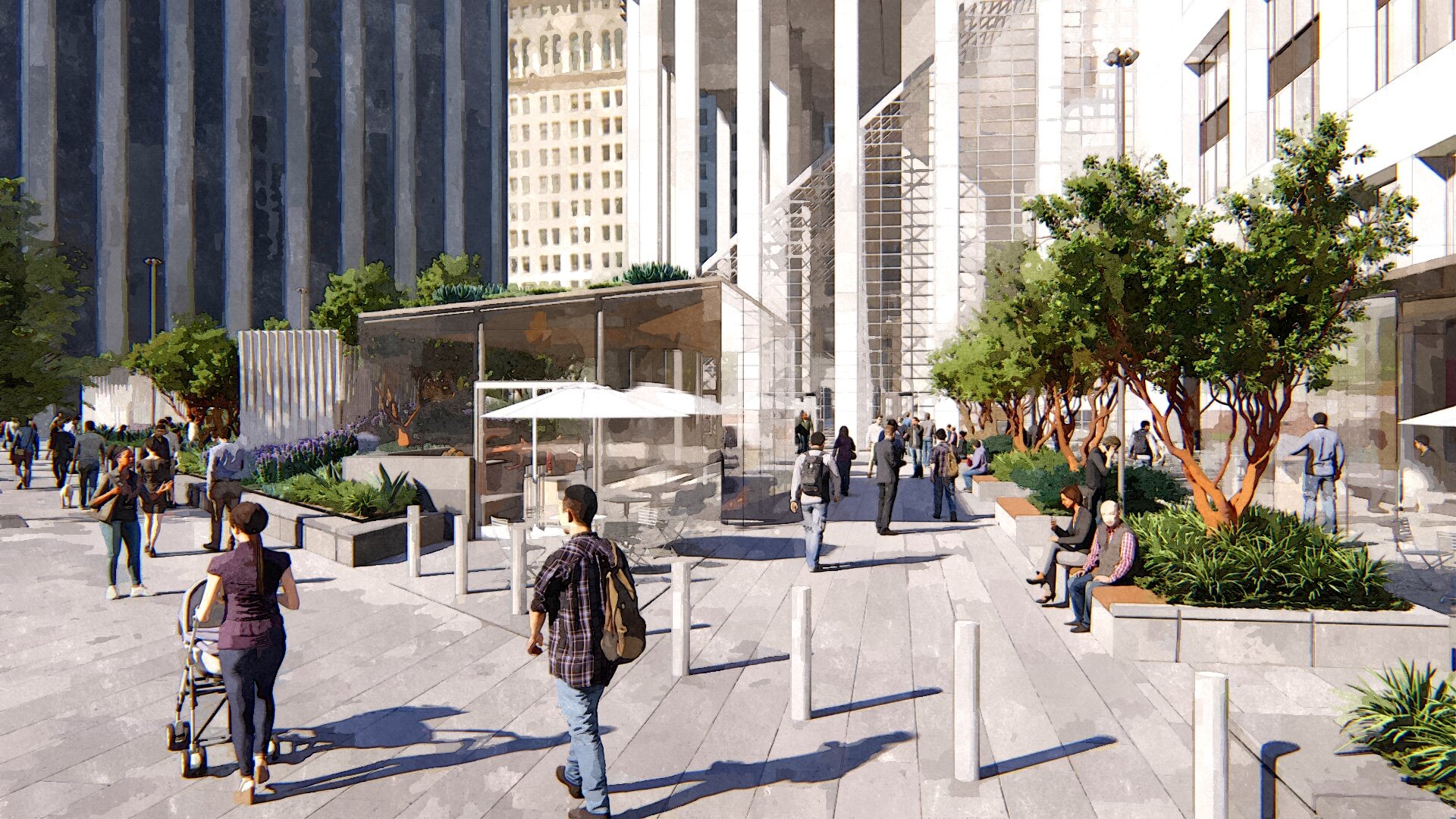 101 California
San Francisco, California
101 California's re-envisioned outdoor plaza, lobbies, and new tenant amenities create a more engaging, human-scale experience at this renowned downtown San Francisco location.
Designed by Philip Johnson and completed in 1982, 101 California is a 48-story office tower easily recognized by its seven-story, glass-enclosed lobby and expansive public plaza. Our client, Hines, was interested in revitalizing the plaza—a significant downtown public amenity—and strengthening the connection between indoors and out, creating a new entry experience for tenants and visitors with a variety of spaces to relax and meet guests.
Designed in collaboration with landscape architecture firm OJB, the plaza redesign is organized to create a greener and more open presence to adjacent streets while providing new opportunities for gathering throughout. A café pavilion and a new restaurant exterior along the annex promenade—including a canopy with built-in heaters, glass-enclosed dining room, and permanent planters along the patio—will provide opportunity for more comfortable dining on the plaza. Native plantings, selected for their hardiness and variety, provide a comfortable backdrop for people to meet for lunch or coffee and enjoy a moment of respite downtown. A flexible platform at the heart of the plaza is envisioned to host a variety of events, from intimate gatherings to street fairs.
The introduction of pearl granite paving inside and out creates continuity between plaza and lobby. New lighting and seating areas with warmer, more inviting furniture will provide space for greeting and meeting guests and flexible working areas. A significant new addition to the building, "The Clubhouse," is a café and lounge situated in the southeast corner of the ground floor, between the Davis and Pine Street entrances. Above the café, a tenant-only space allows for casual work, small team meetings, or gatherings, while offering views from a cantilevered skybox projecting into the lobby atrium.