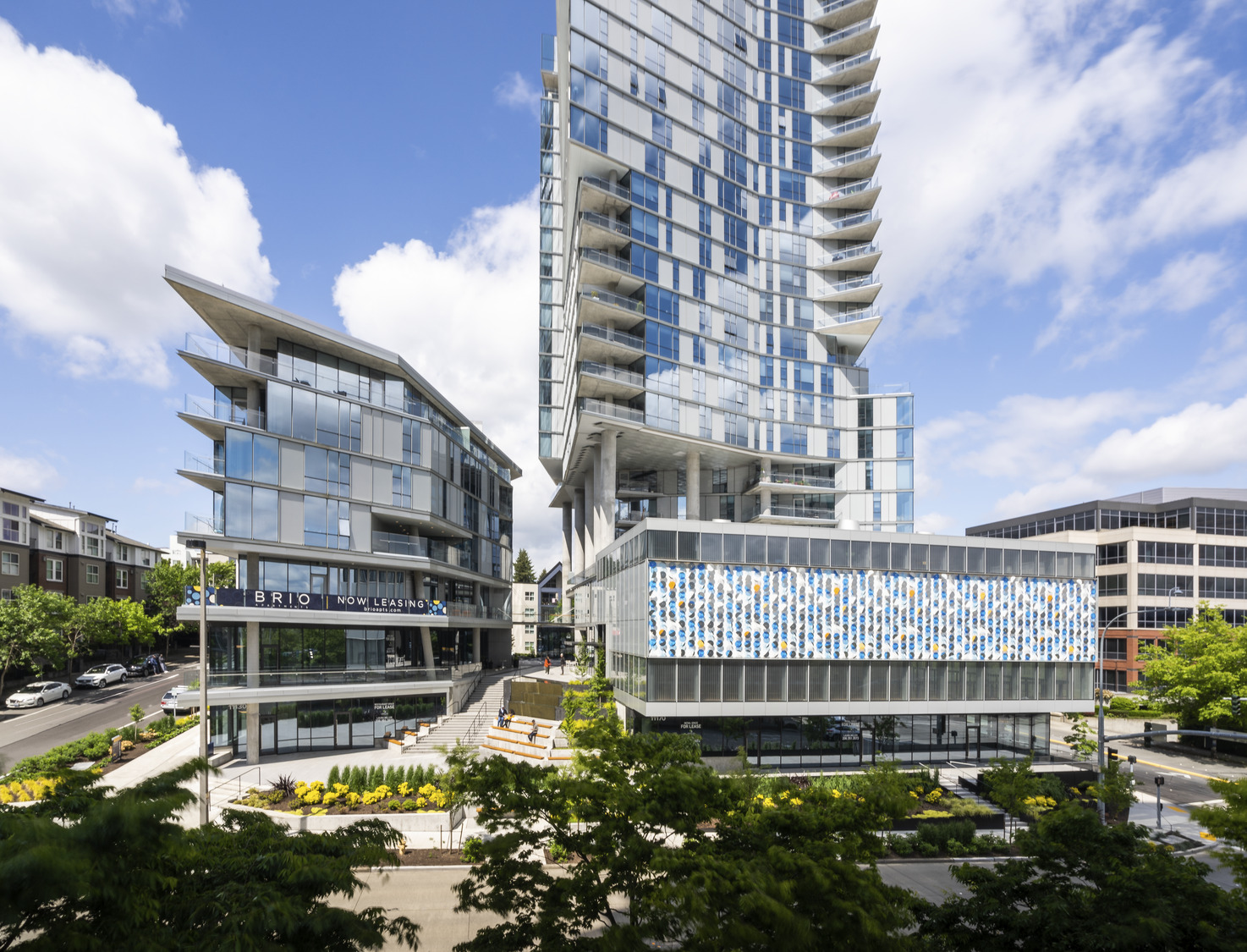 Brio Tower
Bellevue, Washington
Located between the neighborhoods of Northwest Bellevue and the city's rapidly evolving downtown, Brio Tower consists of a residential tower and mid-rise comprising 250 units, a flexible public athletics and events space, and a mid-block pedestrian walk with retail shops.
Our client, a developer with a history of successful community-oriented projects in Bellevue, wanted to create a project that brought value to the surrounding neighborhood as well as its occupants – young professionals and families increasingly attracted to the city's size, accessibility and amenities. Separating the residential mid-rise and tower on the site created opportunities for diverse public activities between the two. We designed clear entry points from the north and south, where the landscape and architectural form of the buildings invite exploration of the public outdoor space and retail shops along the mid-block connection.
The angled southern corner of the residential mid-rise along NE 10th Street allows increased solar exposure and provides an open entrance to the podium, mid-block connection, and performance court, drawing pedestrians inward and upward along a grand stair. The scale of the six-story mid-rise, which includes larger apartments for families, responds to that of the adjacent multifamily apartments across the street to the west and north.
At the base of the residential tower, the "performance court" offers a versatile environment for public use on the site – a protected indoor/outdoor space for athletic activities, art walks, exhibitions, and formal and informal performances. The rectilinear shape of the court anchors its expressive residential counterparts, while large operable doors connect interior to exterior. Movement through the site forces perspective as the tower soars above, articulated by a combination of walkways, balconies, soffits, and roof lines.
Brio's 23-story residential tower anchors the northeast corner of the site and responds to our client's desire to establish a dramatic new presence in the evolving city skyline. Analyzing views of the building from different contexts, as well as panoramic occupant views of Lake Washington, Mount Rainier and the city's downtown, informed our approach to the building's form and facade. A window wall of vision glass and white spandrels in varying widths form a pattern that shifts according to interior program, views, and solar orientation. The mid-rise is clad in window wall units of the same proportion as the residential tower and introduces metal panels and a palette of dark gray tones to provide differentiation between the two.