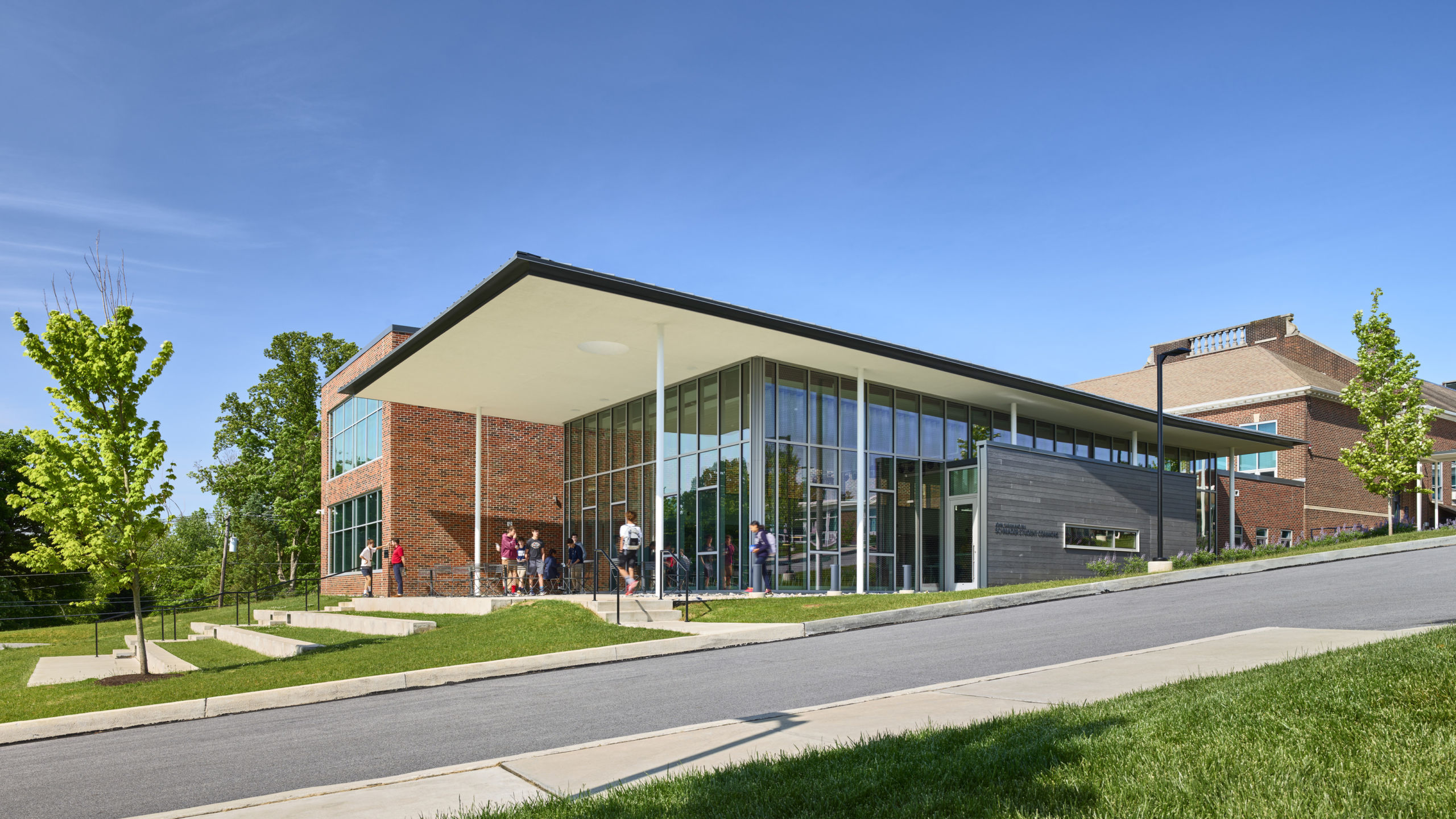 Woodlynde School, Student Commons
Strafford, Pennsylvania
An expansion of the Woodlynde School creates flexible gathering space, improves daily operations, and evolves the identity of the school and campus grounds.
SIZE
10,000 square feet
COMPLETED
2020
Woodlynde School is one of the nation's leading independent college preparatory schools serving students who learn differently. Working with the 270-student day school on an initial master planning process, we examined all aspects of student life, pedagogy, organization, and the varied collection of 20th century buildings that comprise the campus. The Student Commons and classroom wing addition, the first phase of a planned expansion, create much needed learning environments, particularly for digital arts and music.
While shifting daily service functions to the back of the school, we brought new community spaces to the fore, creating a fresh public face and a welcoming arrival experience. Slender steel columns support the soaring roof of the Student Commons and curved entry canopy, creating a distinct and cohesive architectural language for the campus. The flexible Commons serves as the new dining and gathering hub as well as an adaptable venue for school and broader community events. Skylights, a full-height curtain wall, and clerestories wrapping around the Commons provide ample natural light, while deep overhangs, horizontal solar shades, and energy efficient glazing protect the interior from excess solar heat gain. Large operable windows in the Commons and classrooms provide fresh air and passive ventilation for students and faculty.
While clarifying the school's arrival sequence, the project also addressed critical infrastructure issues—including the addition of a rain garden and a significant stormwater retention area under a new parking lot. New outdoor learning and gathering spaces were incorporated into the landscape design, including a dining terrace, a tiered amphitheater, a labyrinth, a new playground, and student gardens. The roof of the Commons was also designed to accommodate a future green roof, further contributing to stormwater management strategies.