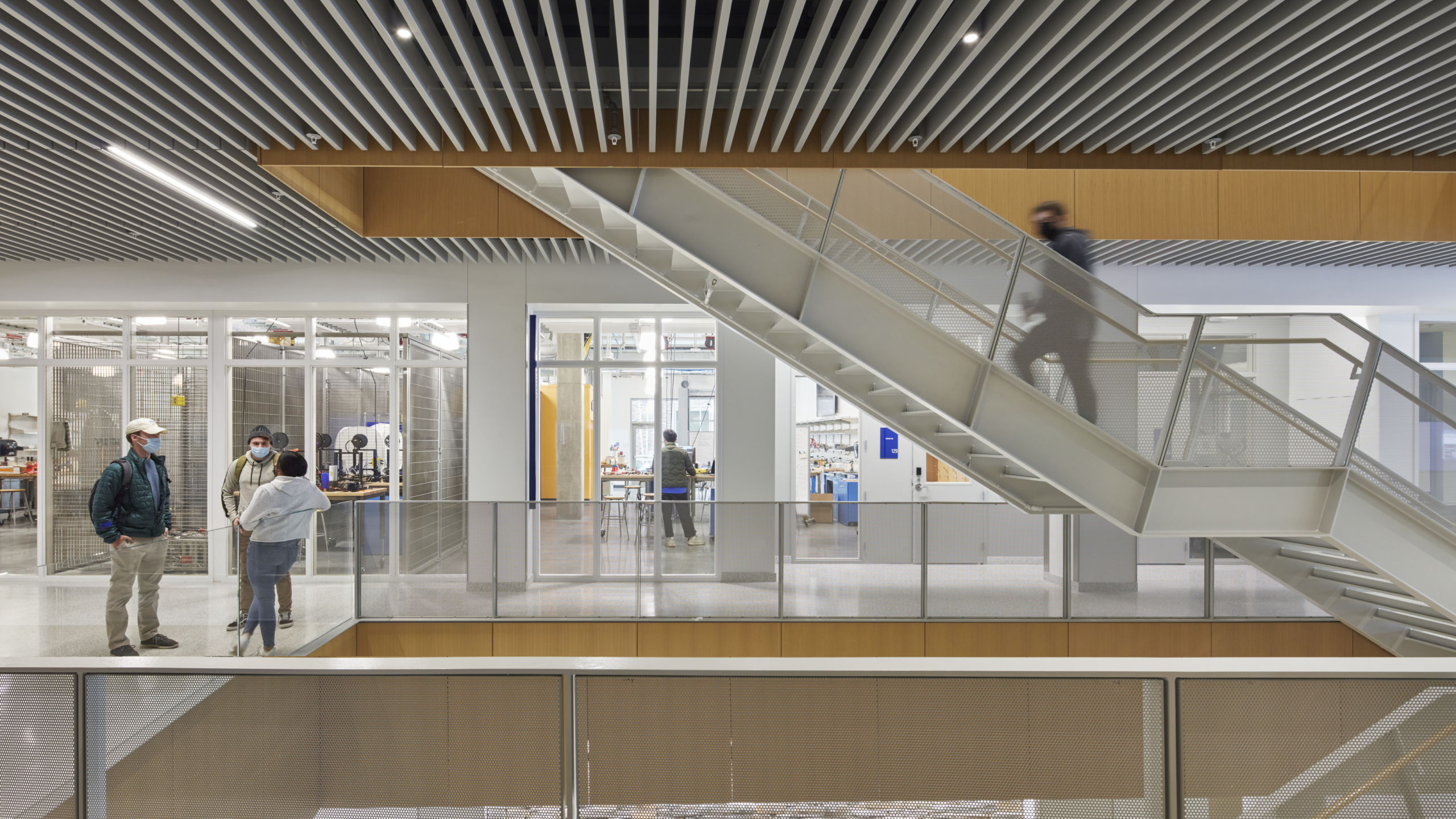 The Wilkinson Building, Pratt School of Engineering, Duke University
Durham, North Carolina
The Wilkinson Building fosters a spirit of invention and entrepreneurship at a central campus location, strengthening Duke's reputation as a leader in cutting-edge interdisciplinary research.
The Wilkinson Building provides a new home for the Pratt School of Engineering's education, research, and entrepreneurship initiatives. Located between the Historic West Campus Quad and newer structures for Pratt and the campus library system, the building provides a natural link between new and existing, integrating the University's beloved stone and brick while serving as a modern representation of its interdisciplinary approach to engineering.
Transparency, clear circulation, and welcoming gathering areas support and enliven educational spaces across the building's five floors. Design labs, active learning classrooms, collaborative research neighborhoods, and an entrepreneurship center encourage connections between engineering groups and ideas exchange across disciplines. Research neighborhoods are organized around Environment, Health, and Computing, and co-locate researchers from different departments to tackle complex challenges across each discipline. Active learning classrooms include flexible furniture arrangements that allow lectures to transition seamlessly to collaborative group work. Easily reconfigurable power and data resources prepare these spaces to adapt to changing technology and pedagogy requirements. Design-focused "garage labs" offer flexibility for working on and moving large prototypes and open directly onto a maker courtyard where students can display their projects.
Integrating sustainable design strategies into the LEED Gold-certified project, we created an efficient, high-performing engineering building by focusing on details and systems, opportunities for energy savings in a 24/7 facility, and a deep understanding of designing for occupant well-being and comfort throughout the day. Durable materials used in the building's high-performance envelope help it integrate within the surrounding campus fabric while mitigating thermal bridging. Resilient infrastructure in less visible areas, including chilled beams that use less energy to heat and cool, will likewise help the building thrive over time. Strong indoor/outdoor connections bring natural daylight into the heart of the project while offering expansive views to campus.