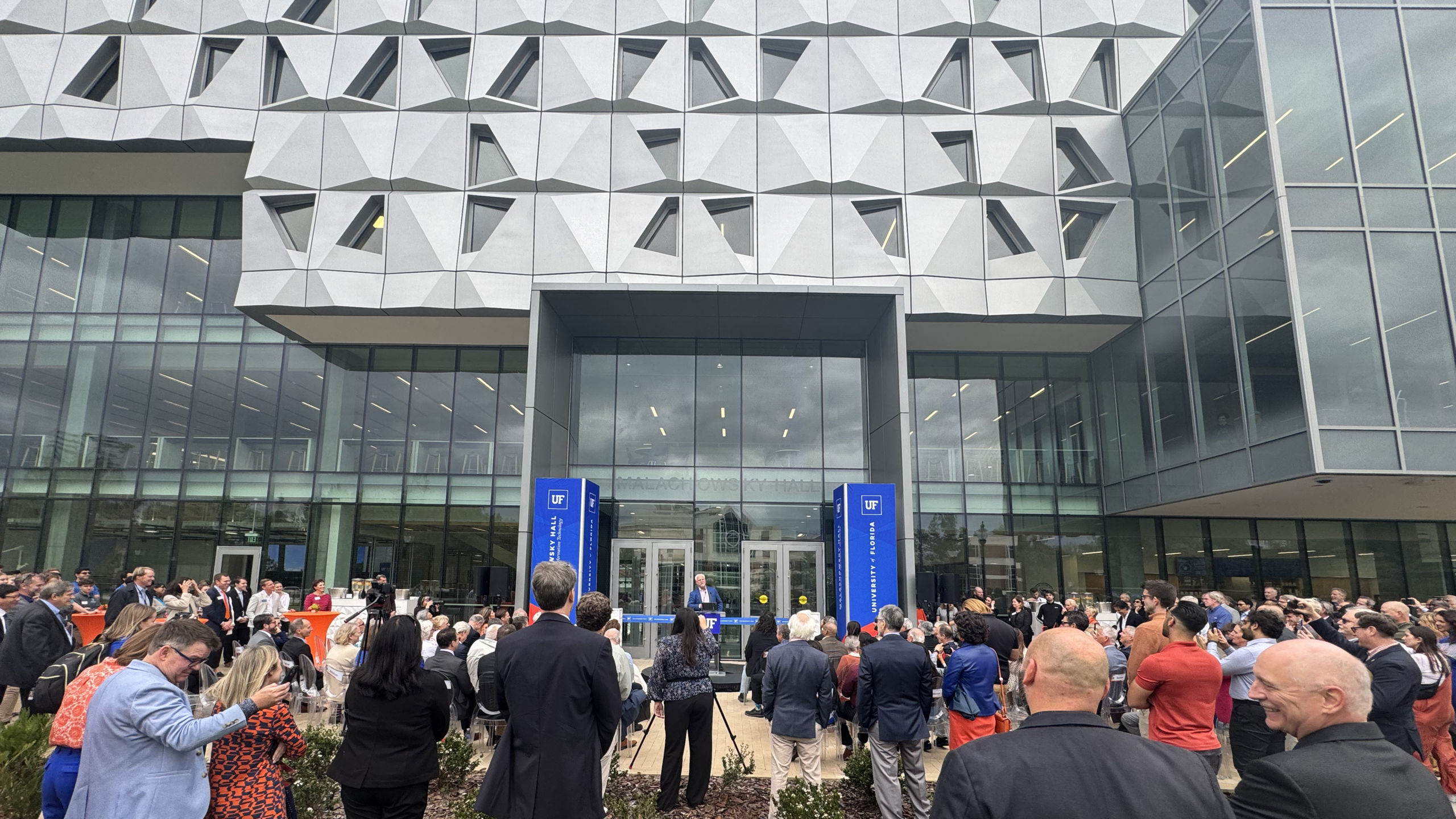 University of Florida Celebrates Malachowsky Hall Opening
The campus community gathered for a ribbon cutting and tours of the project, which is targeting LEED Platinum and designed to set a new standard for higher education STEM Buildings.
Located in the center of the University of Florida campus, across the street from the Reitz Union, the 263,440 square-foot Malachowsky Hall will provide a transformative multidisciplinary environment for medicine, pharmacy, and engineering students and faculty. At a ceremonial ribbon cutting on Friday, November 3rd, guests heard remarks from UF alumnus and NVIDIA co-founder Chris Malachowsky, UF President Ben Sasse, Board of Trustees Chair Mori Hosseini, and others, toured the new facility, and participated in a "fireside chat" with Sasse, NVIDIA Co-Founder and CEO Jensen Huang, and Engineering Interim Dean Forrest Masters.
Malachowsky Hall's striking exterior, a folded metal panel and glass facade, serves as an outward-facing beacon of data science. Inside, a warm, natural interior material palette is centered around a building-length pedestrian boulevard and open staircase, connecting departments and helping the university further its goal of fueling multidisciplinary collaboration. Each level features a mixture of flexible spaces and shared amenities choreographed to promote cross-disciplinary exchange, balanced with branded environments for each department to accommodate focused work and research.
Designed to provide an advanced hub for computing, communication, and cyber technologies, the project will also support the University of Florida's efforts to integrate AI across its curriculum. UF is the first and only university in the country to offer every student the opportunity to learn about AI and how it applies in their fields, and as Board of Trustees Chair Hosseini noted at the ribbon cutting, "this building will propel AI education and research that will improve lives, bolster industry and create economic growth across the state and around the world." Learn more about the event and watch the livestream of the fireside chat below.