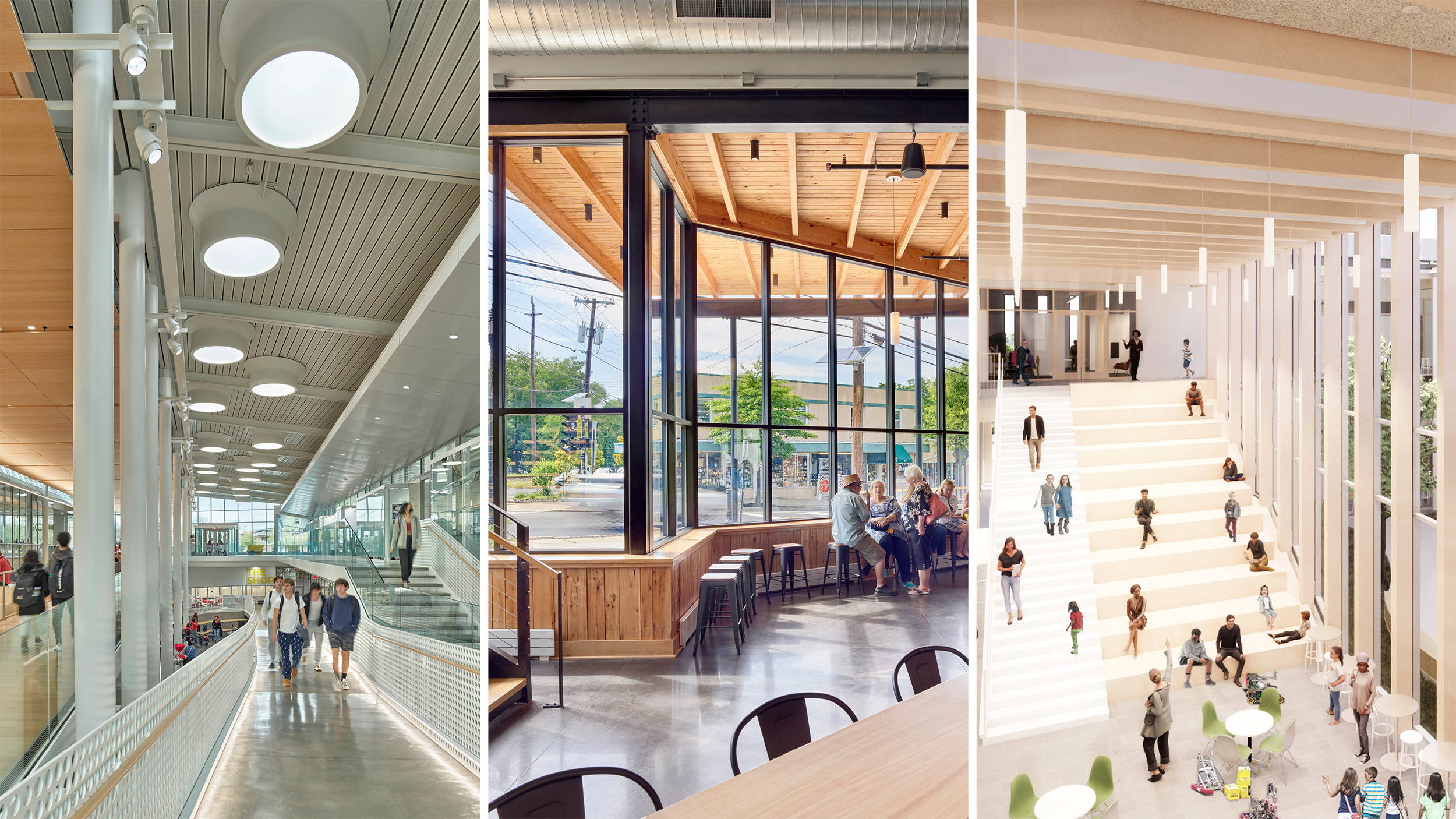 Three Bohlin Cywinski Jackson Projects Receive AIA Pennsylvania Awards
Siebel Center for Design, Tonewood Brewing Taproom, and the Greenhill School Valdes STEM + Innovation Center were honored with Design and Committee on the Environment (COTE) awards.
The University of Illinois Urbana-Champaign's Siebel Center for Design received an Honor Award in the Architecture category. The Siebel Center for Design is one of the first ground-up interdisciplinary design schools of its kind, built to encourage a collaborative approach to problem solving­­––combining design thinking, experimentation, prototyping, and making. The 60,000 square-foot project includes an expansive gallery with reconfigurable furniture, a dedicated makerspace, light-filled classrooms and studios, and a curved central pathway that encourages all to explore the activity throughout.
Project team members included associate architects Ratio Architects, IMEG Corp., Silman structural engineers, Atelier Ten, Fuhrmann Engineering, INC., Shen Milsom & Wilke LLC., Terry Guen Design Associates, INC., and CCS International.
Greenhill School, Valdes STEM + Innovation Center, was honored with a COTE award for its thoughtful sustainability and invigorating design. Anticipated to open in 2023, the independent K-12 school serves the greater Dallas community. The building's biophilic elements will provide tactile opportunities for students to learn about integrated sustainable design through its mass-timber structure, daylight autonomy, rainwater harvesting, and energy conservation. The exposed and intrinsic organic materials and ample daylight activate the brain, contributing to human comfort, wellness, and improved learning outcomes.
Project team members include Pacheco Koch, OJB Landscape Architecture, Walter P Moore, DBR, and HKA.
Tonewood Brewing Taproom, an adaptive reuse of a 1960s lumber yard, received a COTE Award for its sustainable features and revitalization program. Previously a vacant lot in Barrington's downtown commercial corridor, the project team transformed the 15,000 square-foot space into a brewery production warehouse with retail and hospitality facilities. Sustainability was at the forefront of this project, with 230kW solar panels and a CO2 reclamation system reusing 3,000 lb of carbon dioxide each week to carbonate Tonewood's beer. The site landscape also features a series of raingardens designed to capture 80% of stormwater runoff from the roof.
Project team members included Tonewood Brewing, Mulhern + Kulp, and Chesnut Engineering.