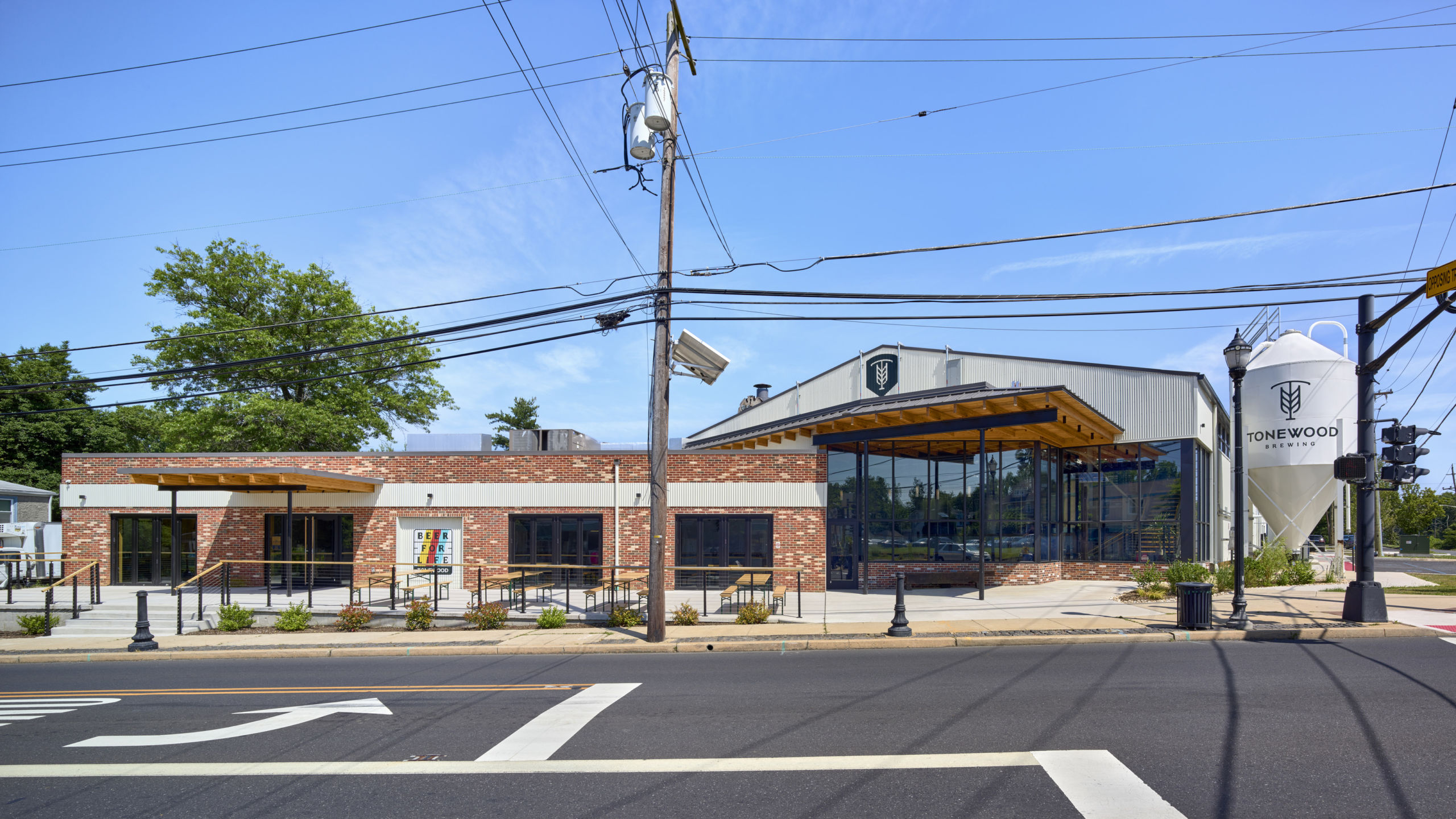 Tonewood Brewing Taproom
Barrington, New Jersey
Tonewood Brewing Taproom is an adaptive re-use of a 1960s lumber yard in Barrington, New Jersey to create a state-of-the-art craft beer tasting room and production facility. The project responds to the family-run brewery's core values of quality, community, and sustainability.
After operating its first location in Oaklyn, New Jersey for several years, Tonewood needed more space for expanded production, and wanted to bring guests closer to the experience and process of brewing. Roughly three miles away in Barrington, they found a former lumber yard that consisted of a one-story showroom and office building tenuously connected to a two-story warehouse. The lumber yard anchored the northern end of Barrington's downtown commercial corridor and had sat vacant for several years.
In transforming the 15,000 square-foot space, we located brewery production in the warehouse to take advantage of its high ceilings, while the retail and hospitality activities occur inside the single-story building. A full-height gathering area, with expansive windows facing onto the street, provides transition in scale between the two environments while celebrating the art of production within. A mezzanine overlooking the brewhouse and fermentation tanks offers patrons a sensory experience deeply connected to craft and process at this family-run brewery. The new taproom offers two bars, community tables, bar seating, and shared spaces help to provide a warm, communal feel. Interiors open to a front patio and rear biergarten for indoor/outdoor connections during warmer months.
Sustainability was a core driver for the project, and the design includes a 230kW solar array on the roof that will generate the majority of the electrical power for the facility. All carbon dioxide generated by the fermentation process is captured and reused to carbonate Tonewood's beer‐ an estimated 3000 lbs each week. Tonewood is the first brewery in New Jersey and Pennsylvania to use a CO2 reclamation system at this scale. The site landscape also features a series of raingardens designed to capture 80% of stormwater runoff from the roof.