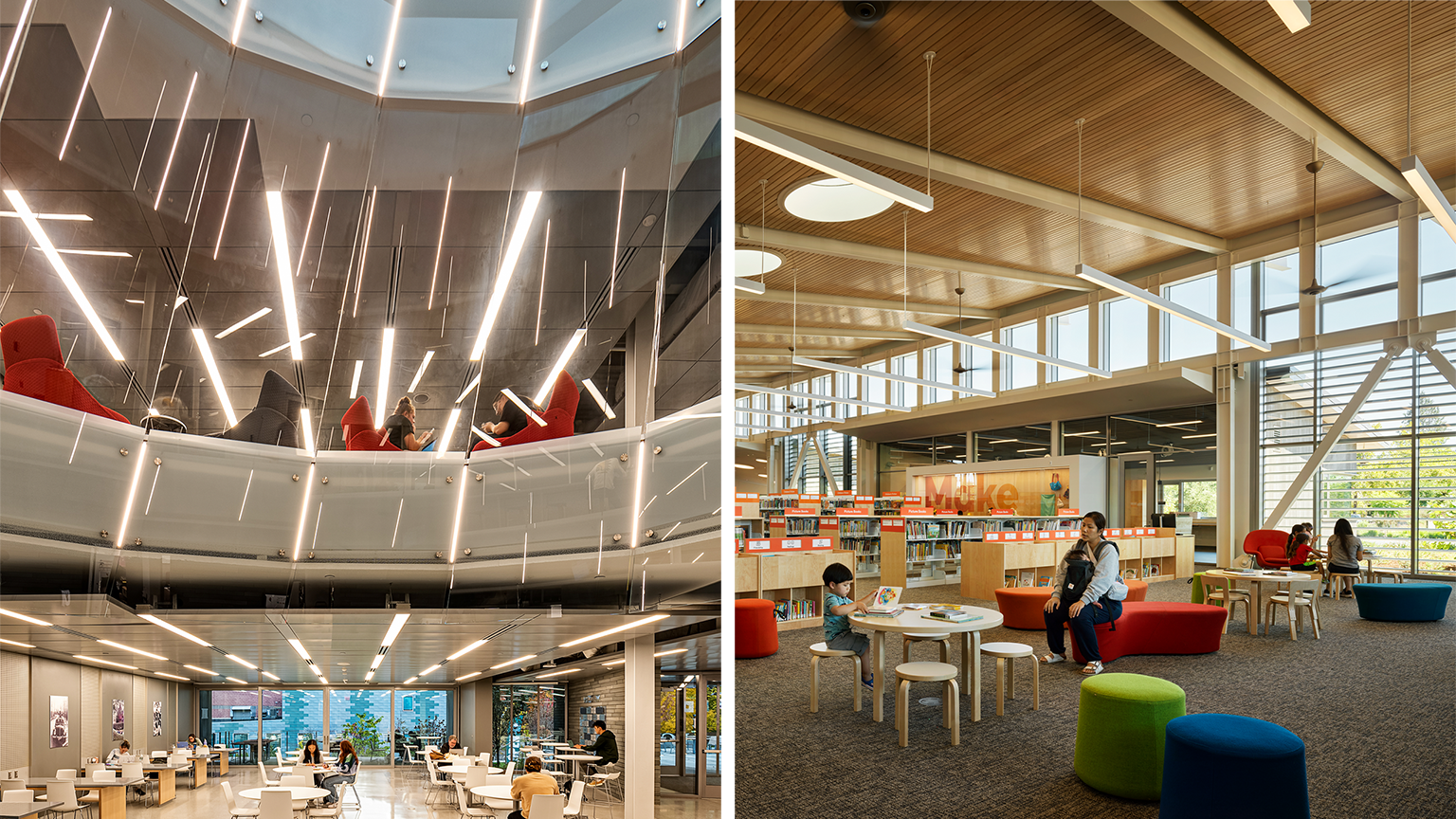 American Libraries Magazine Design Showcase Features Two BCJ Projects
We are honored to have two recently completed projects – the Peter P. Mercer Learning Commons at Ramapo College of New Jersey and Pleasant Hill Library – recognized in the annual design showcase.
The Library Design Showcase highlights innovative new and renovated libraries that "address user needs in inventive, interesting, and effective ways." The Peter P. Mercer Learning Commons is a comprehensive re-envisioning of Ramapo College's existing facility to create a vibrant knowledge commons that empowers students to learn, study, and collaborate more effectively. The new Learning Commons combines resources for campus-wide use, including state-of-the-art classrooms, a makerspace, and dedicated areas for assistance with research, technology, reading, and writing. New spaces dedicated to the College's special collections, previously spread throughout campus, now bring together the Ramapo College Archives, the American History Textbook Project, the Jane Addams Papers Project, and the Gross Center for Holocaust & Genocide Studies. Despite its important location at a key corner of the campus core, the former library had a concealed entry via a connecting breezeway, reached through a pair of fire doors in the side of the adjacent building. The new Learning Commons establishes an inviting campus presence with a new outdoor terrace, entry cafe, and a dramatic lightwell that brings daylight through the interior.
The project team included Anser Advisory, CVM (Structural Engineer), Vanderweil Engineers, Dirtworks Landscape, and Langan Engineering, with photography by Christian Phillips.
Designed to be a welcoming and flexible public destination, Pleasant Hill Library is a space where people of all ages feel welcome and encouraged to learn, create, and explore. At 55 feet wide and 200 feet long, the project's free-span central hall provides ample capacity for diverse offerings, including expanded community events, and allows easy reconfiguration of book stacks with evolving programmatic needs. Outdoor activity spaces featuring large-scale wood play structures, a makerspace, and a Friends of the Library bookstore offer additional opportunities for exploration and engagement. Together, these spaces respond to the community's aspiration for visitors of all ages to find diverse, layered use in the new library.
Our practice collaborated with Swinerton Management and Consulting, BHM Construction, EinwillerKuehl Landscape Architecture, Margaret Sullivan Studio, Rutherford & Chekene, Introba, Auerbach Glasow, Sherwood Engineers, and Etsuki Creative on the library, with photography by Matthew Millman.
Projects are featured in the American Libraries Magazine September/October issue, the flagship magazine for the American Library Association (ALA). Click on the link to learn more: