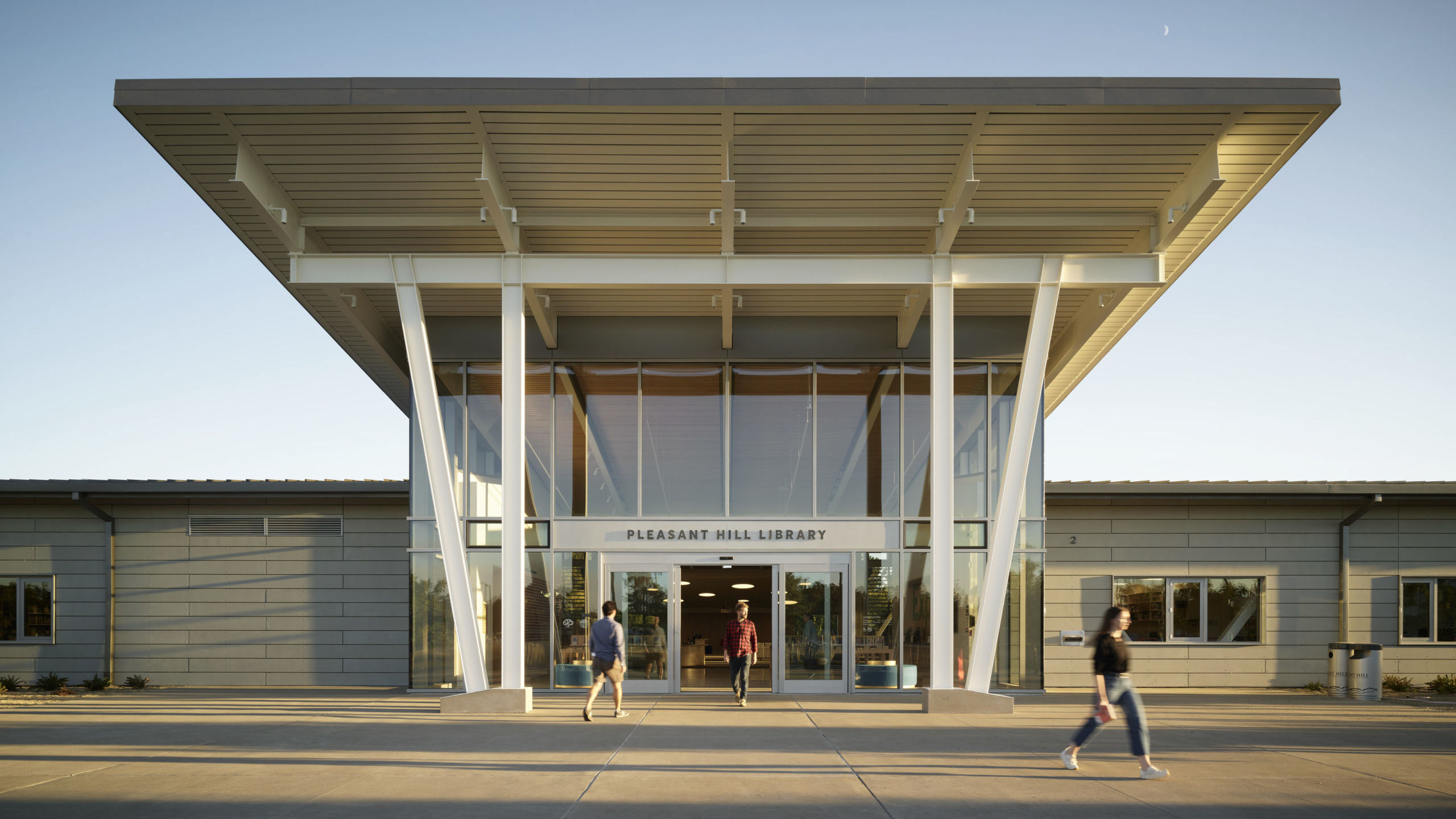 Pleasant Hill Library
Pleasant Hill, California
A welcoming and flexible public destination, targeting Net Zero Energy, reflects the community's desire to spark imagination, fuel potential, and connect people with ideas and each other.
Engaged by the City of Pleasant Hill to create its first civic building in many years, we were asked to design a 21st century library, where all ages would feel welcome and encouraged to learn, create, and explore. An all-electric, highly energy-efficient design, targeting net-zero carbon, provides a healthy, responsive and resilient civic building that will serve the community for many years to come.
Expressive columns and a pitched roof canopy provide clear wayfinding and shade to the entry plaza throughout the year. Inside, the Welcome Area provides an open, airy environment for visitors to browse popular materials and engage with staff at the Information Desk. At 55-feet wide and 200-feet long, the free-span central hall provides ample capacity for diverse offerings, including expanded community events, and allows easy reconfiguration of book stacks with evolving programmatic needs. Movable furniture subtly delineates zones tailored to youth, teens, and adults, while bringing pops of color to the interior. Linear maple ceiling panels within the expressed steel structure provide added warmth and optimized acoustics, while giving a clean, contemporary framework. A continuous south-facing clerestory, combined with sets of large circular skylights, allows natural light to flood the interior. Pavilions off the main hall house a 'messy makerspace', 'story lab', and a 'retreat' for quiet reading.
The library was conceived alongside three adjacent projects: roadwork improvements to Oak Park and Monticello Avenues, a new multifamily housing development, and a future Sports Fields project. At the project's onset these sites were partially located within the 100-year flood plain adjacent to Grayson Creek. The project team collaborated to mitigate flood concerns through a combination of grading strategies and stormwater retention basins, while knitting all sites together with bike and pedestrian pathways.
Bohlin Cywinski Jackson collaborated with Swinerton Management and Consulting, BHM Construction, Einwiller Kuehl Landscape Architecture, Margaret Sullivan Studios, Rutherford & Chekene, Introba, Auerbach Glasow, Sherwood Engineers, and Etsuki Creative on the library.