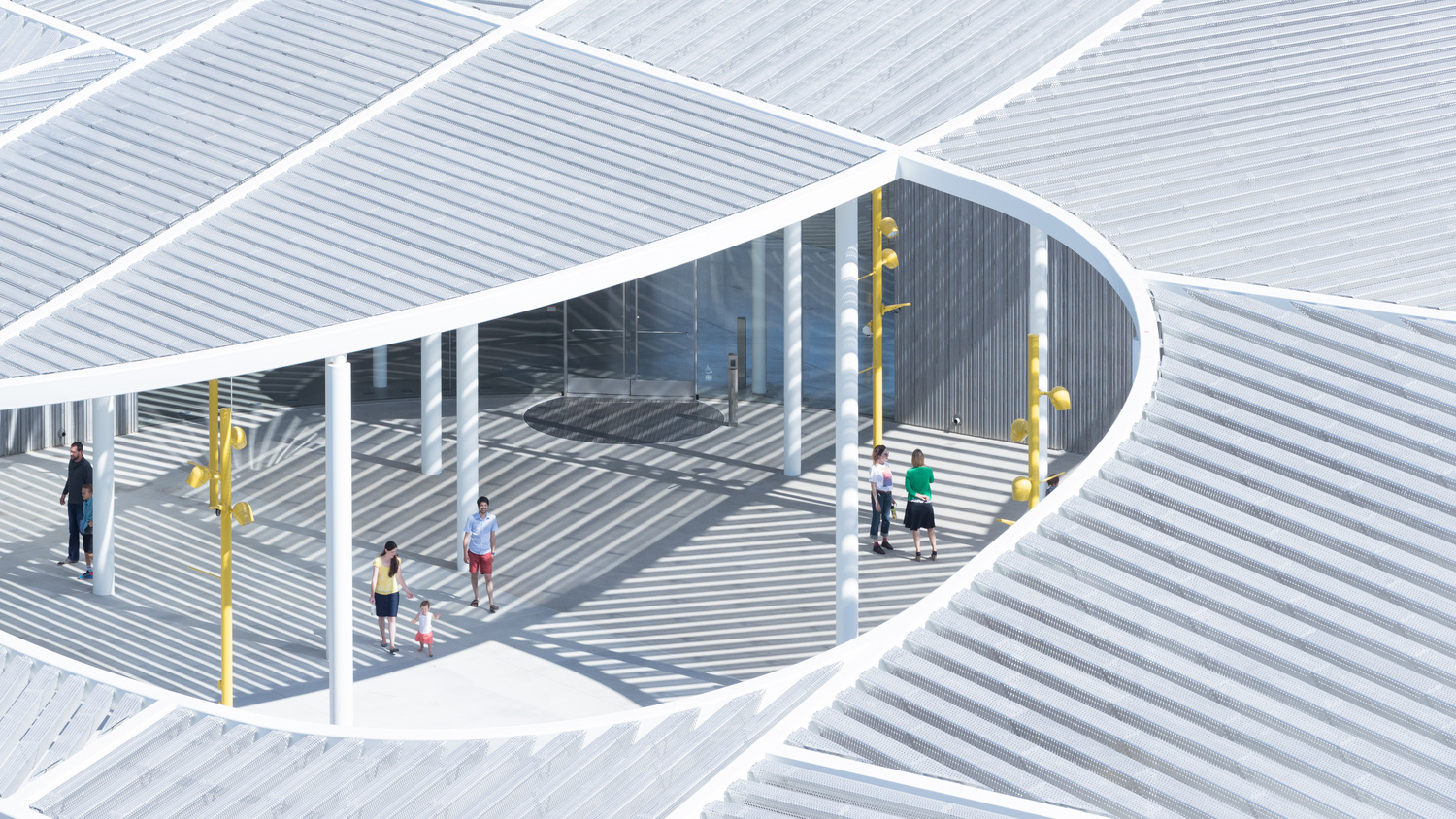 Manetti Shrem Museum of Art
Davis, California
Openness and porosity are expressed in ways large and small at the Manetti Shrem Museum of Art, from the materiality of its sweeping canopy to the strategic orientation and insertion of curved glass walls.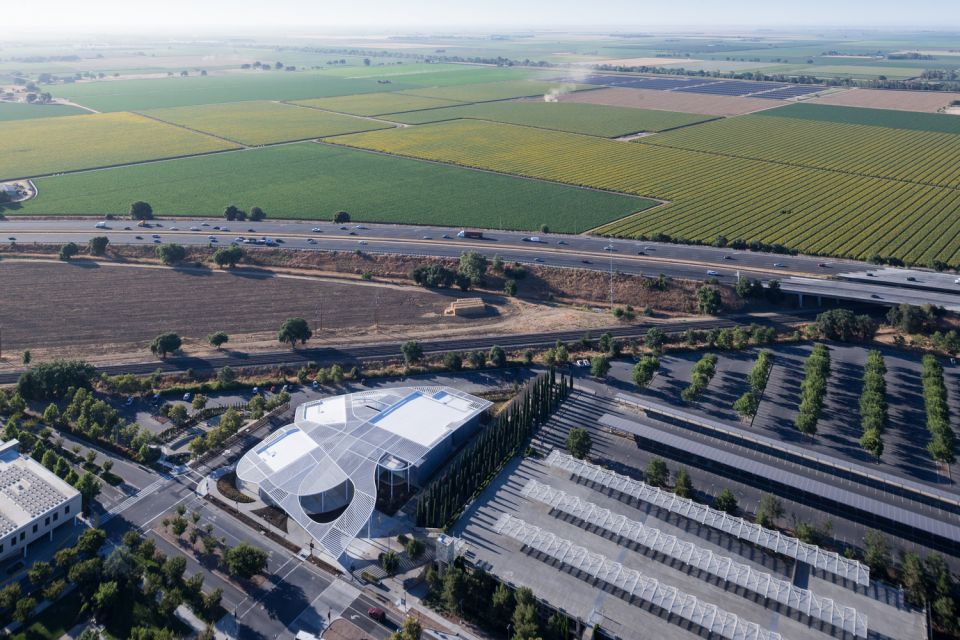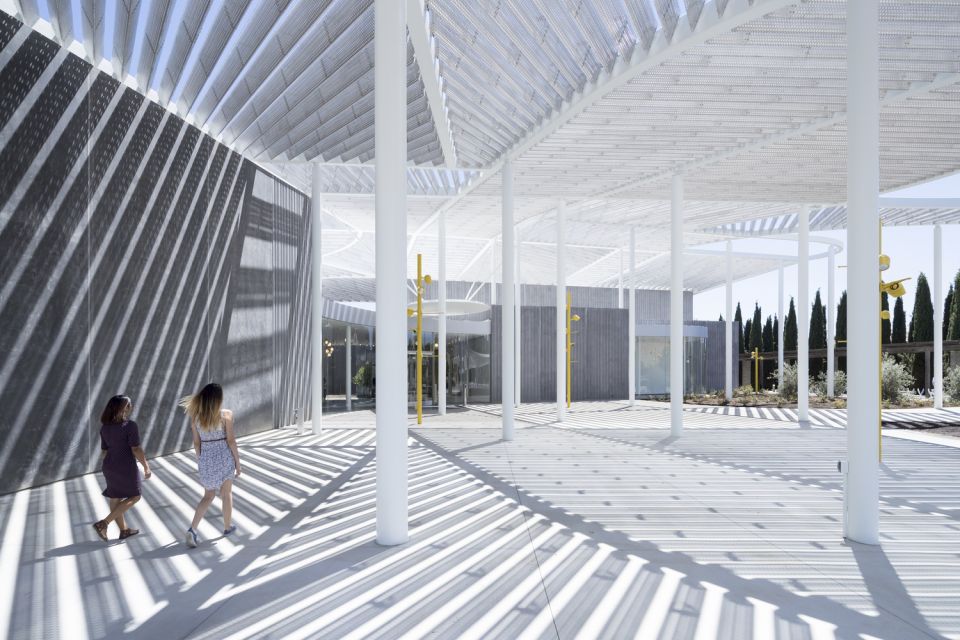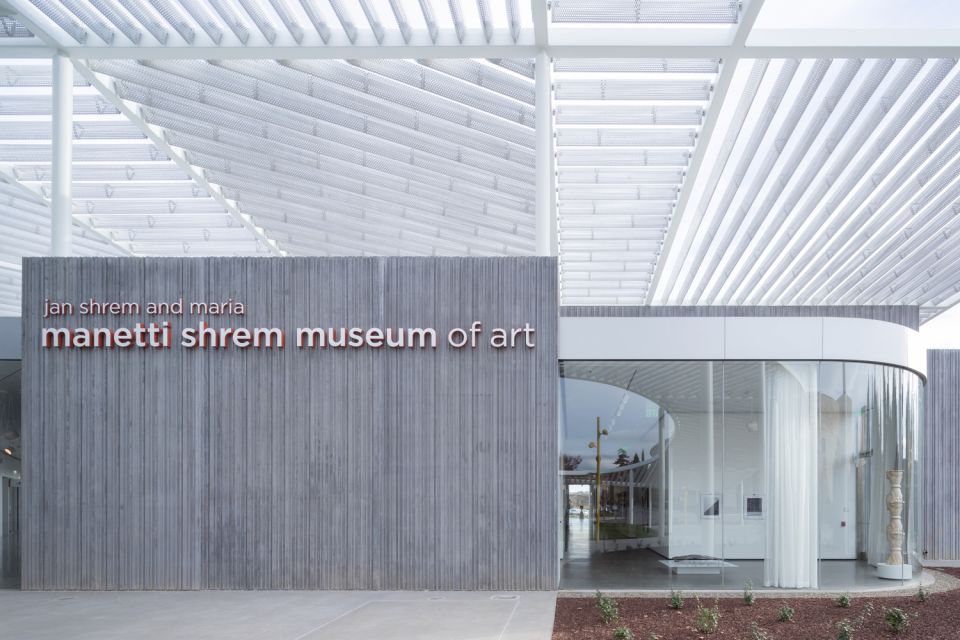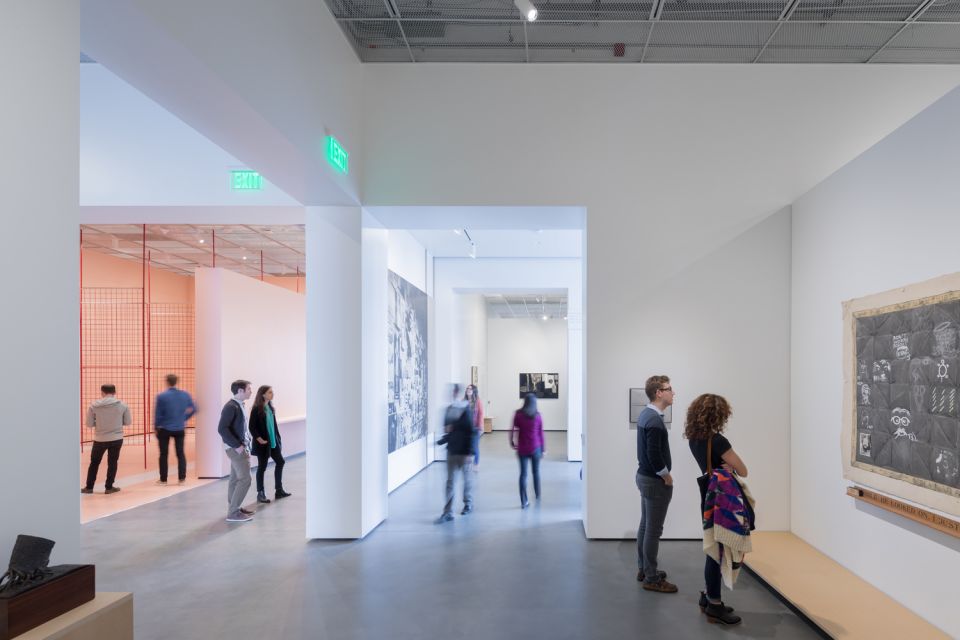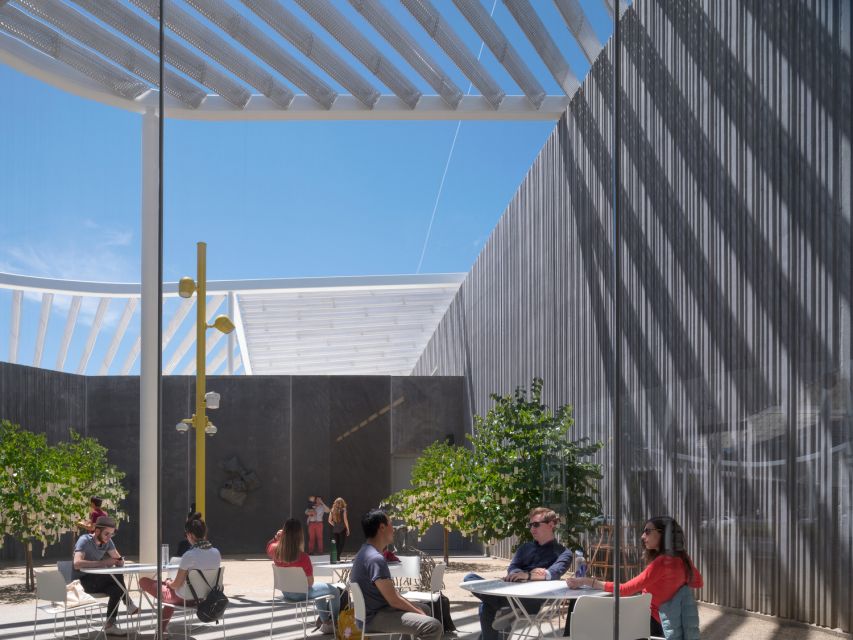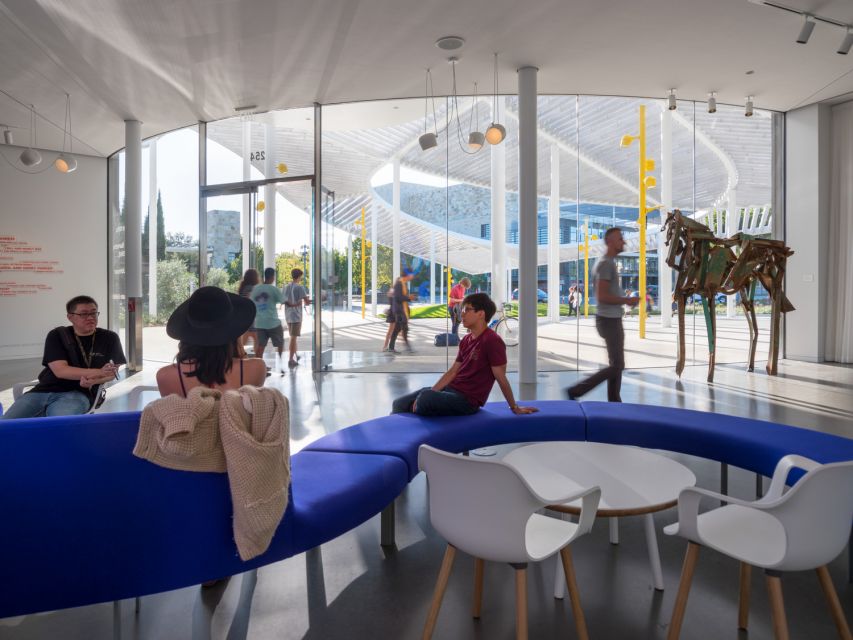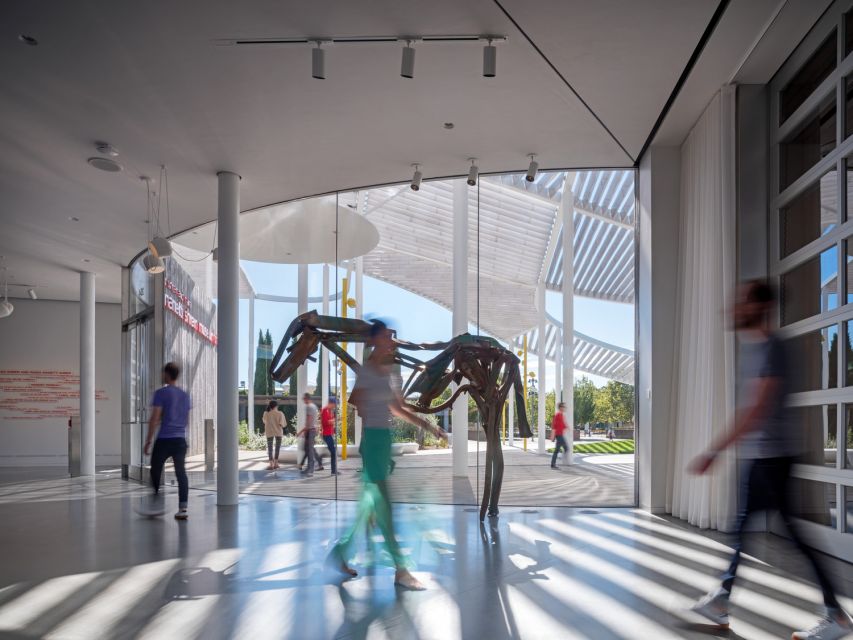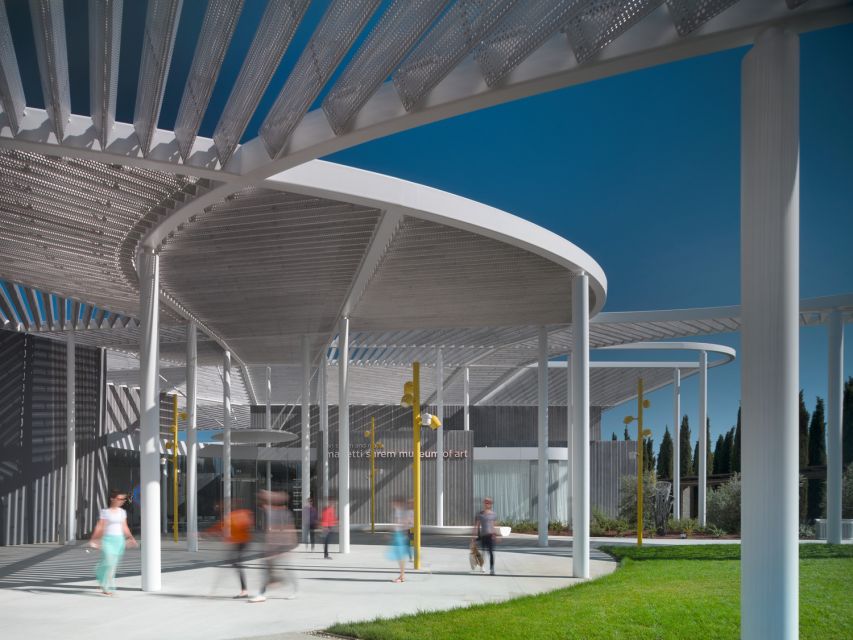 SIZE
30,000 SF
COMPLETED
2016
AWARDS
Merit Award, Architecture
Green GOOD DESIGN Award
The 50,000 square-foot canopy of perforated aluminum beams, supported by 40 steel columns, is the signature design gesture and an engineering challenge. Taking cues from agricultural vernacular buildings of the Central Valley, as well as the lush trees of the arboretum on campus, the permeable roof serves as a modulator and projector of light and shade and sets the stage for gatherings on the UC Davis campus.
The sight of quilted farmlands and rows of crops surrounding the museum inspired the geometry of the canopy and the exterior cladding of pre-cast corrugated concrete. A textured use of materials—aluminum, concrete, glass, wood and white walls—responds subtly to the soft light of the Central Valley. The orientation and spacing of the canopy's aluminum infill beams, more than 900 in all, create a rich tapestry of light and shadow.
The canopy tops most of the 75,000 square-foot museum site, which comprises a hardscape entry plaza; separate pavilions for galleries, art making, and operations; a courtyard; and a glass-enclosed lobby opening out onto each of these spaces and views beyond. The open lobby contracts or extends with the push of a button, controlling a glass garage door, while a metal-mesh, 17-foot-tall ceiling in the primary gallery allows visitors to sense the pitch of the canopy at 30 feet, giving a hint of the space between gallery ceiling and roof filled with duct work, wiring and other back-of-house requirements.