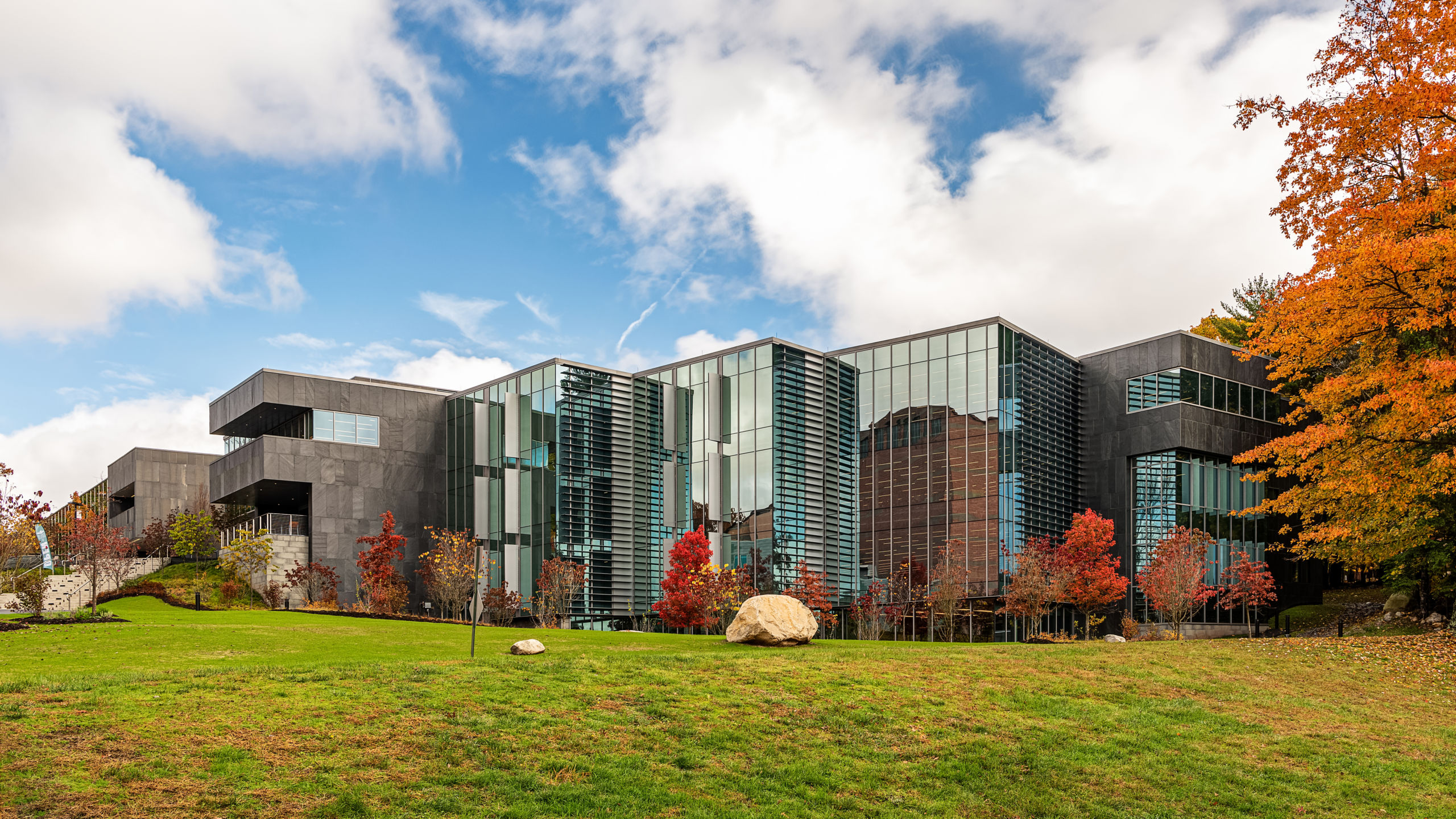 Ramapo College, Peter P. Mercer Learning Commons
Mahwah, New Jersey
A vibrant knowledge commons empowers students to learn, study, and collaborate more effectively while integrating with historic buildings at the center of campus.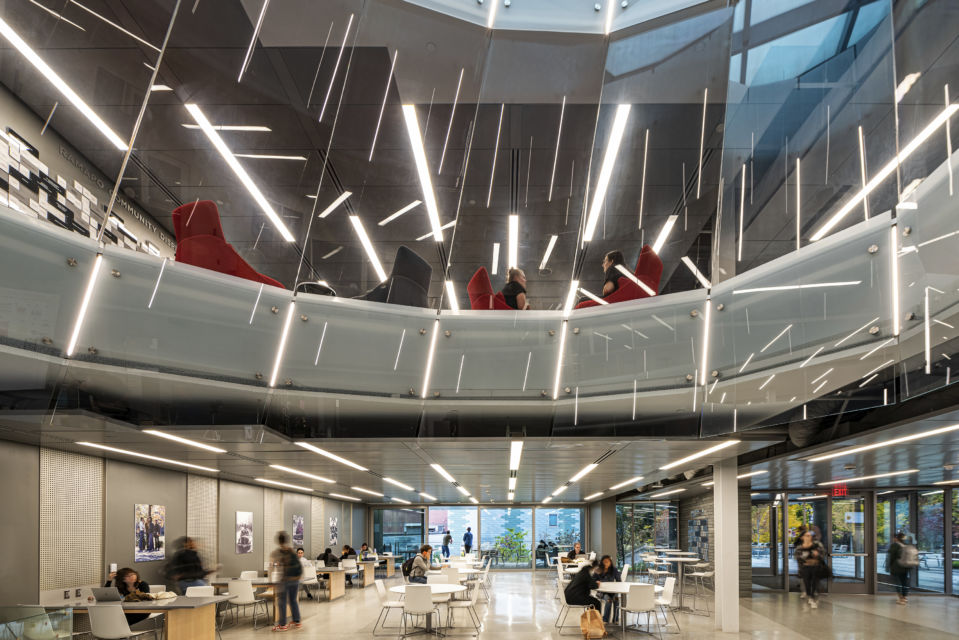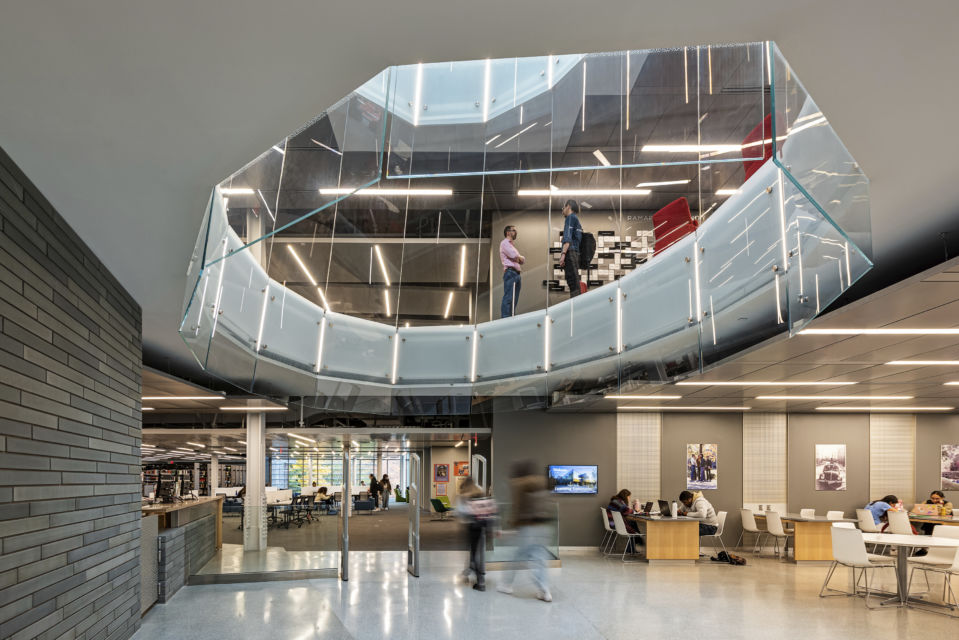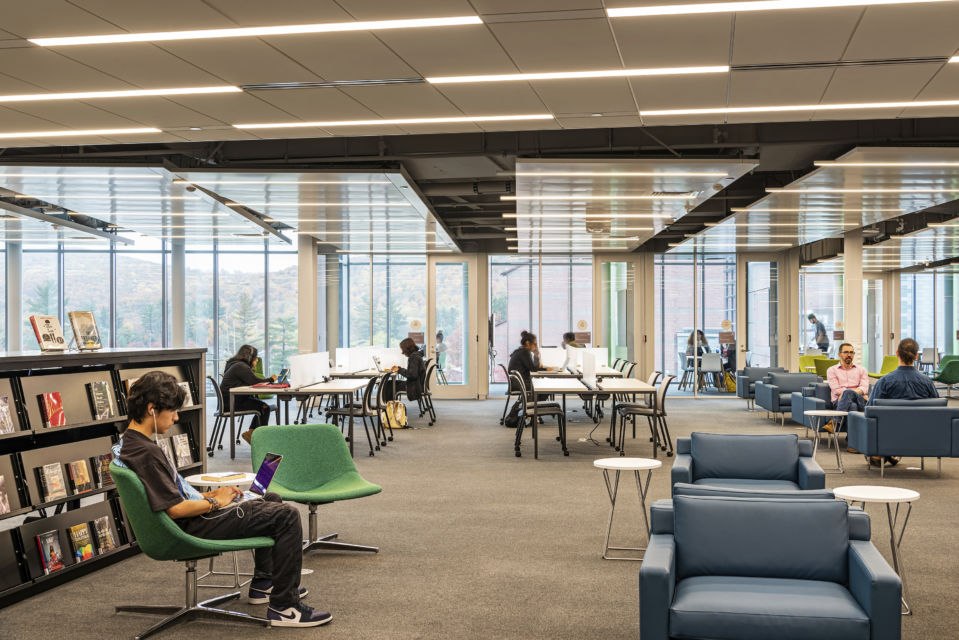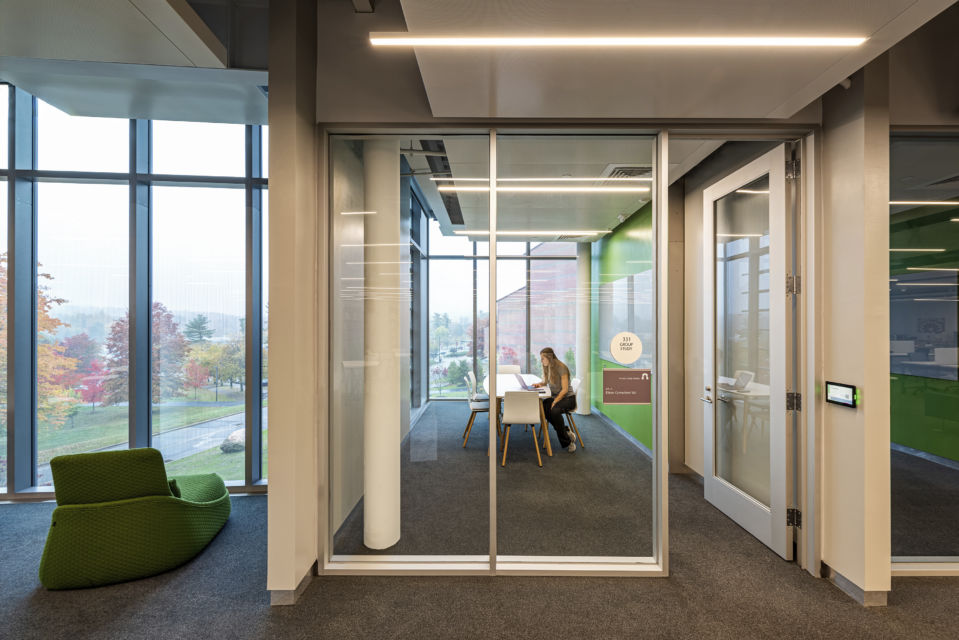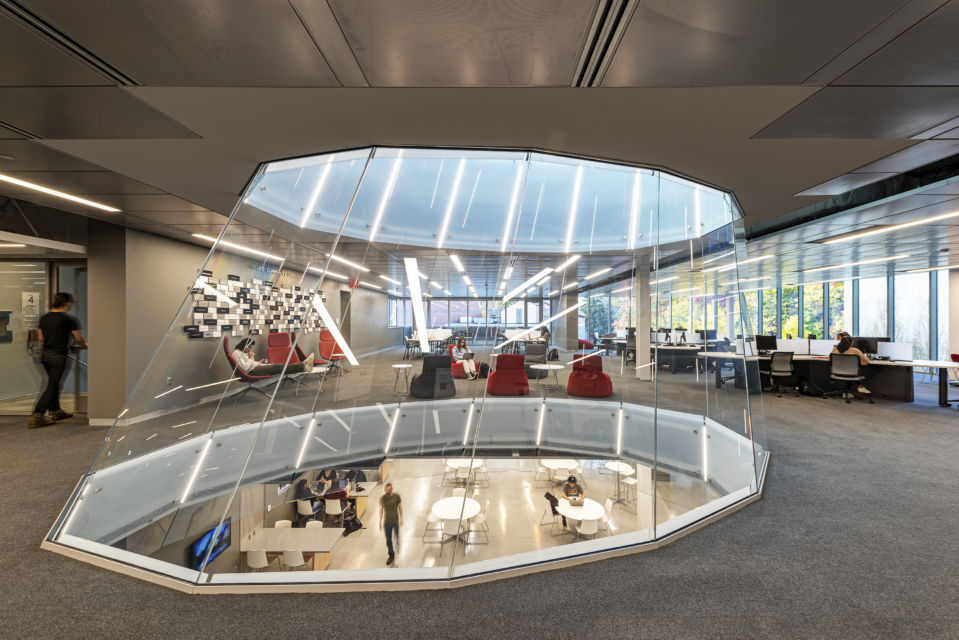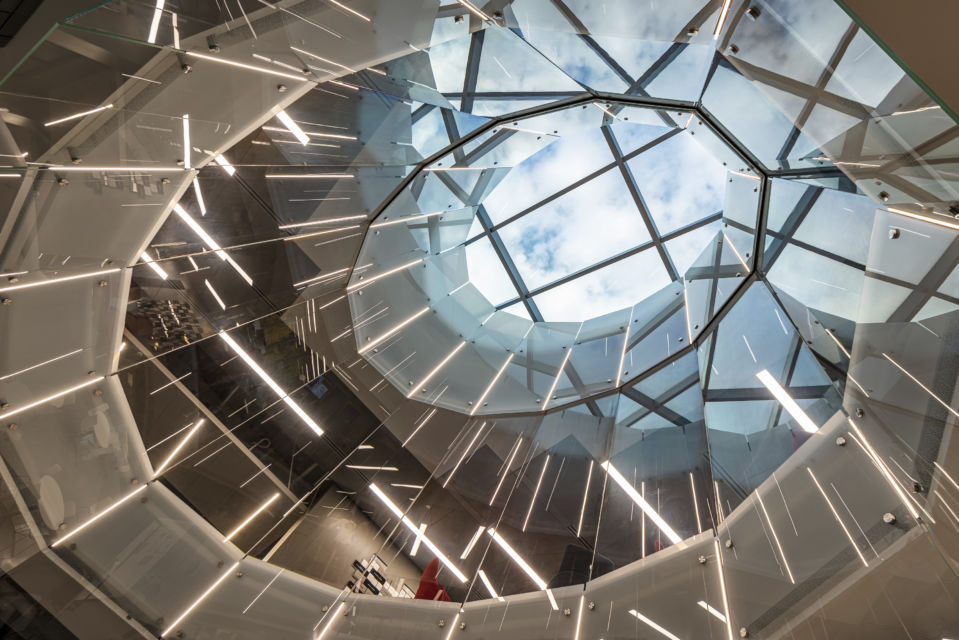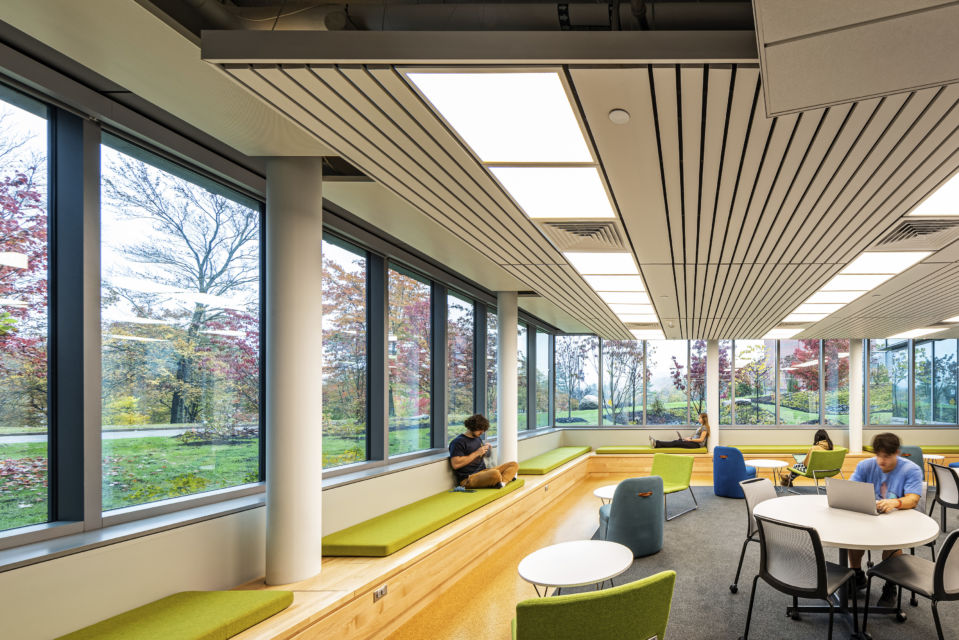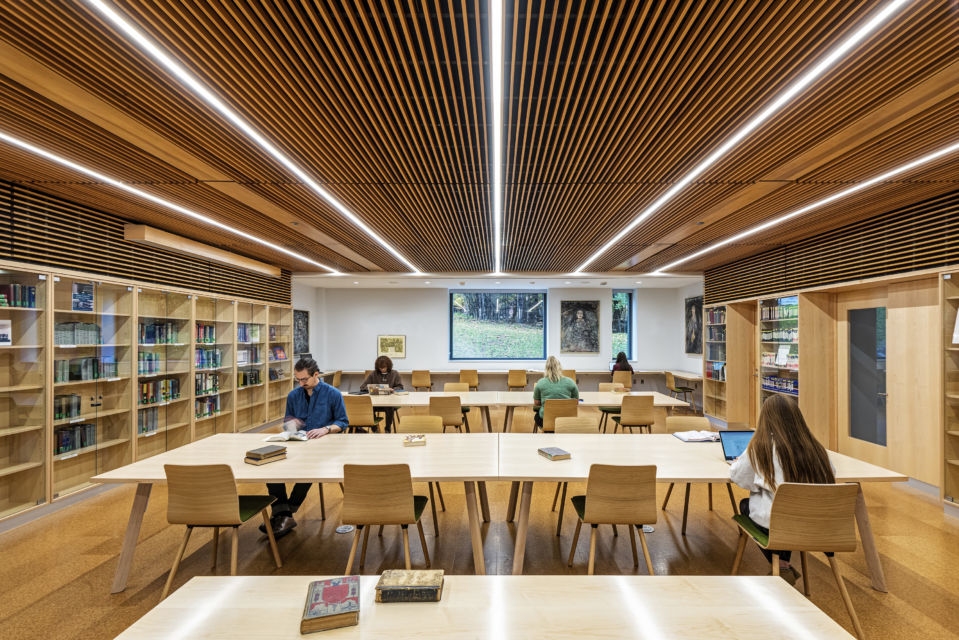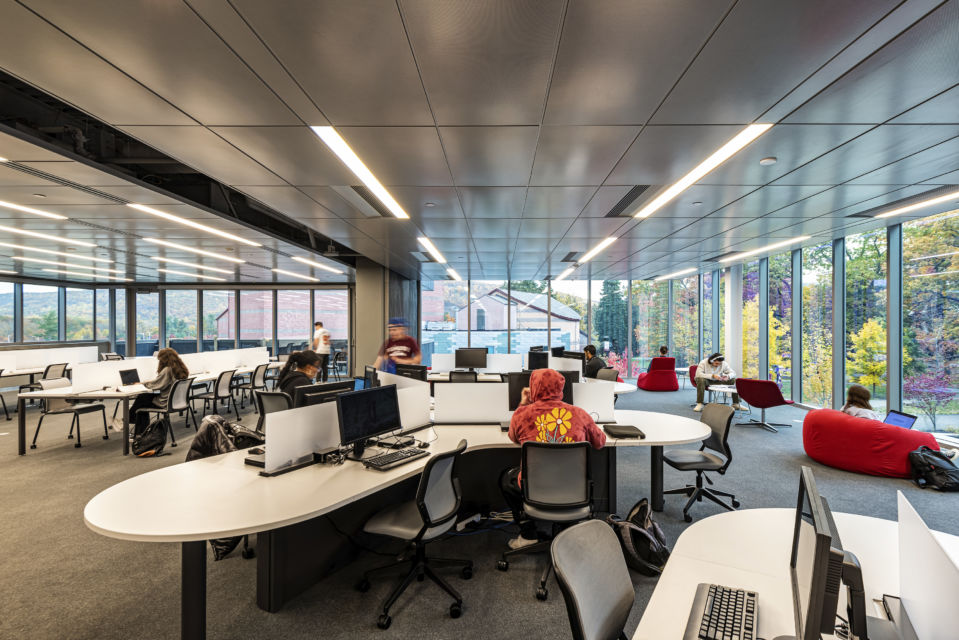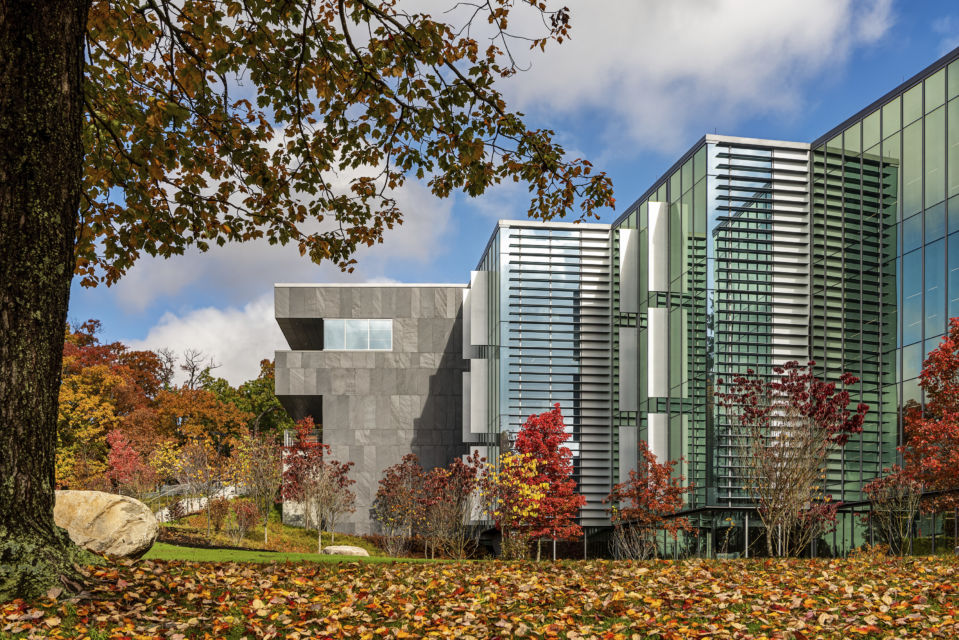 Ramapo College of New Jersey found that its former library was in need of significant renewal to better serve students and faculty. The majority of space in the 1970s-era library was dedicated to expansive physical collections, with insular study areas and limited technology infrastructure. Ramapo wanted to create a vibrant new learning commons with flexible learning environments, increasing the library's overall interior space from 60,000 to 80,000 square feet in the process.
The Peter P. Mercer Learning Commons combines an array of resources for campus-wide use, including state-of-the-art classrooms, media rooms, on-site technology resources, and more. A new terrace and café welcome visitors entering the library and provide varied indoor/outdoor gathering areas. A striking glass-paneled oculus brings natural light through the building's upper two floors and visually connects visitors to the activity happening within. Technology-rich group study rooms provide space for screening films, conducting group presentations, one-button studio recording, video conferences, and remote learning. The Learning Commons is also home to the Ramapo College Archives, the Center for Reading and Writing, the American History Textbook Project, the Jane Addams Papers Project, and the Gross Center for Holocaust & Genocide Studies.
Although physical collections remain an important element of college libraries, they are no longer the dominant design and programming consideration. By locating most of Ramapo's collections to the lowest level of the Learning Commons, using a hybridized arrangement of standard and compact shelving, and reducing shelving dedicated to reference material that is largely available digitally, a significant amount of space is now dedicated for new study, collaboration, and instruction areas.
Comprehensive replacement and modernizing of the building's facade includes upgrades to the envelope to address thermal performance and increase access to daylight and views. Vertical and horizontal sunshades along the southern exterior protect occupants from direct glare while allowing plentiful natural light indoors. New slate panel wall construction addresses deficiencies in the original design while aligning the Learning Commons exterior with neighboring historic buildings at the campus core.