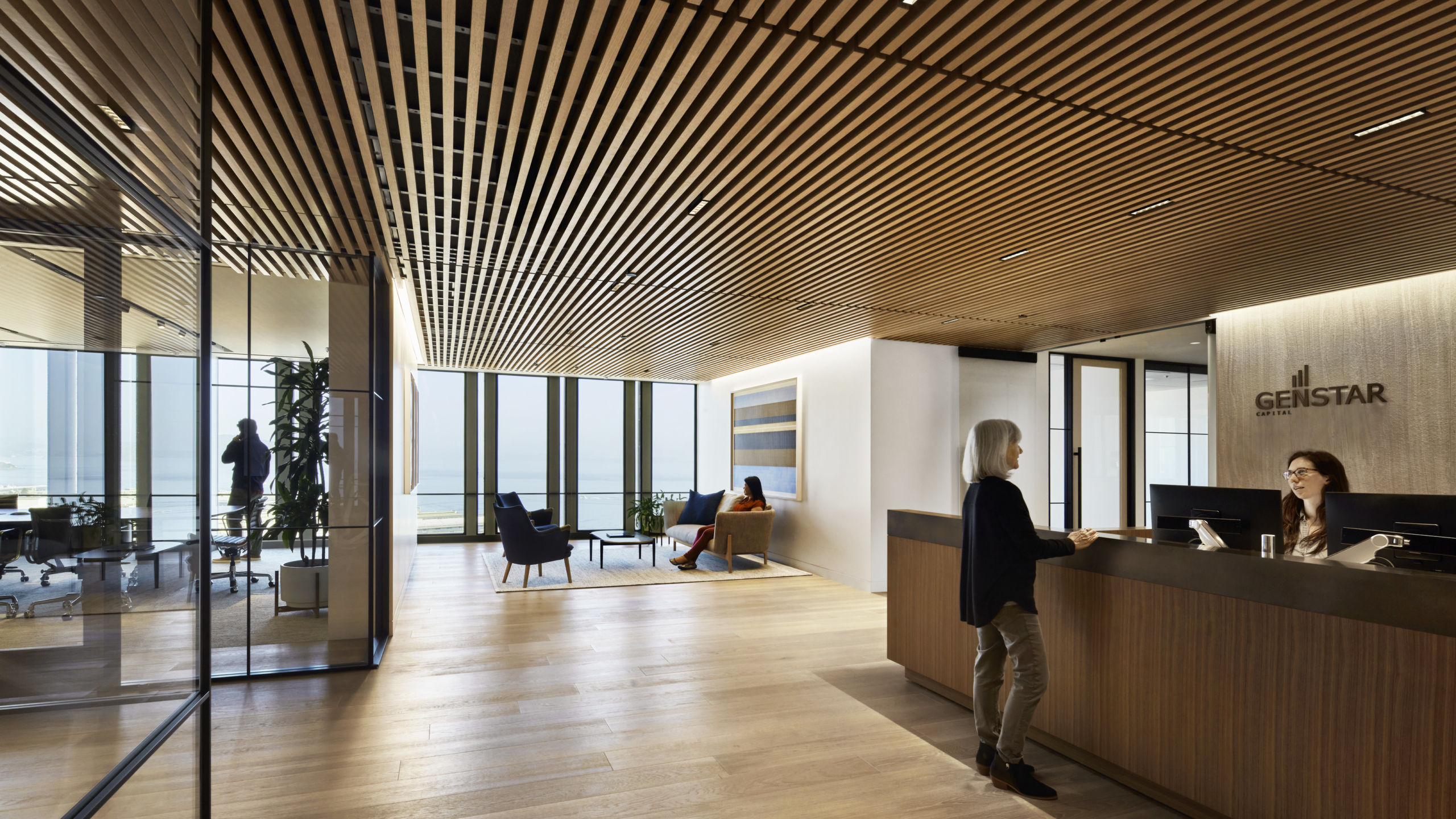 Genstar Capital
San Francisco, California
Eager to make the most of their long-term presence in the iconic Embarcadero Center, Genstar engaged us to breathe new life into their workplace, creating a healthier, more collaborative, and inclusive environment for employees and clients.
SIZE
22,000 square-feet
COMPLETED
2022
As a private equity firm focused on middle market investments, personal connection and transparency are at the core of Genstar Capital's ethos and were important drivers in creating a re-imagined workplace now characterized by openness, hospitality, and warmth. Responding to the company's desire to transform their outdated, dim, and compartmentalized offices, we relocated important communal and social spaces from the core of the building to the perimeter, taking advantage of the panoramic views and natural light. New floor-to-ceiling glass offices bring daylight and visibility into the interior, improving a sense of connection between employees and allowing all staff to enjoy the backdrop of city skyline and waterfront views.
A broadened hallway links reception and dining areas while connecting a new, state-of-the-art boardroom and conference center. These formal meeting areas impart a sense of openness and continuity when used for firm-wide meetings and client events. To the northern edge of this hall, a generous gathering space, conceived as an art gallery, provides an extension of the reception area. Along the hallway, the glass-lined gallery offers a sense of connection to the activity within and acoustical privacy for occupants.
A warm, neutral palette wraps around the building's concrete core, providing an airy backdrop for a new art program, introduced as part of the project, where work from local artists animates the walls and contrasts with wood, glass, dark bronze accents, and contemporary furnishings. Plain-sawn white oak floors with expressive grain and character are set against a rift-sawn white oak plank ceiling, offering an added sense of warmth. Within the dining area, the material palette evokes a casual sophistication, with low-sheen warm wood and neutral tones, and colorful handmade tiles. Bar-style seating lines the walls and windows, providing ample space to eat or work.