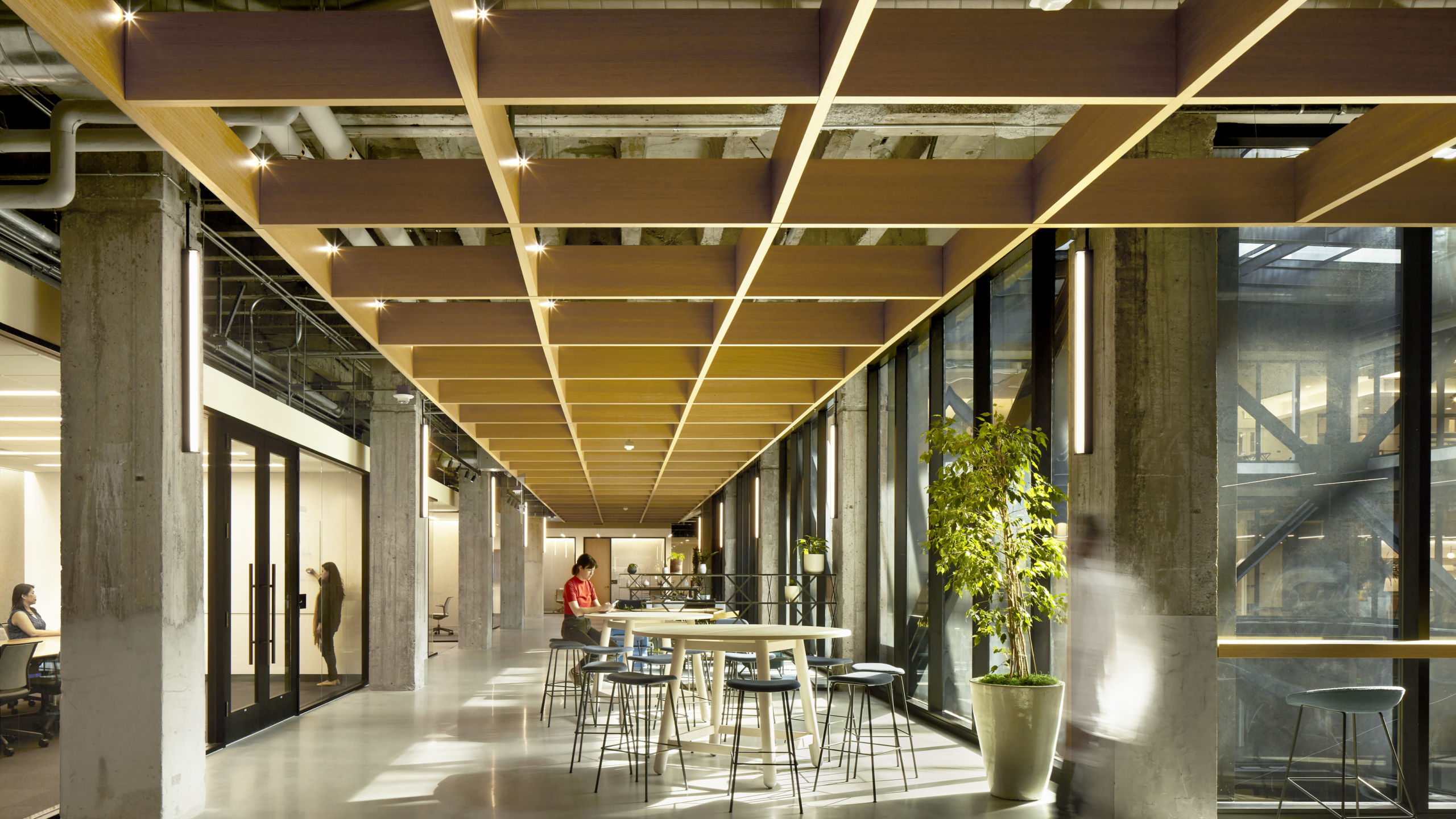 Confidential Technology Company Headquarters
Oakland, California
Partnering with our client on its East Bay headquarters, we used the framework of a historic former department store to create a healthy and intuitive environment that addressed evolving workplace needs.
SIZE
319,000 square feet
COMPLETED
2020
Our client's culture and modes of working are constantly evolving, and for their second Bay Area headquarters they wanted to provide more private spaces to focus and concentrate. Expansive floor plates and an 85-foot-high central atrium provided opportunity to reframe the organization of circulation and gathering areas, meeting spaces, and individual desks. We designed the floors to break down vast open space into a series of "neighborhoods," each sectioned off by conference rooms that act as a buffer between areas of focused work, collaboration, and gathering, without sacrificing a sense of intuitive connection throughout.
A grid of acoustic wood baffling suspended below the ceiling delineates the main circulation areas on each floor. While providing a unifying design element, this framework also enabled us to preserve the raw character of the ceiling while softening noise. Set against a backdrop of diffuse natural light, informal gathering areas in this space provide a comfortable place to meet colleagues, and small cafes and tech support desks, area easily accessed from various neighborhoods. Installations from local artists working across a variety of mediums — from paintings to woven hangings to furniture — feature prominently throughout.
The sixth floor includes a large multifunctional space for all-staff gatherings and dining, with direct access to landscaped outdoor terraces overlooking the surrounding neighborhood, hills, and bay. Public gathering areas and restaurants on the ground floor open to the atrium and street, creating a welcoming environment that invites both building occupants and the surrounding community to explore a range of offerings.