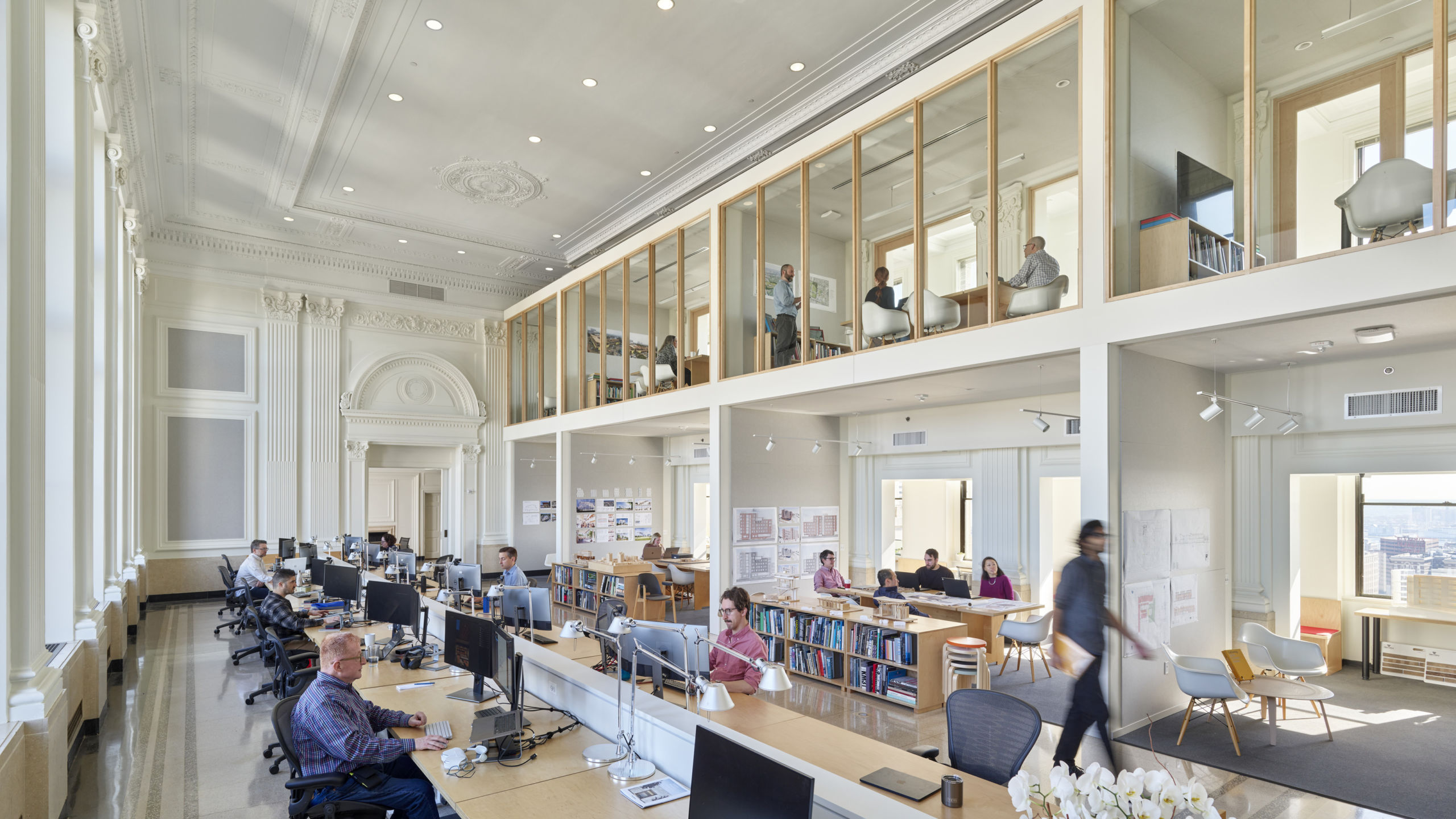 Bohlin Cywinski Jackson, Philadelphia
Philadelphia, Pennsylvania
Soaring ceiling heights, intricate period details, and plentiful natural light found in the top floor of historic 123 South Broad Street building provided a welcome framework for our new studio.
SIZE
6,346 square feet
COMPLETED
2023
AWARDS
AIA Philadelphia Honor Award
The studio is an adaptive re-use of the former Midday Club, founded in 1929, at the historically listed 123 South Broad Street in Philadelphia. The space was more recently used as a library reading room for a law office. Our goal was to create a highly flexible work environment that provided varied options for staff to move quickly between individual work, impromptu discussions, and group meetings throughout the day. In creating the new space, we considered occupant well-being, efficient material and resource use, and integration of modern elements within a distinctive interior framework.
The studio takes advantage of large windows that bring natural light indoors while offering panoramic views of Center City. During the design process, we studied workstation and collaboration typologies for the new studio to establish the ideal configurations for individual and group work. Hoteling desk workstations run the length of the main office space, while open teaming spaces are located below the extended mezzanine level. Full height windows in the mezzanine level bring natural light into a series of collaborative spaces.
While preserving and restoring original ornamental details and the office's historic terrazzo floors, new elements combine to create a dynamic workplace that offers flexibility and supports seamless transition between in-person and virtual collaboration. Repurposed materials include custom furniture developed by our practice, reconfigured for continued use in the new space.