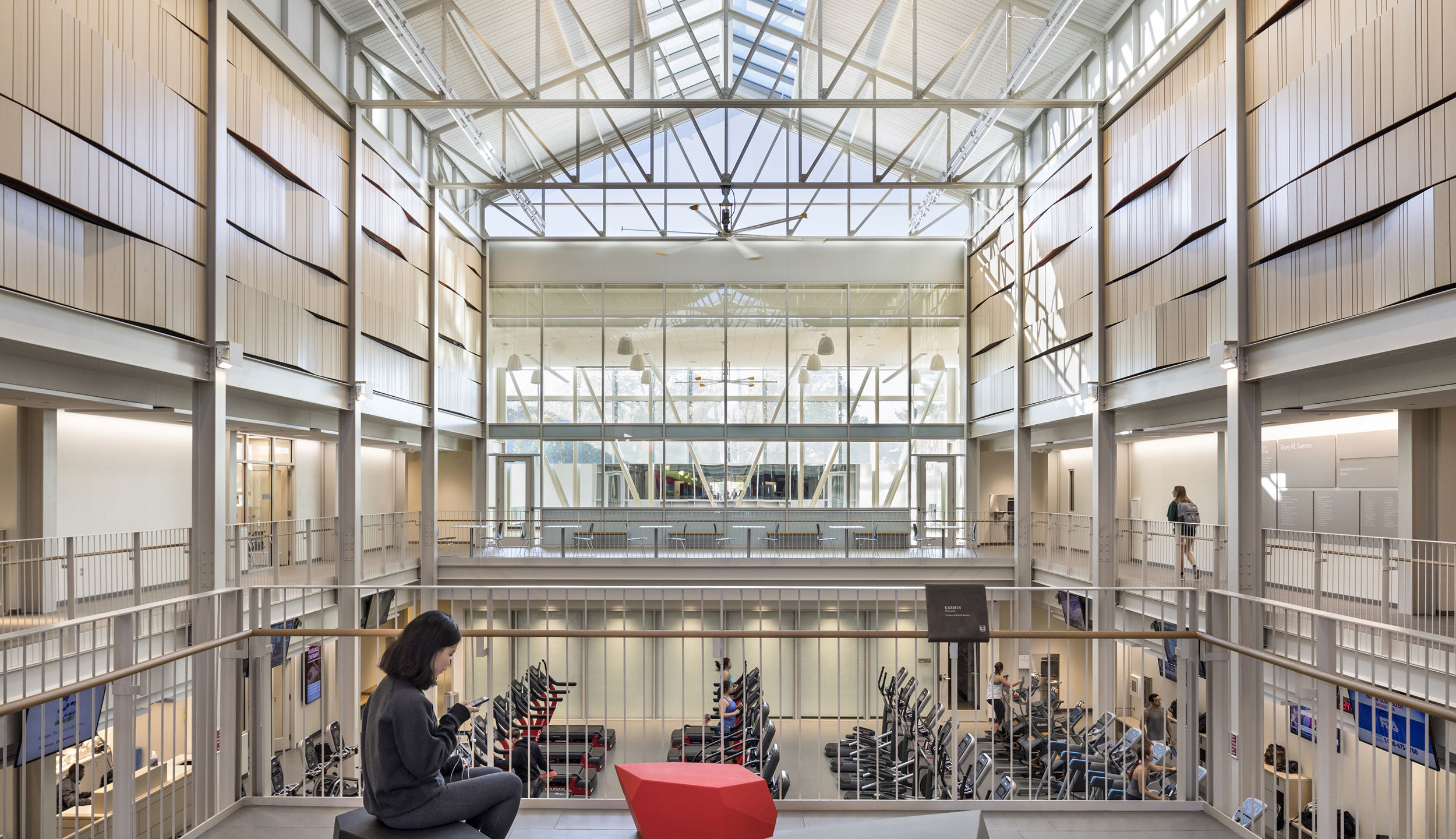 Washington University in St. Louis, Athletics and Recreation
St. Louis, Missouri
Sensitive adaptive re-use and long-range planning chart a sustainable path forward for WashU's athletics.
We first worked with Washington University in St. Louis on the Sumers Recreation Center, an adaptive re-use of the historic Francis Gymnasium on the southwest corner of campus. By re-purposing the obsolete interior of Francis and adding a 66,000 square-foot addition, we transformed the building into an inspired gateway to the unified recreation and athletics complex, reinvigorating diverse athletic and wellness offerings. The LEED Platinum fitness center includes wellness suites, spinning facilities, lockers, sports medicine, and lounges that immediately place visitors in a space built for action and interaction. The strategic removal of existing half-level floor plates created direct visual and physical connections to the activities within. Existing exterior masonry walls were retained, while a new steel frame was inserted to enhance transparency and connectivity throughout.
In August 2018, two years after completion of the Sumers Recreation Center, we were engaged to assess campus-wide athletic, recreation, and club playing fields and supporting facilities. We conducted charrettes, tours, and programming sessions with campus-wide stakeholders to assess conditions, understand needs, and develop programming for future expansion. This work resulted in immediate, near-term, and long-term projects, including a new women's varsity softball field, men's varsity baseball field, and planning for a future athletics and club sports district.
The new women's varsity softball field, completed in 2022, resolved existing drainage problems that rendered the field unplayable after weather events. Another challenge was the need to accommodate intramural sports within the footprint of the new field. Flexible synthetic turf and a removable fencing system allowed for a distinct playing surface, branded to reflect team identity, that also provided space for intramural soccer, flag football, and ultimate frisbee in alternate seasons. The men's varsity baseball field also suffered from issues with its playing surface, and lacked support facilities typical for a Division III finalist team. Field improvements, completed in 2023, include a state-of-the-art synthetic surface with a custom graphic of the St. Louis Arch woven into the outfield, new dugouts, a press box with upgraded A/V abilities, new fencing and netting, an athlete's performance area, bullpens, and hitting cages.