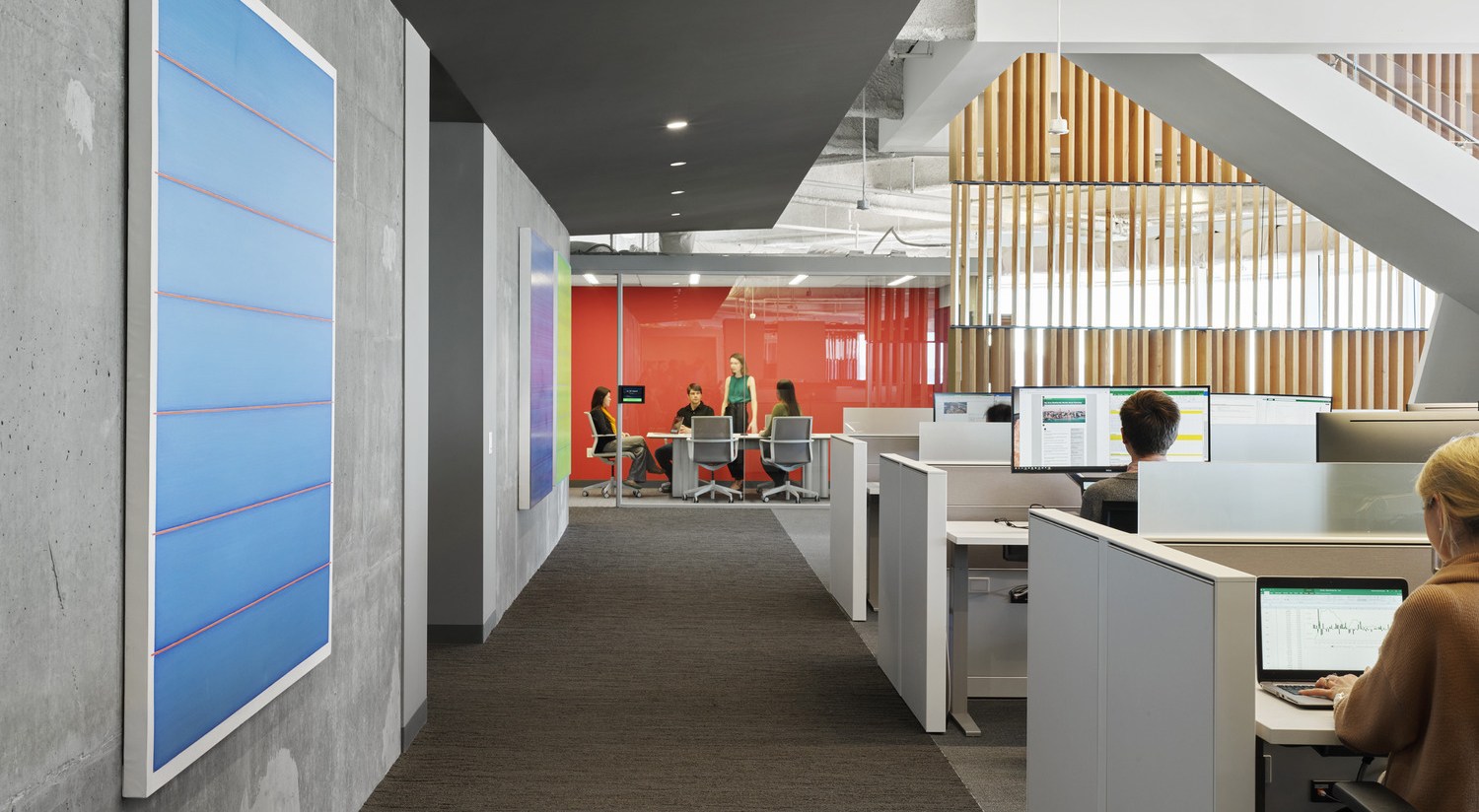 Workplace 360, CBRE's New Approach to Office Design
As workplaces continue to change rapidly in response to technology and social norms, what is the place for assigned desk space?
Advances in technology have contributed to remarkable shifts in the physical, social, and cultural spheres of the contemporary workplace. This change has led to experimentation and exploration in defining the spaces where we work. Beyond flexible floorplans and determining whether to embrace an open office plan, it's about how and when we're simultaneously connected and isolated in our work, like where and how we collaborate. And, how do collaboration space and workflow interact with our need for focused, independent work? How do we create workplaces that accommodate both modes of work and allow employees to find a sense of community?
These questions will inform conversation during our San Francisco Year of Gathering event. It is also the focus of CBRE's innovative Workplace 360 program exemplified in their new San Francisco office designed by our firm and located on the 45th and 46th floors of the Salesforce Tower. This workplace strategy utilizes the concept of "free-address," where no employee has a dedicated desk or private office, taking the open office concept to a new, more flexible level. The goal is to transform the workplace into an efficient, technology-enabled, paperless, collaborative work environment. It serves a dual purpose. It offers a variety of settings tailored to CBRE's increasingly mobile employees, while also serving as a model workplace showing how their clients can optimize the utilization of their real estate footprint by building out only what is genuinely needed and eliminating spaces that are rarely used.
What is "free-address" like for an employee?   
Empowered by choice, employees start their day deciding where and how they want to work. They can reserve a private conference room, head to a teaming lounge for collaborative work, tuck into a focus booth, grab a coffee and check email in the café with stunning city views or settle into a desk near a new coworker. Each desk is outfitted to plug-and-play with adjustable desks, monitors, "follow-me" phones, and necessary office supplies.
Georgia Collins, executive managing director and global head of CBRE's Workplace 360 format, described the approach as "designed to transform how our people work and connect to one another, while simultaneously optimizing our use of physical space," in a San Francisco Business Times article. This "free-address" concept removes common pitfalls of an open office, allowing employees to decide on their own how best to be productive and engaged so that they can thrive. It is also an equalizer allowing all staff, not just executives, privacy when they need it.
How does this translate to design?
CBRE's LEED Gold 40,000 square-foot light-filled office accommodates over 200 employees. The "squircle" (a shape intermediate between a square and a circle) floorplans of the two levels are composed of an inner central square form hiding circulation, entry lobbies, pantries, and a production room. Circling the square is an outer track that contains all workspaces and dining facilities. Conference clusters and "free-address" desks are arranged in small neighborhoods in a pinwheel configuration around the core. Oriented perpendicular to the perimeter glass, the desks offer all employees democratic access to light and views. Each corner of the floor is anchored by a distinctive lounge that occupies the curving contour of the tower's façade. These corners offer a variety of alternative work environments that encourage employees to collaborate away from their desks. In a high-tech common area, clients can take a "walking tour" of a property with a presentation tool known as Liquid Galaxy.
The layout of the space promotes health and wellness. An open and inviting staircase descends from the 46th-floor reception, directing gazes outward and downward to the city below. Lined on one side by a filigree oak screen wall, the staircase creates open circulation across both floors, fostering chance encounters and encouraging use. On the 46th floor, the RISE Café (named for CBRE's values of Respect, Integrity, Service, Excellence) offers health-conscious meal options. This space is more than a dining hall, however. The open area merges with the reception lounge known as the Heart, creating a flexible space for office gatherings and happy hours.
 Does the model work? 
From an internal staff survey CBRE performed after the opening of their Workplace 360 Singapore office, they say the model works. They found the model increased collaboration by 80%, increased focus by 72%, and increased the ability to work in small teams by 92%. CBRE asserts employees feel more in control of their day-to-day work, and staff benefits from knowing more coworkers across departments by sitting with different people each day. CBRE also reports an 8% decrease in rental costs per person in the office, making it a more efficient way of working without increasing square footage. CBRE reports 96% of employees don't want to return to the old way of working with dedicated desks after experiencing this new flexible alternative.
Could this be the future of work in your office?