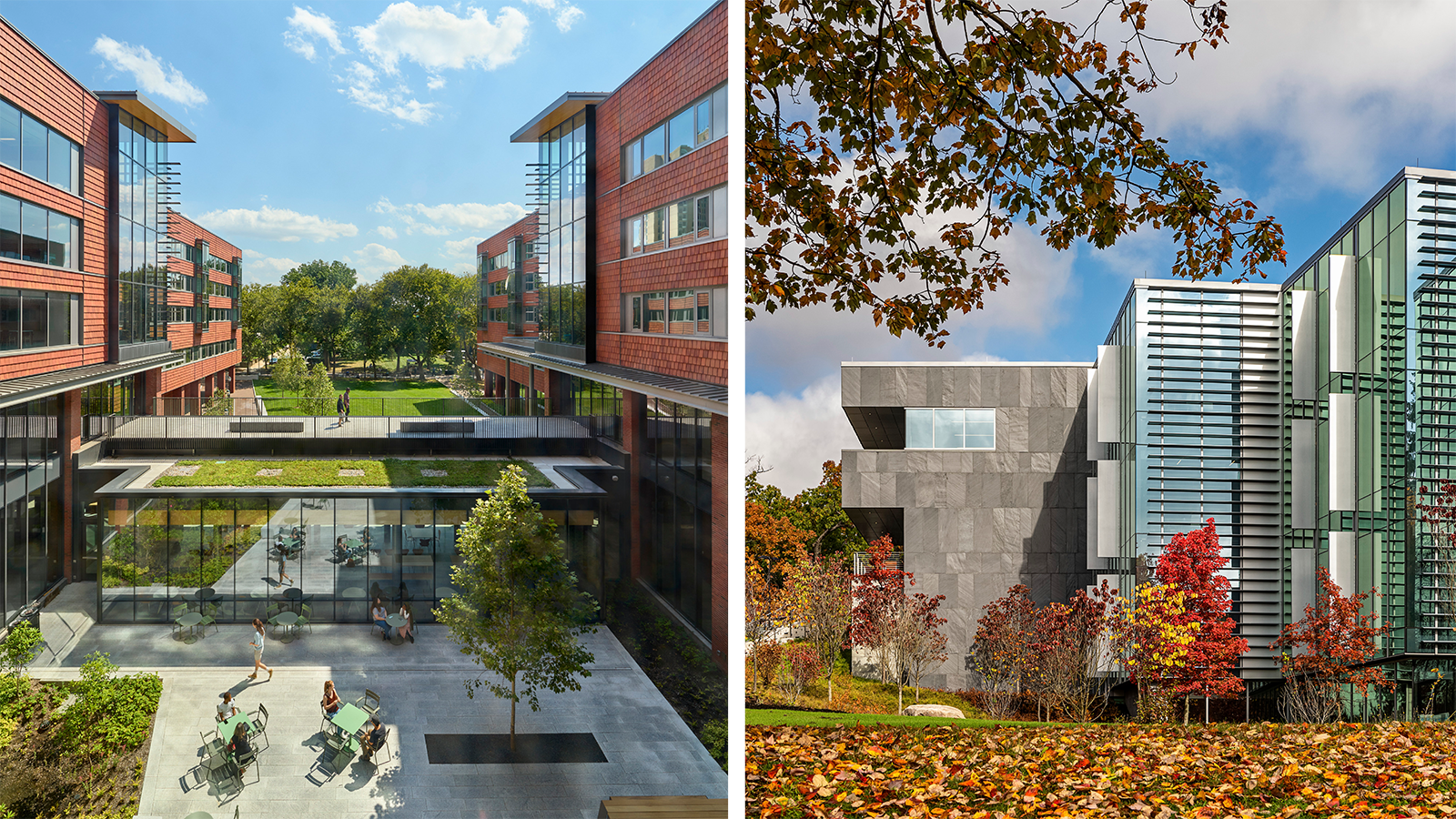 Two Bohlin Cywinski Projects Recognized with AIA Pennsylvania COTE Awards
The University of Pennsylvania, Gutmann College House and Ramapo College, Peter P. Mercer Learning Commons were recognized by AIA Pennsylvania for their sustainable design strategies and performance.
The AIA Pennsylvania COTE Awards celebrate the highest standards of design excellence, incorporating community connection, equity, resource and material use, resilience, and stewardship of the natural environment. A Wisconsin-based COTE awards jury selected six projects that reflect the rigorous standards set by the AIA Framework for Design Excellence––two of which were higher education projects designed by our practice.
The University of Pennsylvania, Gutmann College House received a COTE Award. A holistic approach to well-being shaped the design of Gutmann College House, supporting students who lead an often intense academic life. From biophilic strategies like access to natural light and visual connections to the outdoors, to flexible areas for interaction and collaboration, the project supports and nurtures residents in many ways. Among the most visible sustainable strategies is a comprehensive approach to stormwater management. The project manages runoff for 98% of rainfall onsite through green roofs, raingardens with engineered soils, a subsurface detention basin, permeable pavement, and native plants. Improved envelope values, including a terracotta shingle system comprised of 618 prefabricated exterior wall panels, help optimize the project's overall energy performance.
Consultants: Structural Engineer: CVM, Electrical Engineer: Vanderweil, Mechanical Engineer: Vanderweil, General Contractor: INTECH Construction, Landscape Architecture: Michael Vergason Landscape Architects (MVLA), Civil Engineering: Meliora, Security: SMW, Elevator: VDA, Acoustics: Metropolitan Acoustics, Lighting: The Lighting Practice, Food Service in Kitchen: Birchfield, Food Service- Coffee Bar: DNA, Photography: Jeffrey Totaro.
Ramapo College, Peter P. Mercer Learning Commons received a COTE citation. The jury commended the reuse of the existing building's foundation superstructure and exterior cladding, as those elements tend to be the most embodied carbon and labor intensive (as well as difficult to preserve with new programming). The Peter P. Mercer Learning Commons provides a vibrant hub for students, combining resources for campus-wide use, including state-of-the-art, technology rich classrooms and study spaces, a makerspace, and dedicated areas for assistance with research, technology, reading, and writing. Retaining the original foundation and steel superstructure of the former George T. Potter Library, the project team integrated modern mechanical, plumbing, and lighting systems that exceed energy code requirements. A series of vertical and horizontal sunshades along with a custom ceramic frit pattern on high-performance glass protects occupants from direct glare and excessive heat gain while introducing plentiful natural light and extensive views.
Consultants: Structural/Envelope: CVM, M/E/P/FP/IT/AV/Lighting/Security Engineer: Vanderweil, Landscape: Dirtworks, Civil Engineer: Langan, Photography: Christian Phillips.