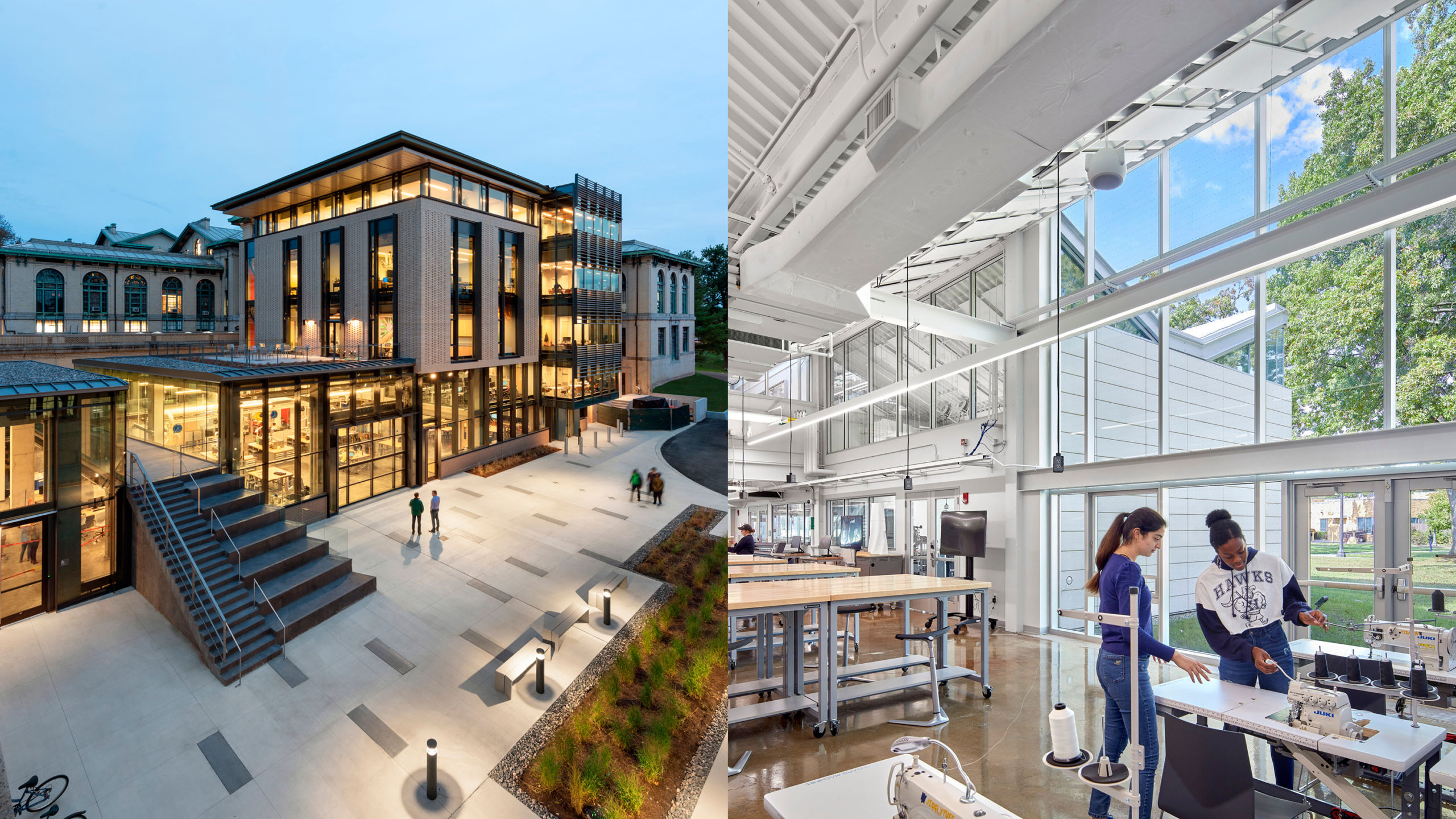 Two Bohlin Cywinski Jackson Projects Honored with SCUP Excellence Awards
We are excited to announce that Carnegie Mellon University, ANSYS Hall and the Design Innovation Hub at Kent State University were recognized by the Society for College and University Planning in its 2022 awards program.
Carnegie Mellon University, ANSYS Hall received an Honor Award in the New Building category. A hive for teaching, prototyping, and implementation, the 36,000 square-foot mixed-use project was designed for the University's College of Engineering in collaboration with the engineering software company ANSYS, Inc. The building completes the College of Engineering's "Maker Ecosystem" that includes nano-, micro-, and macro- fabrication, bringing together undergraduate and graduate students from multiple disciplines in a hands-on environment that encourages and displays the cross-pollination of ideas and innovation.
Project team members included Mosites Construction, Buro Happold, Barber & Hoffman, Langan Engineering, Klavon Design Associates, and BrightTree Studios.
The Design Innovation Hub (DI Hub) at Kent State University received a Merit Award in the Additions, Renovation or Adaptive Reuse category. The DI Hub is a collaborative, "owned by all, shared by all" environment that brings together students, faculty, and experts from diverse disciplines under one roof. Revitalizing Kent State's 1970s-era, John Andrews-designed art building at the center of campus, the project is the focal point for a University-wide maker ecosystem. By stripping the building to its original structure and creating a light-filled and interconnected environment, the DI Hub continues a legacy of creative exploration while providing a flexible framework for the next generation of innovators at Kent State.
Project team members included Domokur Architects, Gilbane Building Co., Nelson Byrd Woltz, Knight & Stolar, Scheeser Buckley Mayfield, and Barber & Hoffman.
The SCUP Excellence Awards honor achievement in strategic, integrated planning that results in exemplary buildings and grounds, institutional success, and careers that inspire. Read more about the 2022 awards below: