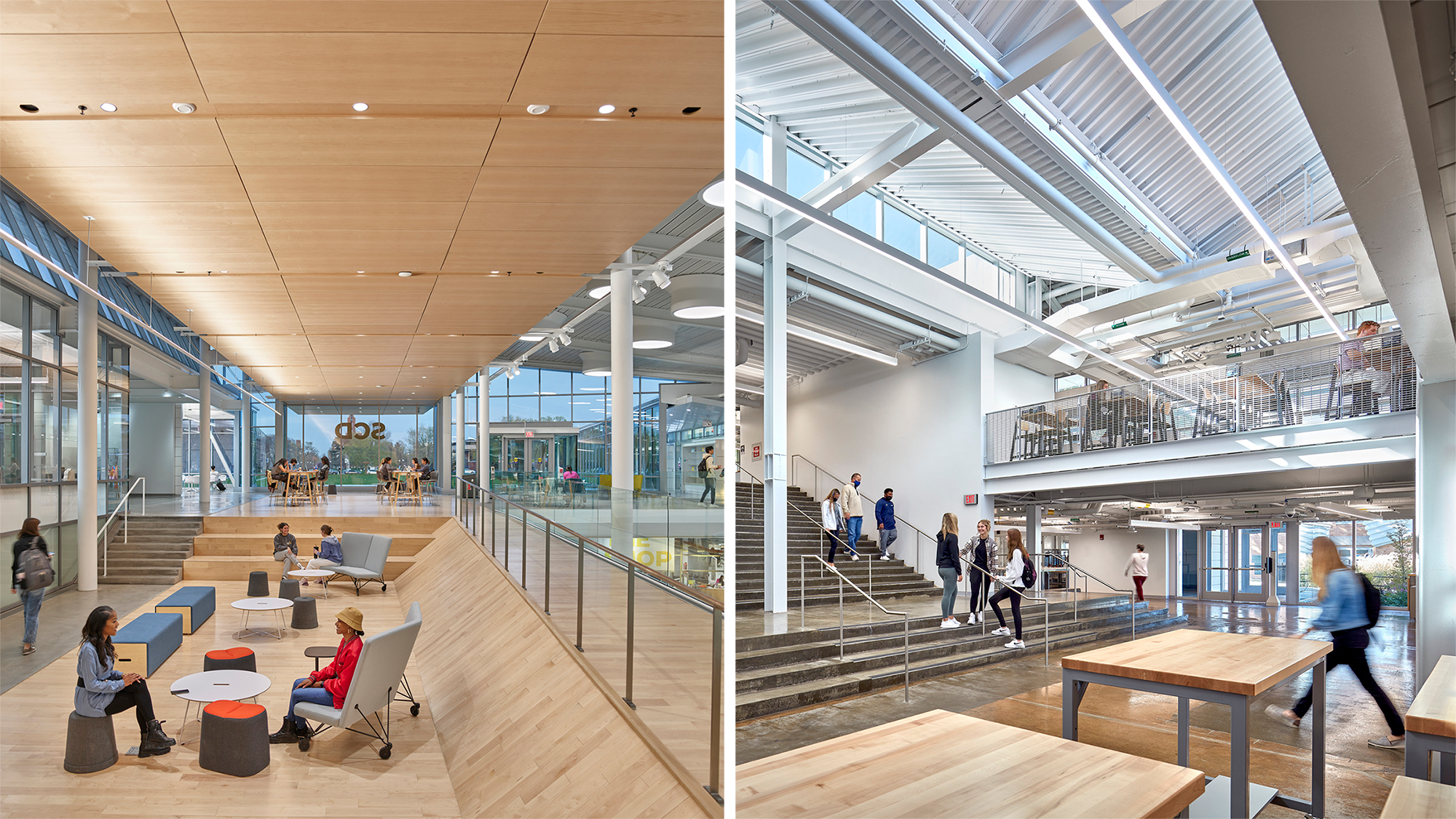 Two Bohlin Cywinski Jackson Projects Honored with AIA Education Facility Design Awards
The Siebel Center for Design at the University of Illinois Urbana-Champaign and the Design Innovation Hub at Kent State University were among the 2023 recipients.
We are excited to share that the Siebel Center for Design and the Design Innovation (DI) Hub have been honored with 2023 AIA Education Facility Design Awards, a program that recognizes exceptional learning environments, including early childhood, K-12, alternative, community and technical colleges, schools of higher education, corporate or other specialized training centers, and non-traditional learning environments. Both projects were designed to encourage campus communities to explore and create together, welcoming students and faculty from across disciplines and lowering barriers to physical and digital creation.
The Siebel Center for Design at the University of Illinois Urbana-Champaign received an Excellence Award. The project provides a hub for all students and faculty to practice, model, and teach design thinking through experimentation, prototyping, and making. Acknowledging wide levels of experience and comfort with design processes and tools, we organized the facility to lower the barrier to entry and encourage immersion over time. Instead of specialized equipment, tools, and environments made available to a limited segment of campus, the project design began with envisioning a place where an English major with no specialized training would feel as at home as an engineering major. This process yielded spaces like the open Gallery, as well as readily available low-tech tools. The curved pathway at the heart of the project provides a vibrant crossroads and a prominent display of the university's commitment to fully accessible spaces on campus.
Project team members included Ratio Design, IMEG Corp., Silman Structural Engineers, Atelier Ten, Fuhrmann Engineering, Shen Milsom & Wilke LLC., Terry Guen Design Associates, and CCS International, with Jeffrey Totaro and Sam Fentress photography.
The Design Innovation Hub at Kent State University received a Merit Award. An adaptive re-use of the 1970s-era art building at the center of campus, the DI Hub is the focal point for the university's innovation ecosystem. Creating an accessible and interconnected space for a variety of users, we engaged the building's 25×25' structural grid to guide the design and organization of makerspaces and classrooms of different scales. Transparent, visually linked, and organized around collaborative areas, DI Hub spaces encourage exploration and feel approachable for students with varying skillsets.
By stripping the building to its original structure and creating a light-filled and interconnected maker environment within, the DI Hub continues a legacy of creative exploration at a central campus location, providing a flexible framework for the next generation of innovators at Kent State. The jury commented that "the sustainability message really came through, and stakeholders understood how specific design measures impacted the learning environment. They sensitively integrated the old building in a modern way, with its own flavor."
Project team members included Kent State's Office of the University Architect, Domokur Architects, Gilbane Building Co., Nelson Byrd Woltz, Knight & Stolar, Scheeser Buckley Mayfield, Resource International, Inc., Babich Acoustics, and Barber & Hoffman, with Ed Massery photography.