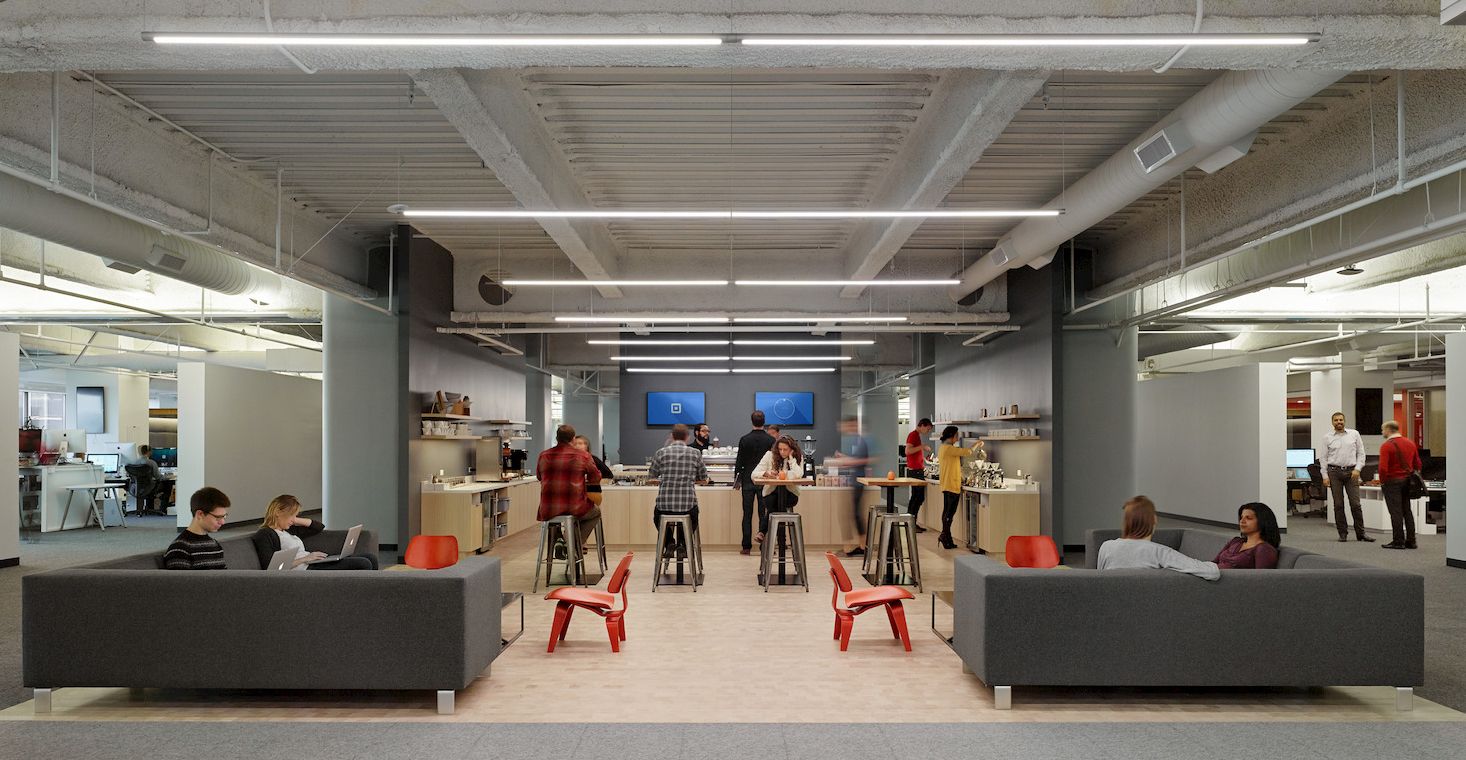 Square Offers Its Community a Place to Connect
A modern tech headquarters takes cues from urban planning, designing spaces to gather and collaborate in person.
A New Headquarters
When Jack Dorsey, Founder of Square, Inc. set out to build his next headquarters in downtown San Francisco, he had an ambitious vision. He needed to scale a growing company, expand the workforce, retain existing talent, and protect the "start-up" culture through the transition. Dorsey had to do this while fulfilling basic workplace needs (workstations, meeting rooms, auxiliary facilities) and future-proof his commercial investment through flexible design. He also had to empower his brand through the office's design, creating an inspiring place for his labor force to continue innovating while preserving core values of collaboration and transparency.
Dorsey chose to do this in an unexpected location, a vast dark, windowless space that was previously a data center for Bank of America. "It was extremely grim – a dungeon of mechanical stuff" said Bohlin Cywinski Jackson principal, Greg Mottola, FAIA, in an interview about the project with Architectural Record. Turning such a space into an open, lofty, light-filled 300,000 square-foot modern office was a challenge our design team was excited about.
After touring the Creekside Residence in Northern California, Dorsey sought out our firm. This house is comprised of a series of clean, minimal volumes, and warm natural materials such as wood, stone, and glass. The tour helped inform the vision for a more refined work environment, a sophisticated mature version of Square's former office. The project's color palette remained intentionally minimal and neutral, referencing Square's sleek branding, iconic hardware, and desire to let its employees dictate the feel of the space. "The concept was that the vibrancy and diversity would come from the employees, rather than the surroundings," said Mottola in the aforementioned Architectural Record interview.
Finding Inspiration from the City
Considering the needs of the office's workers, Dorsey and our design team organized the four floors, each spanning an entire city block, around urban design principles to improve circulation, foster impromptu meetings, and humanize the scale of the office. A long central boulevard (32-foot wide) runs through the length of each floor, connecting communal spaces at either end of the thoroughfare, including conference rooms and a wood-paneled library reminiscent of the Creekside Residence.
Lining the boulevard are casual collaboration zones, like galleries, cabanas for informal work, and cafes. Each offers unique seating options and a range of private and semi-private work environments. Team rooms placed on perpendicular axes off the central boulevard help to break up open office spaces into easily identifiable neighborhoods, making the large floor plate more hospitable and intimate for workers. Additionally, fostering equality, no desks are positioned along the windows. Instead, flexible soft furniture and standing high-top tables line the exterior perimeter allowing anyone a moment of respite to enjoy the views or claim a quiet nook for reflection.
Another unifying element in the project is the grand amphitheater stairway that connects three floors. The wood-clad flights, fitted with thin custom-designed Gazelle tables, step down to create informal places to gather. Functionally the stairs allow staff to circulate amongst levels quickly, but they also provide a large-scale meeting space for presentations and surprise visits, much like a city's public square. Another focal point is the Square Stair, a floating wood and glass switchback that connects the office spaces to the dining level. These predominant stairways offer employees an easy way to make healthier, more sustainable choices like opting out of using the elevator for frequent trips.
It is easy to lose sight of what it feels like to work in an open environment bustling with innovation and activity, especially at this scale. As architects, we must design for the alone / together paradox, balancing the need for public collaboration with room for focused private work. In Gathering, Jack Dorsey sums it up, "Architects should make spaces where people can be themselves – to gather, to trade stories, and to create"… "Bohlin Cywinski Jackson has been responsible for some of the best manifestations of that in the world, and we've been fortunate to feel it every day at Square."
Placemaking in Oakland
We challenge ourselves and our clients to embrace opportunities for community building in all aspects of our designs. In our latest project with Square, we are doing just that on multiple levels. We're upgrading the historic Uptown Station building (formerly H.C. Capwell and Sears department stores) in the heart of the emerging Uptown Oakland neighborhood. The new East Bay offices occupy 300,000 square feet across seven stories. The design is organized around a large central atrium, with collaboration spaces and social amenities activating all seven stories of the open lightwell. Offering workers protection from noise, work areas are set back from the atrium buffered by conference rooms and lounges and are organized in neighborhoods similar to San Francisco's office. Cabana booths are mixed into these neighborhoods creating an organic flow and more intimate workspaces. A large open lounge and rooftop terraces on the 6th floor create places for all-hands meetings, social events, or a respite in the sun.
On the ground floor, a public marketplace and food hall will feature many local small businesses that use Square's products. Not only will the marketplace contribute to the local economy by supporting these sellers, but it will also provide a testing ground for Square's hardware and software. The market replaces the need for an in-house cafeteria for Square's employees, encouraging them to patronize local merchants while also creating opportunities to engage the public, empower their clients, and contribute to the civic life of Oakland. Creative mixed-use opportunities like this provide new ways to rethink workspaces, a company's responsibility towards the public, and its role in fostering community.