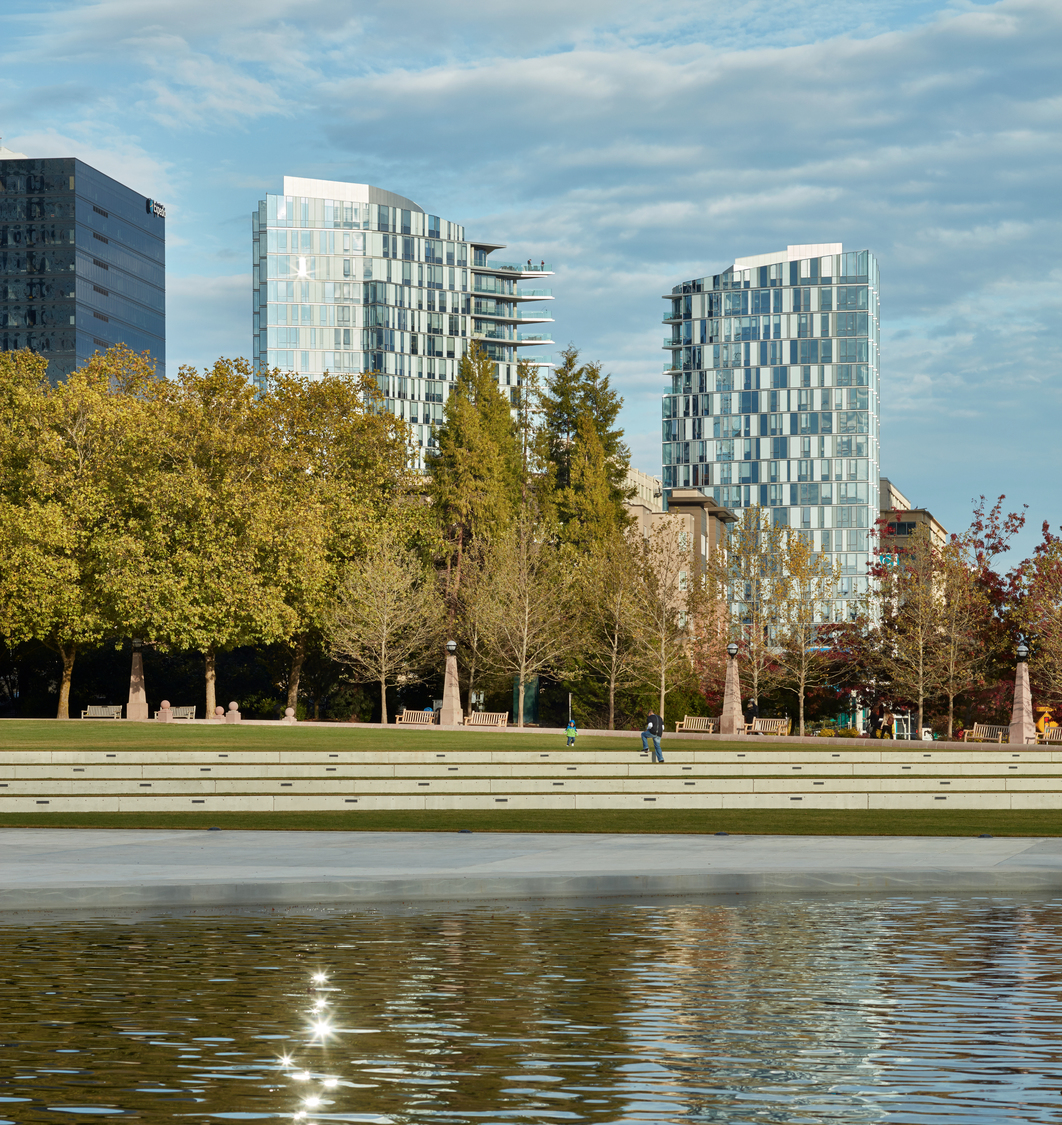 SOMA Towers: Designing a High-Rise for the Human Scale
What happens when a large-scale building gives back to the public realm? What does human-centered design mean when building in the urban environment?
We explored these concepts in our first mixed-use high-rise project located in the heart of Bellevue Washington's expanding downtown. Lending a fresh perspective to this complex project of two high-rise residential towers (one 21 stories, the other 18), we worked collaboratively with John Su (trained engineer turned developer and general contractor). Reflecting on the project in our new monograph Gathering, Su said, "We feel the engagement with the community is a benefit for everyone, including our business." This commitment to people carried through all aspects of our design.
John Su selected our firm precisely for our relative lack of experience with tall-building construction and our human-centered approach. Robert Miller FAIA, a principal in our Seattle office and project lead, said in a recent Metropolis article titled Bohlin Cywinski Jackson's Soma Towers Add to Greater Seattle's Skyline, "There is a lot of redundancy in high-rise design, perhaps a bit of a formula to it." The intention of this project was "to do something a little outside the box."
Our team, to break the mold, designed two asymmetrical towers that are turned inward and joined by a public plaza and three-tiered podium. Visitors are led to the 'Cone' and 'Leaf.' These visual elements in the project's core provide clear wayfinding and allow daylight deep into the below-grade garage marking the vertical circulation leading to retail, the leasing office, and public restaurants. Between the towers, circulation paths, on multiple levels, orbit around the Cone and Leaf and add layers of visible activity to the plaza. The positioning of the towers encourages pedestrian traffic in the heart of the site, and seating elements allow people to linger.
People's needs shaped each tower's footprint. Special attention to the site's layout provided maximum sunlight and privacy for residents while capturing stunning views of the surrounding area (the Cascades, Lake Washington, and Seattle skyline). Also considered was the accessibility of shared spaces, which include retail storefronts, restaurants, and a covered outdoor plaza to host farmers' markets, bazaars, and other popular events. This human-centric approach led us to create an active hub for the community in a space that could have gone unused. The project's relationship to an adjacent hotel and adjoining concert hall (Resonance), integrate the site into a broader network of functions.
Located on the second floor of the towers, Resonance is a community-minded, intimate, performance, and event space, attracting a diverse audience. The music hall helps to activate the site during off-hours, featuring live acoustic music on most days of the week and invites new visitors to explore the site's public amenities. In partnership with neighboring Bellevue Arts Museum and the Meydenbauer Center, the addition of Resonance creates a network of art centers downtown, which offer enriching places for locals to learn, connect, and gather.
As architects, we believe human-centric design applies to every scale project, even urban high-rises. Every project type has an opportunity to improve the way people interact with the built environment, can elevate our quality of life, and play a part in building community. Just as we did with the SOMA Towers, we encourage fellow designers, developers, and community stakeholders to rethink the status quo, bring new ideas to predictable building types, and take time to design around human needs.