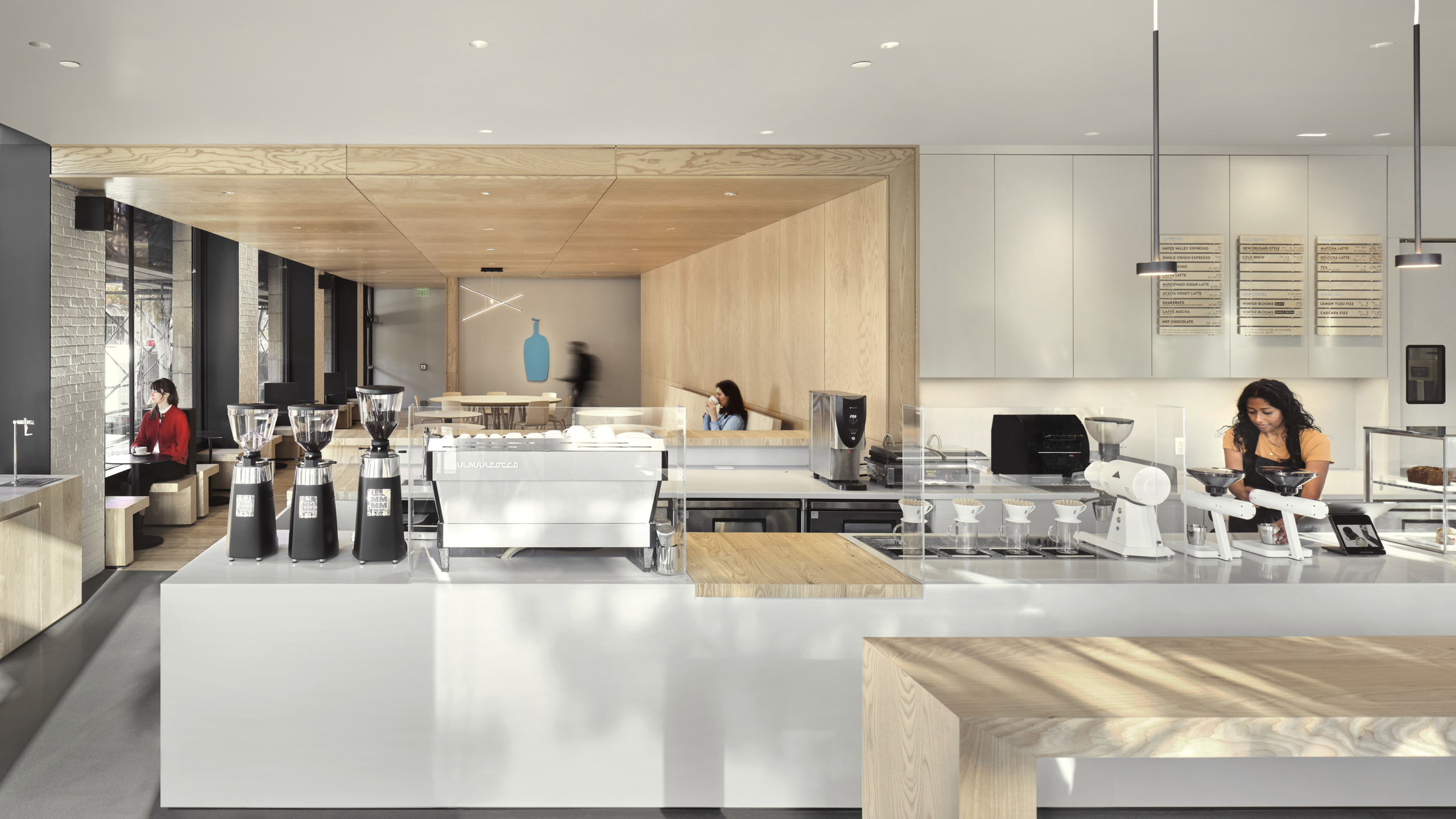 Crafting the Guest Experience: Blue Bottle Café Design at the World Coffee Leaders Forum
San Francisco Principal Greg Mottola, FAIA joined other global coffee experts at a recent conference in Seoul to share the firm's process of creating cafés with a strong dialogue between hospitality environment, neighborhood, and city.
The World Coffee Leaders Forum is an annual gathering of coffee experts, organizations, research and educational institutions, exporters and importers, producers, and others from nearly 80 countries worldwide. Forum participants learn about phenomena arising from the interactions between coffee, space, cities, and culture. Celebrating its 12th anniversary with the theme "Intersections of the Coffee Era: City, Technology, Sustainability," the 2023 Forum explored the challenges and opportunities of a rapidly changing coffee industry "aiming to find efficient directions and innovative solutions."
Principal Gregory Mottola, FAIA, shared an in-depth look at our design process and long relationship with Blue Bottle in a plenary session during the forum, focusing on how café design can respond to local context and character while maintaining consistent brand expression. "Crafting the Guest Experience: Blue Bottle Café Design in San Francisco and Beyond," introduced attendees to core design principles applied to Blue Bottle cafés throughout the country – spaces that balance legibility and utility with moments of delight and inspiration, and ultimately foster a sense of belonging in guests.
Case studies – from the South Park neighborhood of San Francisco to Chicago, where Blue Bottle's largest US café to date opened in 2021 – revealed how each project evokes a sense of place. "Design is an iterative process," noted Mottola. "We sketch, we build, and we test ideas." This process and collaborative relationship with Blue Bottle has produced many award-winning cafés within varied contexts. Whether located in a former industrial warehouse or a modern office tower, clear choreography of where and how customers meet, order, and enjoy coffee, as well as experience the art of coffee making, are essential to each visit. Clean lines, warm, organic materials, custom furniture, and natural light exist in balance with surrounding context, creating an inviting hospitality environment for guests. A variety of wood species, including ash, beech, maple, and white oak, contrast with stainless steel and white powder coat finishes, instilling a refined simplicity reflective of the global brand experience. In closing, Mottola shared how café design continues to surface in our work, including at Caymus-Suisun Winery, where an espresso bar in the retail pavilion provides a quiet moment for guests pause and reflect as they conclude their visit.