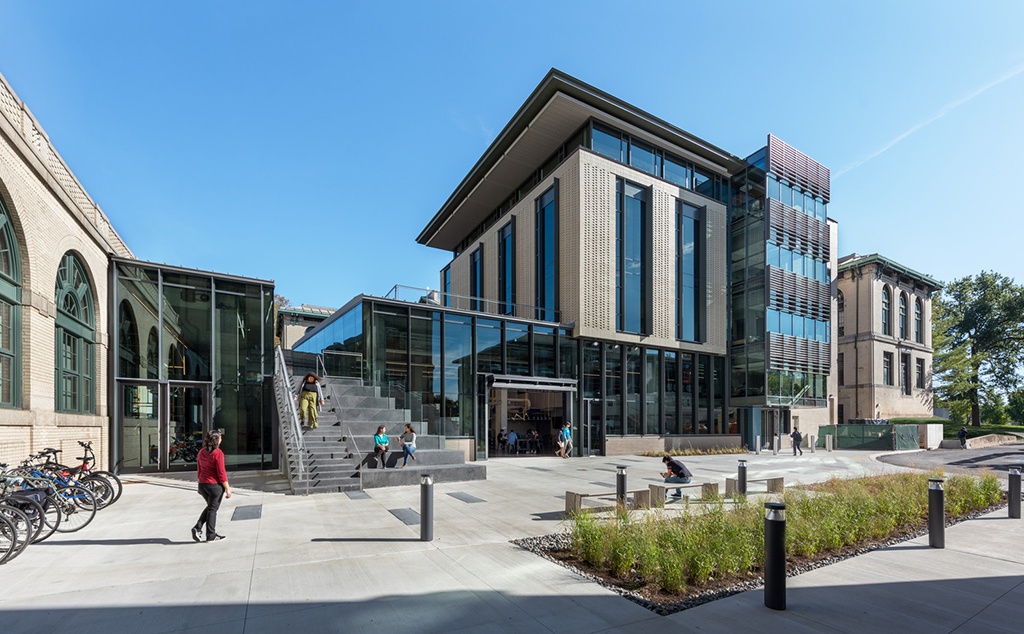 ANSYS Hall Opens as a Hive for Making
Bohlin Cywinski Jackson's Newest Makerspace, ANSYS Hall Opens to Students at Carnegie Mellon University
The recently completed ANSYS Hall is a 36,000-square-foot mixed-use building designed for Carnegie Mellon University's College of Engineering. This dynamic sustainably designed building (tracking LEED GOLD) is the result of a collaboration between the university and engineering software company ANSYS, Inc. The building was completed last summer and welcomed its first students this school year.
Envisioned as a hive for teaching, prototyping, and implementation, ANSYS Hall features an ample, open high bay space for full-scale prototype assembly. Overlooking the high bay is the ANSYS Simulation Room, where students utilize the company's simulation software, taught as part of their curriculum, to simulate interactions for physics, structures, vibration, fluid dynamics, heat transfer, and electromagnetics for engineering.
During the project planning, considerations for intellectual property ownership were carefully navigated. The facility allows ANSYS, Inc., and students to collaborate openly and freely while providing ANSYS, Inc. with a secure office suite. Ensuring a long-term academic- corporate partnership, ANSYS Hall creates an environment where students learn and test cutting-edge simulation software, provide direct feedback to the manufacturer, and create a pipeline for future corporate employment and leadership.
ANSYS Hall complements the surrounding historical Henry Hornbostle buildings, intelligently integrating into the existing campus connecting to the adjacent Maker Wing in Hamerschlag Hall and Scott Hall Nanofab lab. These buildings are part of the multi-facility CMU Maker Ecosystem that includes nano-, micro-, and macro- fabrication, bringing together undergraduate and graduate students from multiple disciplines in a hands-on environment that encourages and displays the cross-pollination of ideas and innovation.