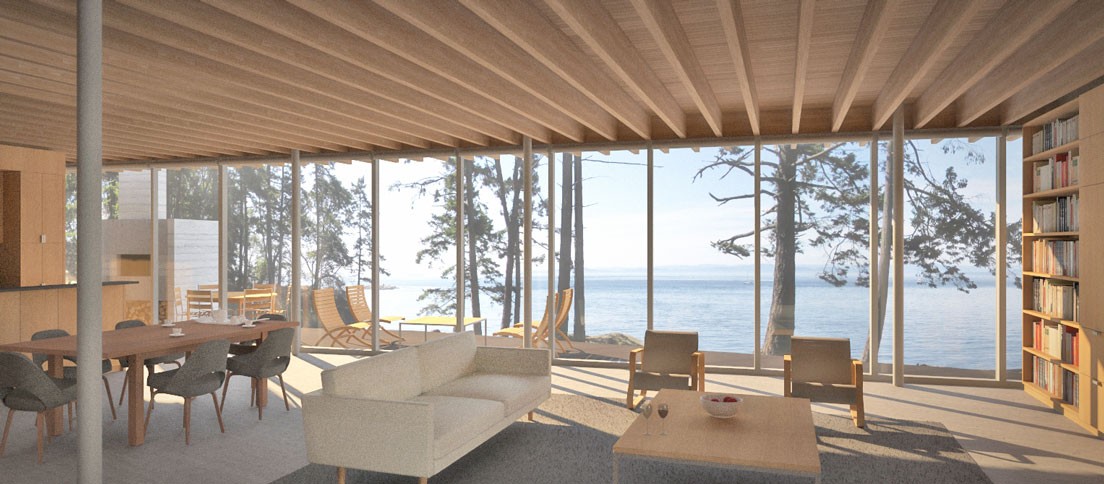 San Juan Island Residence
San Juan Island, Washington
A home for a retired couple recently relocated to the Pacific Northwest offers space for their favorite activities and immersion within the surrounding coastal environment.
SIZE
7,700 SF
COMPLETED
est. 2022
A recently retired couple wanted to begin their next chapter in the San Juan Islands, where they had spent time visiting friends and could live with the sights and sounds of the ocean nearby. The 5 ½ acre site, on the western coast of San Juan Island, slopes downhill from a forest of Pacific madrone, alder and Douglas fir to the rocky coastline overlooking the Haro Strait.
Responding to the natural slope of the site, required setbacks from the water, and our clients' desire for a home that felt rooted within the natural beauty of the site, we tucked the two-story residence against the hillside, creating a modest presence from the east while maximizing views west to the ocean and Vancouver Island. Entering the site from above, the driveway turns to reveal a first glimpse of the home's weathering steel screen and low horizontal roof through the trees. The roof's rhythmic laminated Douglas fir beams rise up at the entry, bordered on the uphill side by copper piping designed to support future plantings.
A connected kitchen, dining, and living area on the main level provides ample space for cooking and entertaining, opening onto an expansive deck. The living area is defined by a continuous wall of bookshelves along the eastern side, punctuated by views of the forest uphill, and panoramic views through a wall of glass to the west, shielded from the sun by a deep roof overhang. The main level also includes the primary bedroom suite, positioned to look out over the ocean. Although airy and open throughout, the subtle bend of the home along the hillside delineates public and private spaces. The home's lower level includes guestrooms, a wine room, and flexible creative space for our clients to pursue a variety of hobbies. As our clients' primary residence, we considered how their accessibility needs may evolve over time, which is reflected in the organization of circulation and primary living spaces across the main level, as well as the integration of an elevator shaft into the design for potential future use.