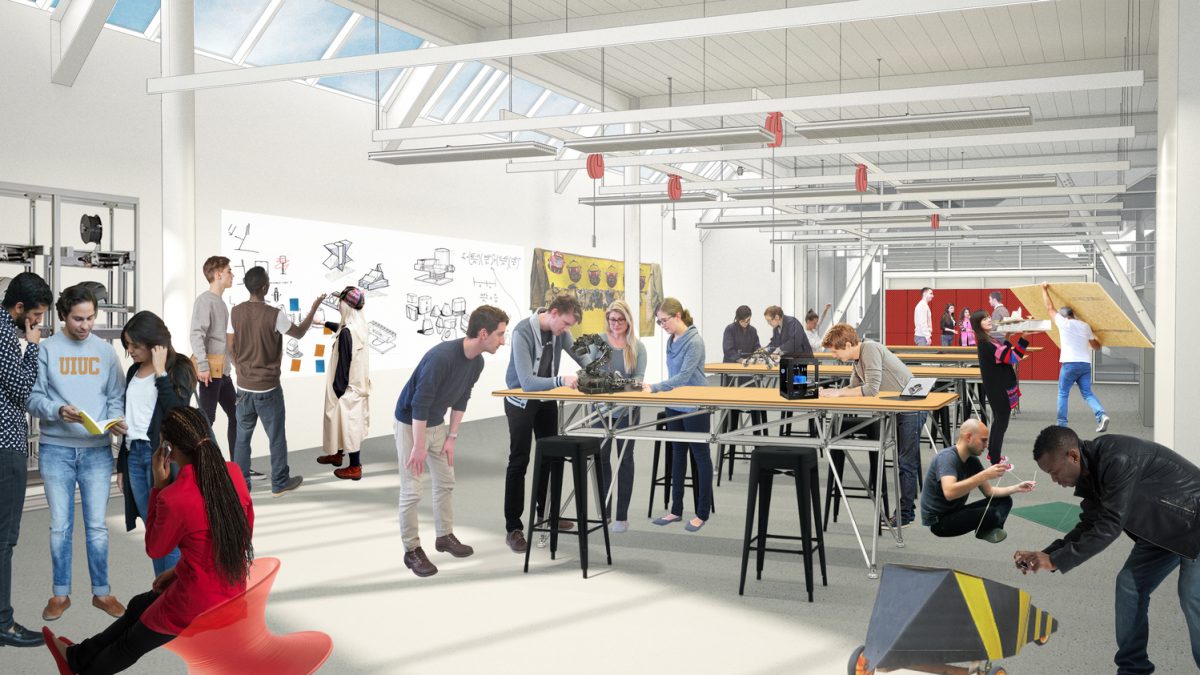 University of Illinois Breaks Ground on New Siebel Center for Design
Bohlin Cywinski Jackson Creates 'Playground' for Future Designers
The University of Illinois Urbana-Champaign (UI) yesterday celebrated the groundbreaking for the new Bohlin Cywinski Jackson-designed Siebel Center for Design. The facility will provide UI students with spaces for making and learning across all disciplines.
"We wanted to create a building that focuses on human-centered design, one that encourages students to think more broadly," said Peter Bohlin. "Everything will have multiple uses—we imagine people utilizing the spaces in ways neither you nor I can predict."
The 59,000-square-foot building will feature five collaboration studios that house up to 400 students; a large-scale construction and prototyping studio; and an open-space workshop with 3-D printers, metal fabricators, laser and water-jet cutters, and computer-guided machining tools. There will also be dedicated rooms for digital audio, video and virtual reality technologies, as well as public gathering spaces and galleries.
In addition to the university's structured base curriculum, students will be able to choose the methods in which they learn. The intent is to make the center as multidisciplinary and versatile as possible, avoiding the conventional faculty-student relationship. Traditional coursework will be paired with workshops and extracurricular activities, complemented by the building's flexible design.
"The building is designed to foster collaboration and design-thinking, experimentation, prototyping," said architect and project manager Allen Kachel. "It was great to see students at the groundbreaking so excited to be part of the multidisciplinary community the center will enable."
The driving force behind the new center is business and tech executive Tom Siebel, who has founded two leading software firms and worked with Oracle's Larry Ellison. He has three degrees from UI and donated $25 million toward the project. In addition, he gave $32 million to the university in 1999 for its Siebel Center for Computer Science, also designed by BCJ.
Rachel Switzky, former executive director at international design and consulting firm IDEO, has been named the center's inaugural director. Prior to her work at IDEO, Switzky led user experience and implementation programs for clients at Razorfish. She holds bachelor's and master's degrees in industrial design from UI.
Construction of the new Siebel Center for Design is expected to be complete in early 2020.