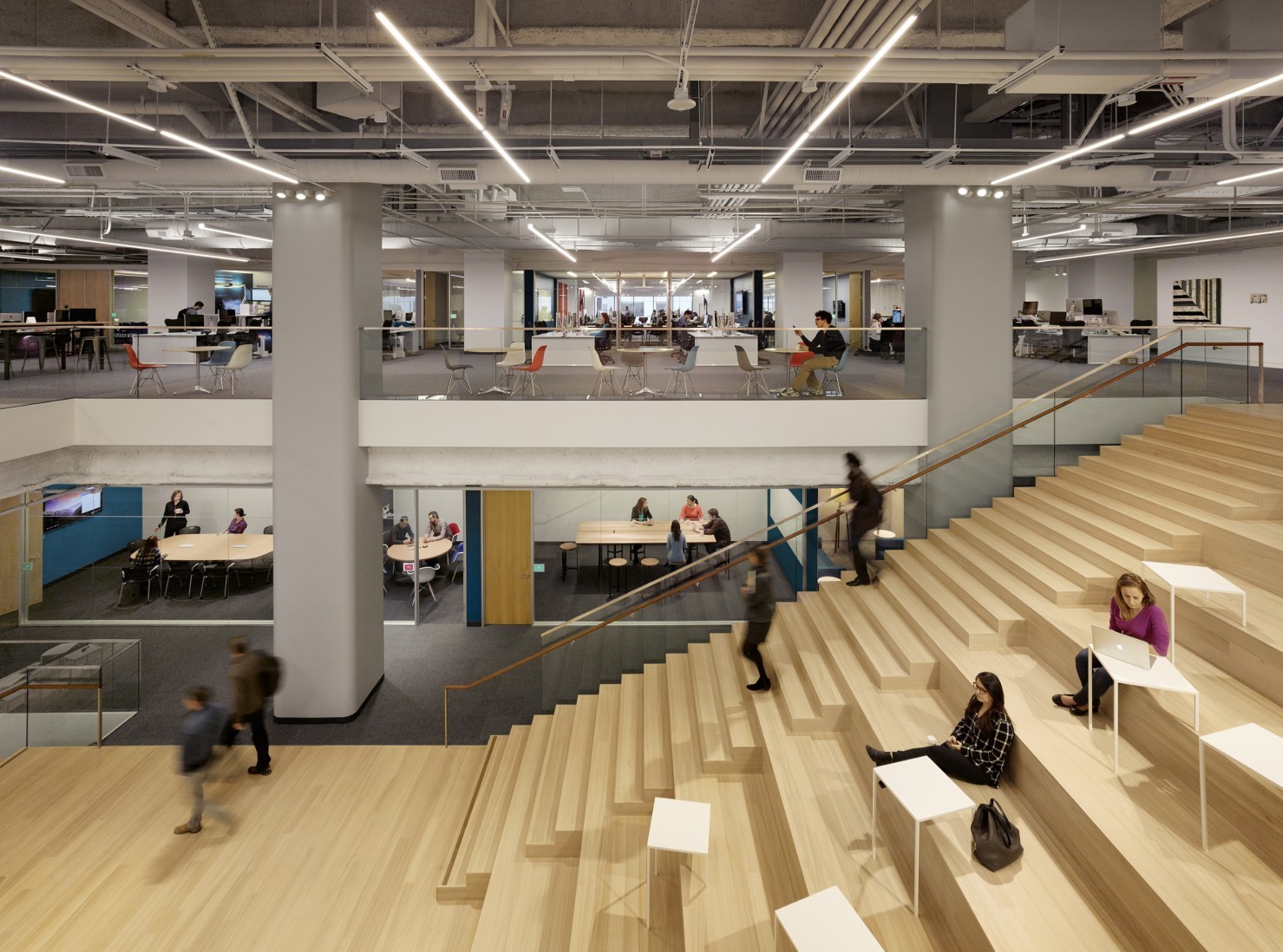 Bohlin Cywinski Jackson Wins AIA Institute Honor Award
Firm Receives Recognition for Square's San Francisco Headquarters
Bohlin Cywinski Jackson (BCJ) has been honored by the American Institute of Architects with an Institute Honor Award for its remarkable design of Square's San Francisco headquarters. The project was one of just five interior architecture projects to receive an award this year, with designs ranging from a high-end New York loft to a middle school in Missouri.
'We are extremely proud of our design collaboration with Square, which enables their company to grow while maintaining their organizational culture and startup roots,' said design principal Greg Mottola, FAIA. 'It's an incredible honor to be recognized by the AIA for our work on this project.'
Located in San Francisco's Mid-Market neighborhood, Square's headquarters spans four floors of a converted Bank of America data center. The BCJ design team utilized urban planning principles to transform the building into a vibrant workplace, with a central boulevard serving as the organizational spine of the 295,000-square-foot space.
A massive amphitheater stair unifies the multiple office floors and provides a venue for a variety of daily activities—from all-hands meetings to individual focus work. Clean lines and predominantly white interiors complement the company's brand and minimal aesthetic, and reinforces Square's mission to create a refined, seamless experience for their clients.
'Architects should make spaces where people can be themselves—to gather, to trade stories, and to create. Bohlin Cywinski Jackson has been responsible for some of the best manifestations of that in the world, and we've been fortunate to feel it every day at Square,' said the company's CEO, Jack Dorsey, of his collaboration with the firm.
The Institute Honor Awards are the profession's highest recognition of works that exemplify excellence in architecture, interior architecture, and urban design. Selected from roughly 500 submissions, 17 recipients located throughout the world will be honored at this year's AIA Conference on Architecture in New York City.
This year's Interior Architecture jury was comprised of chair Brian Caldwell, AIA, THINKTANK Design Group; Joshua Aidlin, AIA, Aidlin Darling Design; Kiyomi Kurooka, AIA, DWL Architects + Planners Inc.; John Paquin, AIA, Statesville; and William T. Ruhl, AIA, RUHL WALKER Architects.
Visit www.aia.org to learn more about this year's Institute Honor Award winners.