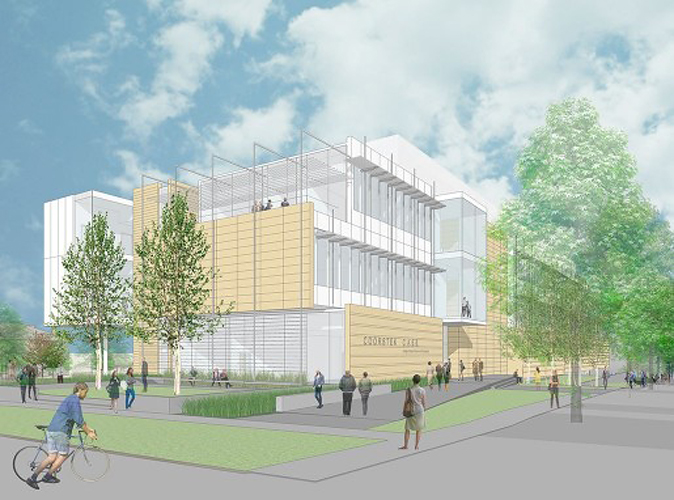 Colorado School of Mines Selects Design Team for New Applied Science and Engineering Building
Bohlin Cywinski Jackson has been selected to design the new CoorsTek Center for Applied Science and Engineering at Colorado School of Mines.
The modern, $50 million centralized teaching and research space will serve as an integral campus landmark located on the site of the current physics building, Meyer Hall, at 15th and Arapahoe streets. The nearly 100,000-square-foot building will feature forward-thinking design with flexible lab space and customized, technologically advanced classrooms to foster interactive, hands-on learning.
"We are so pleased to be continuing our collaboration with Anderson Mason Dale to fulfill the vision of the generous investment by CoorsTek in support of an interdisciplinary approach to research and education at the heart of the Colorado School of Mines campus," said Peter Bohlin, principal architect. "All of us are immersed in an interesting time when more than ever the nexus of people, technology and art are shaping the future. Together we will be making a place that fosters these connections and enables young minds to set the standard for high performance and leadership."
Bohlin Cywinski Jackson has designed notable buildings on many college campuses around the country and is also widely known for designing the iconic Apple store on 5th Avenue in New York and the Pixar Studios headquarters in California. Anderson Mason Dale has designed several notable buildings on the Mines' campus and its body of higher education work is well known, particularly in the Western United States. The two firms recently collaborated on the design of Marquez Hall on the Mines campus.
"It is both a privilege and a pleasure to return to the Mines campus to continue a long relationship between our firm and the school. Our work relies on great clients, and our projects at Mines present the best aspects of collaboration between engineers and architects developing innovative design solutions," said Paul Haack, Anderson Mason Dale principal in charge. "We see these projects as building blocks of a great campus rooted in the rich history of the institution and providing opportunity for the Mines community to invent the future. The synergy of working with Bohlin Cywinski Jackson, the Coors family, and Mines' faculty and staff will generate a rich and responsive solution to the design challenge we face."
Last fall, Mines announced the nearly $27 million commitment by CoorsTek and the Coors family in conjunction with $14.6 million in capital construction funding from the state of Colorado for the new building. The private investment, the largest of its kind in Mines' 140-year history, is also funding the CoorsTek Research Fellows Program and a range of high-tech equipment purchases, including one of the most advanced electron microscopes in the United States.
Construction is slated to begin in 2016.