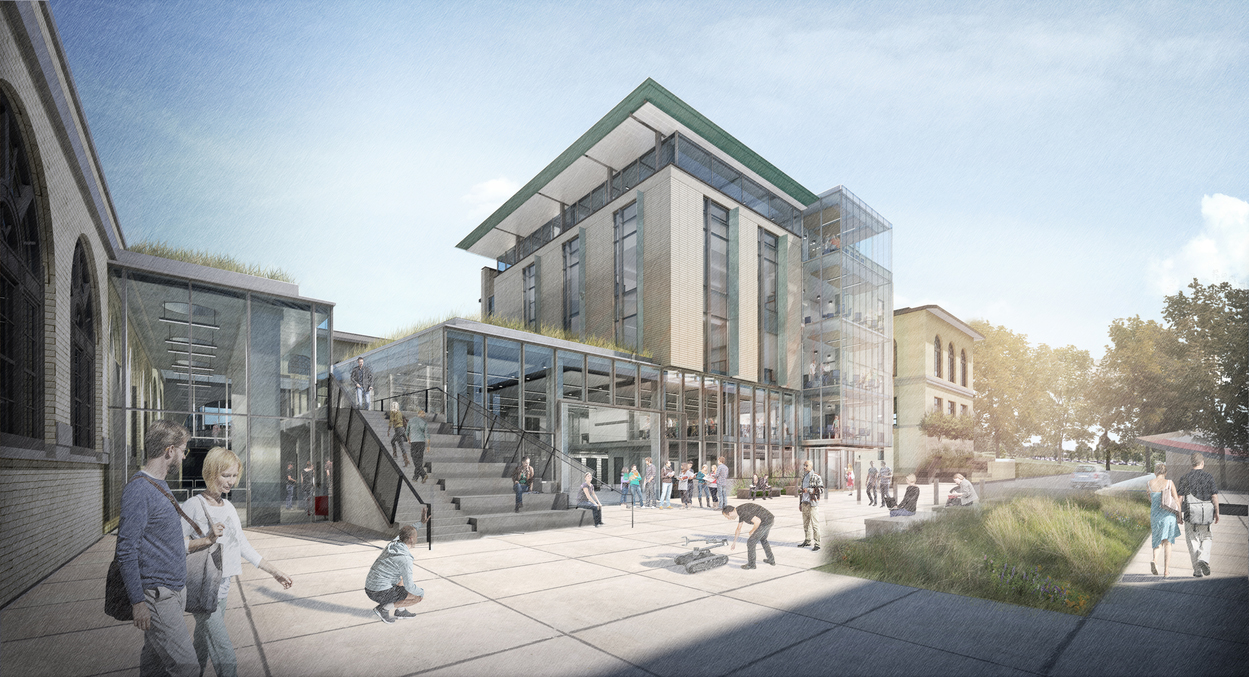 Bohlin Cywinski Jackson Previews ANSYS Hall at Carnegie Mellon University
Pittsburgh, PA (July 11, 2018) – Renowned architecture firm Bohlin Cywinski Jackson (BCJ) has announced their design for ANSYS Hall  at Carnegie Mellon University (CMU). Designed for collaborative research and maker-based learning, ANSYS Hall will be utilized by faculty, graduate and undergraduate students across multiple disciplines, and underscore university-corporate partnerships.
ANSYS Hall is designed to be a 36,000-square-foot, four-story facility for CMU's College of Engineering. Funded by a gift from engineering simulation software company ANSYS, the project creates a hub for student making and features an indoor-outdoor maker-court for conceptualization and manufacturing of large-scale, functional prototypes. The building will also house the ANSYS Simulation Lab and research space, allowing the company to serve as a direct resource to students and contribute to the cross-pollination of ideas. The project is scheduled for completion in the summer of 2019.
The project is led by Design Principal Gregory Mottola, FAIA, and Principal in Charge Kent Suhrbier, AIA. Mottola and Suhrbier are alumni of CMU's School of Architecture and have contributed to many BCJ projects, both nationally and in Pittsburgh.
"Collaboration and making are essential to what we do as architects, so we're always interested in designing buildings that allow for this type of creative exploration and prototyping," said Mottola. "We look forward to seeing the students at work in these spaces, and the results of their design thinking."
ANSYS Hall adds to the firm's growing list of works for CMU, which includes Stever House, the nation's first LEED-certified residence hall; the award-winning Software Engineering Institute; and the celebrated Robert L. Preger Intelligent Workplace, known as a 'living laboratory' for the study of workplace technology, which opened in 1994 and remains an international center for the advancement of sustainable building technologies today.
Other notable BCJ projects throughout the Pittsburgh region include the Heinz History Center, Braskem (formerly Aristech) Headquarters, both High Meadow and the Barn at Fallingwater, and the recently Living Building-certified Frick Environmental Center.
"We're excited to build upon our firm's legacy with CMU and the region," said Suhrbier. "Especially during this exciting time in Pittsburgh, as the city reinvents itself as a leader in technology and maker-based industry."