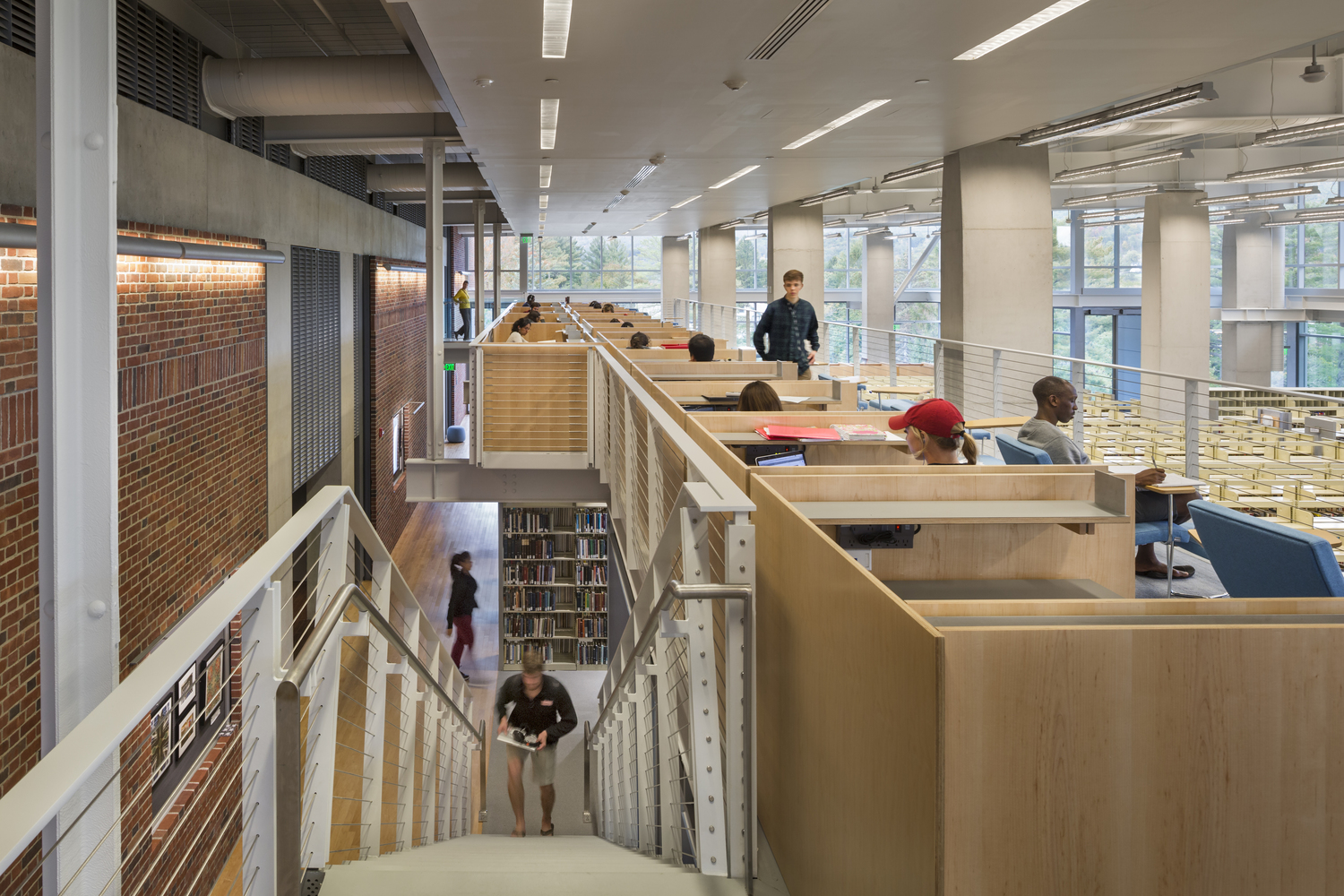 Bohlin Cywinski Jackson presents Reshaping Your Library at ACRL Conference
Bohlin Cywinski Jackson Senior Associate Lee Alison Clark, AIA, and Associate Jason Kilgore, RA, presented at the Association of College and Research Libraries 2019 Annual Conference in Cleveland, Ohio. Clark and Kilgore served as Project Manager and Project Architect respectively on the Williams College Stetson Hall Sawyer Library project, which was the feature of Reshaping Your Library: How Participative Building Design Transforms More Than the Physical Place. The panel also included two project team members from Williams College: Christine Ménard, Head of Research Services and Library Outreach, and David Pilachowski, Director of Libraries Emeritus.
The ACRL Conference is held bi-annually and serves as a forum for library professionals to discover new industry insights that enhance library programs and services as well as connect with peers from across the globe. Bohlin Cywinski Jackson's proposal was one of roughly 80 selected from over 300 applications.
In the session, the panel discussed how libraries across the country are in the midst of a paradigm shift, looking to augment their printed collections with interdisciplinary spaces for both individual and collaborative scholarship and incorporate an ever-expanding list of user-focused services. They also reviewed how it is critical to not only analyze how the physical building impacts and supports the library's mission but also contributes to campus and community transformation.
Having first completed a campus study in 2003, the Sawyer Library design team embarked on a multi-phase building strategy aimed to maximize student and faculty interaction, restore the prominence of one of campus' oldest and most-loved buildings, and create an interdisciplinary destination at the heart of campus. The project resulted in the creation of two academic buildings that formed a new humanities and social sciences quadrangle, the restoration of the historic 1922 Stetson Hall, and construction of a 300,000 square-foot library addition. Completed in 2014, the Stetson Hall Sawyer Library was at the forefront of this paradigm shift and continues to serve as a contemporary model for academic learning commons.
Sawyer Library's strategic planning and execution recast the narrative for all users of the building and amplified the role of the library within the Williams College campus. In addition to sharing the unexpected outcomes of the project team's forward-thinking, inclusive planning and design process, Reshaping Your Library also provided a framework and guide for effectively engaging project stakeholders and strategizing changes to one's own facility that go beyond transforming the physical place and articulating the benefits to administrators and the community.
Since completing the Stetson Hall Sawyer Library project, both Clark and Kilgore have become firmwide resources on academic library planning and have continued their collaborations with Pilachowski who now serves as an independent library planning consultant. Together, their expertise has helped shape several of Bohlin Cywinski Jackson's library projects, including a Programming Study for Bertrand Library at Bucknell University, the new Learning Commons at Marywood University, which included an automatic book-retrieval system, and Ramapo College of New Jersey's new, 80,000 square-foot Learning Commons scheduled for completion in 2021.
You can read more about our library projects below.