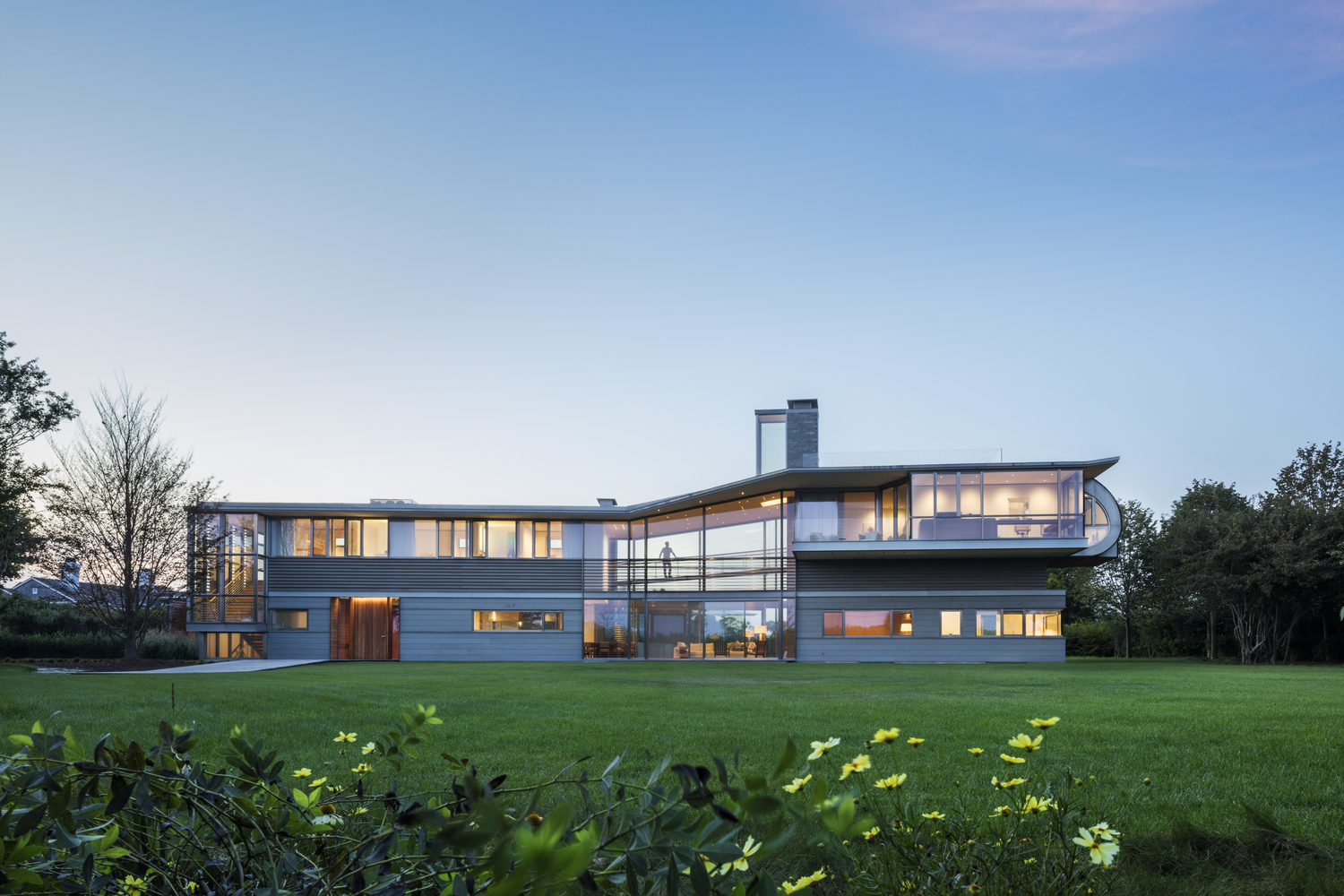 Hamptons Residence
Long Island, New York
Set among fields along the south-facing coast of Long Island and within a short walk to the ocean, this Hamptons residence is a quiet refuge for a growing family and offers extraordinary views of the surrounding landscape.
SIZE
8,000 SF
COMPLETED
2015
AWARDS
AIA Northeastern Pennsylvania Award of Excellence
PRESS
This Hamptons home lies parallel to the water, opening south into preserved agricultural lands with distant waves breaking along the ocean short and looking north through a field of wildflowers and native grasses. The plan bends slightly to maximize views of the coastline and is designed to follow the seasonal and daily arc of the sun. A path from the parking court leads to a linear walkway of silver-grey weathered wood planks that passes through the entry foyer of the house and out to the pool beyond.
The home is arranged to provide each interior space with a unique quality of light. Inside, a hall extending east past the entry, kitchen, and porch opens up into a luminous double-height dining and living space. Daylight streams in from the north and south through large, precisely detailed windows. A chimney mass and special skylight anchor the room and invite sunlight inside from above.
A suspended bridge spans the two-story living volume, further animating the space and connecting to open, sunlit staircases to encourage movement throughout the house and connect the public living room below to the private sleeping spaces above.
The master suite includes a study, covered deck, and a radiant bath dominated by an extraordinary skylight that captures bright morning sunlight. Guest quarters enjoy framed views of the sun-drenched landscape and neighboring sea, while louvered screens and deep overhangs shield these interior spaces from the heat of the summer sun and allow warm winter light to dip below the roofline and fill the interiors.