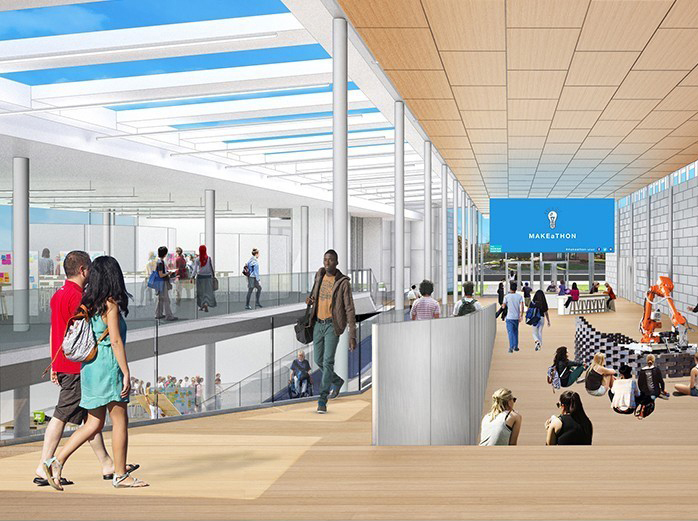 University of Illinois Announces the New Siebel Center for Design
Thomas and Stacey Siebel Foundation and the University of Illinois at Urbana-Champaign announce $25 million to establish the Siebel Center for Design.
The new two-story building will be a campus-wide hub for student-focused design thinking and learning.
Prominently located on one of the major campus axes, the new 68,000-square-foot facility will connect the north and south areas of campus and support instruction and research in undergraduate and graduate programs across multiple disciplines. Rather than offer independent degree programs, the Center will help colleges incorporate design principles, concepts and practices into their own offerings.
"The size and strength of design-related teaching and research at Illinois is a key reason why the Siebel Center for Design will be unmatched in its transformative impact," said Interim Provost Edward Feser. "A state-of-the-art facility that connects disciplines and helps embed theories and practices of design in the educational experience will position Illinois as the place to go for students who want to prepare themselves to solve grand challenges and make significant change."
A team from Bohlin Cywinski Jackson's Wilkes-Barre, Pennsylvania, office developed the building's design concept from extensive research based on space planning, organizational structure and building systems created to support a nonlinear approach to instruction. Understanding the type of learning to occur in the Center, which will focus on experience-based discovery processes, conceptualization and prototyping, led to an architectural design and programmatic solution that will maximize teamwork, flexibility and transparency.
The Center will feature five team-based collaboration studios for up to 100 students, including one studio for large-scale construction and graded access for full-sized prototypes. It will also include a workshop for 3D printing, metal fabrication, laser and water-jet cutting, and computer-controlled machining. Two digital media studios will support video and audio recording, as well as technologies for virtual reality applications. There will also be public gathering spaces, meeting rooms and galleries to encourage more informal interaction.
Tom Siebel, who earned an undergraduate degree in history and graduate degrees in business administration and computer science from the University of Illinois at Urbana-Champaign, conceives the new Center as a facility and resource to bring students, faculty and external stakeholders from many fields together to solve real-world challenges.
"The combination of top tier academics and entrepreneurial drive at UI is powerful. By infusing all areas of study with the multidisciplinary approaches of design thinking, this facility will create unlimited opportunities for UI students to fuel and nurture that drive," says Siebel.
Groundbreaking for the Siebel Center for Design is planned for the summer of 2017 with construction expected to take approximately 18 months.