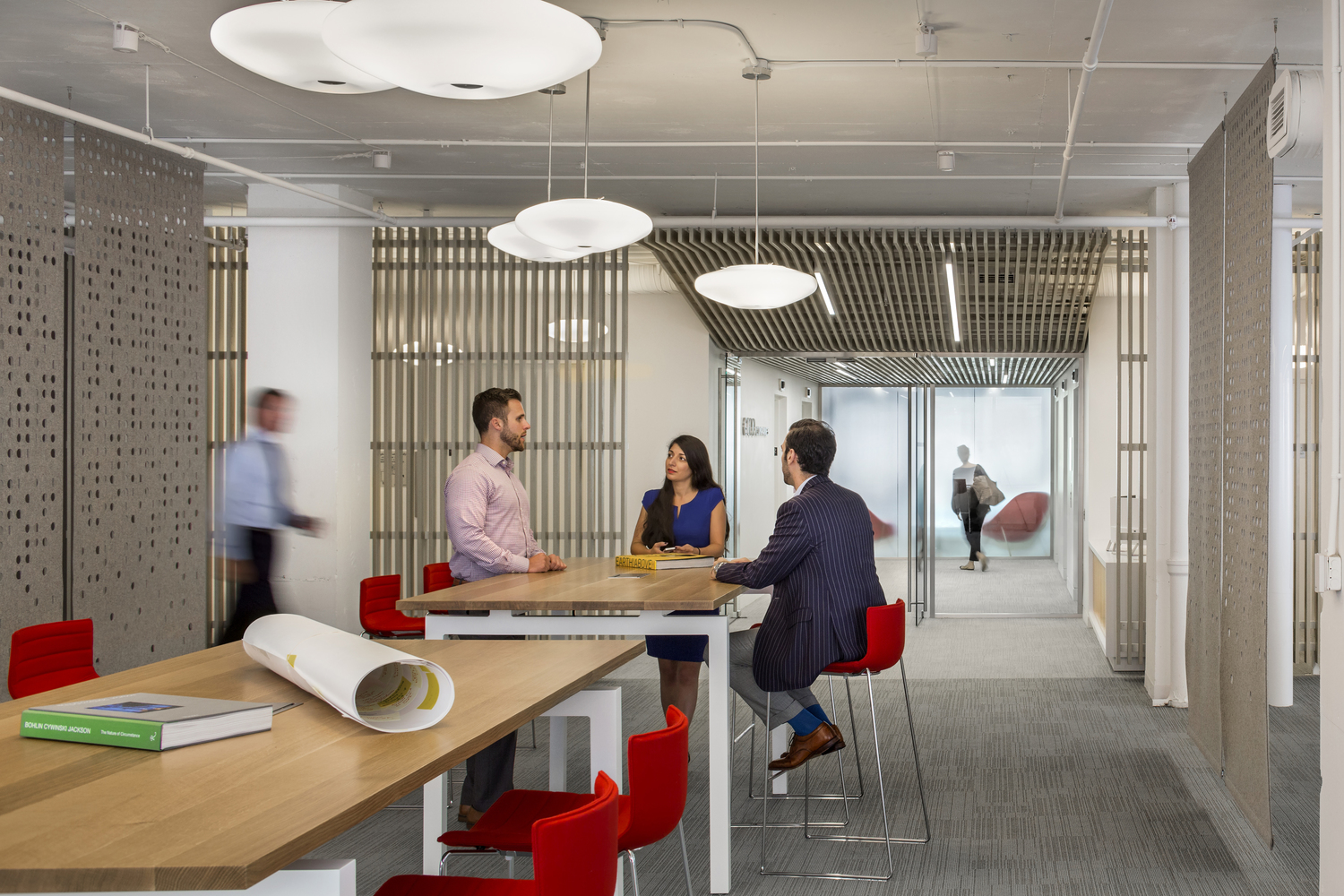 Two Bohlin Cywinski Jackson Projects Receive Design Awards from AIA Northeastern Pennsylvania
AIA Northeastern Pennsylvania recognizes two Bohlin Cywinski Jackson projects at Marywood University and G100 Companies in New York City.
Bohlin Cywinski Jackson was recognized on November 17 with two design awards from AIA Northeastern Pennsylvania for their work at Marywood University and G100 Companies in New York City.
The Learning Commons at Marywood University received the Award for Excellence and the design of a new workplace for G100 Companies received the Honor Award. Juried by peers from the Boston Society of Architects, only two awards were given in this year's program.
Learning Commons at Marywood University
The Learning Commons at Marywood University was completed in 2015 with Hemmler + Camayd Architects. Replacing the existing library, the 78,000 gross-square-foot Learning Commons sits at a prominent position on campus and has expanded its role as the central hub of every student's day. It is the first university in the United States to house nearly its entire collection within an Automated Storage and Retrieval System (ASRS), reducing the floor space required for a fully-browsable collection by 75% and allowing the space to be maximized for private and group study. Rather than locate it in the back-of-house space, the ASRS is celebrated as a visible and organizing element in the center of the building. The Commons also employs an under-floor air delivery system, daylight harvesting controls, and programmable sunshades for a more efficient and comfortable environment.
The jury noted, "This monumental learning commons skillfully engages the campus circulation, creates effective outdoor spaces, and clearly communicates its core purpose with the creative use of building systems and public space."
G100 Companies
G100 Companies sought to create a new office environment that improved information sharing and collaboration for their employees. Completed in 2016, the company's new 12,000 square-foot space was unique in that it combined two separate building footprints into a unified building core intentionally programmed to create simple circulation patterns that maximize the opportunity for people to run into each other and share ideas while grabbing a coffee. The resulting design enables employees to efficiently pool and mix all five of their nearly independent divisions together, promoting interdisciplinary work and interaction through flexible, shared spaces for employees to adapt as their needs change. All enclosed offices are designed to be easily altered between traditional office space, informal meeting space, and team workspaces to accommodate a mobile work flow.
The jury noted, "With the elegant use of simple gestures, a restrained palette, and the strategic use of color to define program, this project responds effectively to its client's workplace goals."