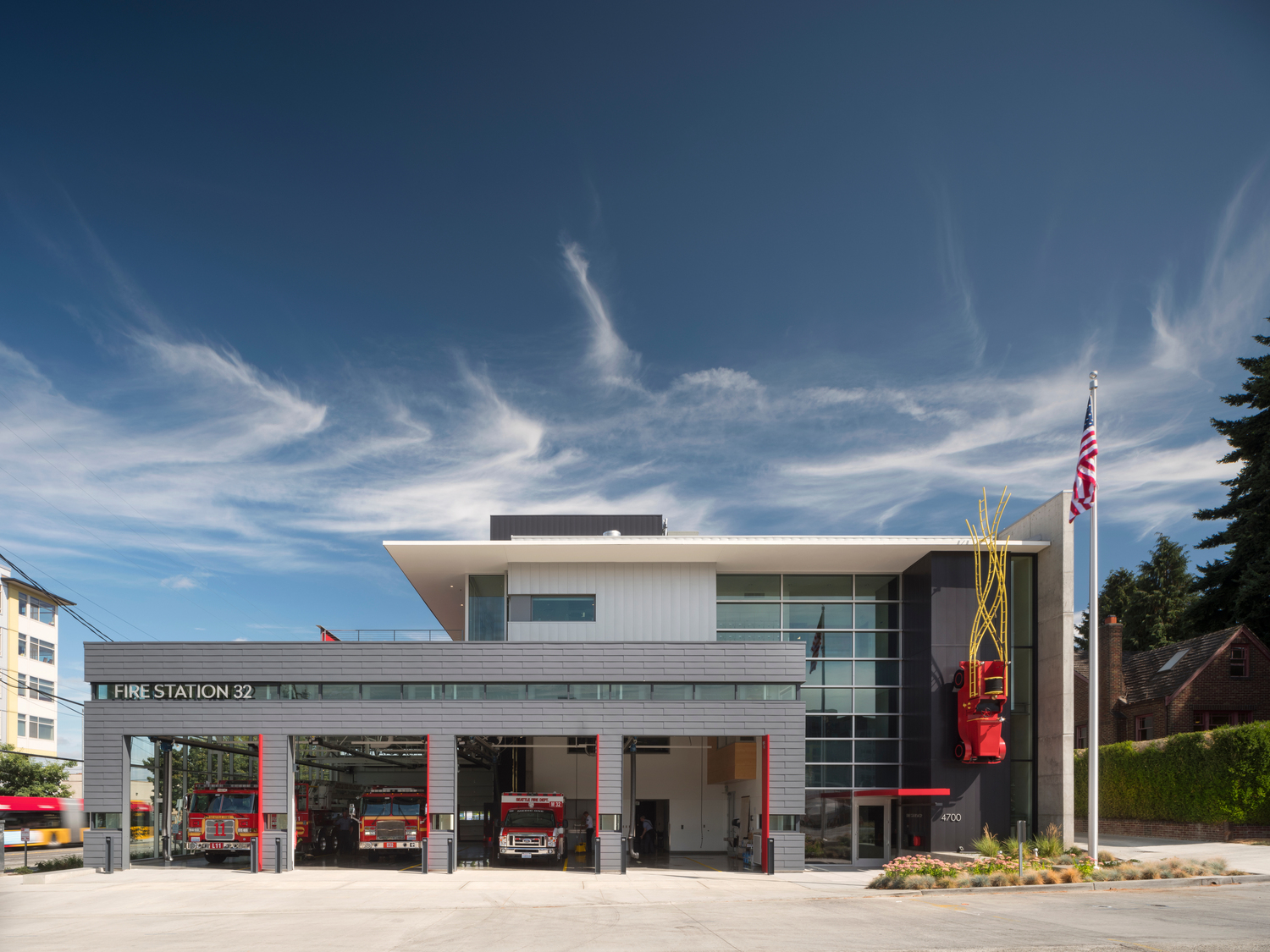 Seattle Fire Station 32 earns LEED Platinum Certification
Seattle's newest firehouse, designed by architects Bohlin Cywinski Jackson, recently earned LEED Platinum certification.
The modern facility replaces a 40-year-old building in West Seattle's fast-growing Alaska Junction neighborhood.
The 18,000-square-foot station is home to Engine Company 32, Ladder Company 11, Medic Unit 32, and Battalion Chief 7. Located between single-family residential and dense commercial zones, the compact site allowed enough space for a four-story building—three floors above grade and a basement.
The station's lower floors are used for operational and administrative functions, while the third floor houses firefighter living quarters. Public spaces, such as the beanery and station office, are visible along the street, while private bunk rooms and individual offices are located along the quieter residential sides.
The station entry is marked by a large public art piece: a 25-foot-tall, wall-mounted fire truck inspired by toy trucks carved by a West Seattle resident for the previous firehouse. A low exterior canopy draws visitors inside, where they encounter a spacious entry vestibule with views of the apparatus bay and bunker gear storage.
"We designed the station to meet the needs of the firefighters and medics, allowing them to respond as quickly as possible," said Design Principal Robert Miller, FAIA. "We also wanted to increase the visibility of the fire department and the vital role it plays in the community."
The building incorporates a variety of sustainable design strategies, including green roofs to reduce heat island effect, a solar hot water system, high-efficiency HVAC and photovoltaic systems that result in 50% annual energy savings. The station also delivers generous natural daylight and exterior views throughout, enhancing occupant's overall well-being.