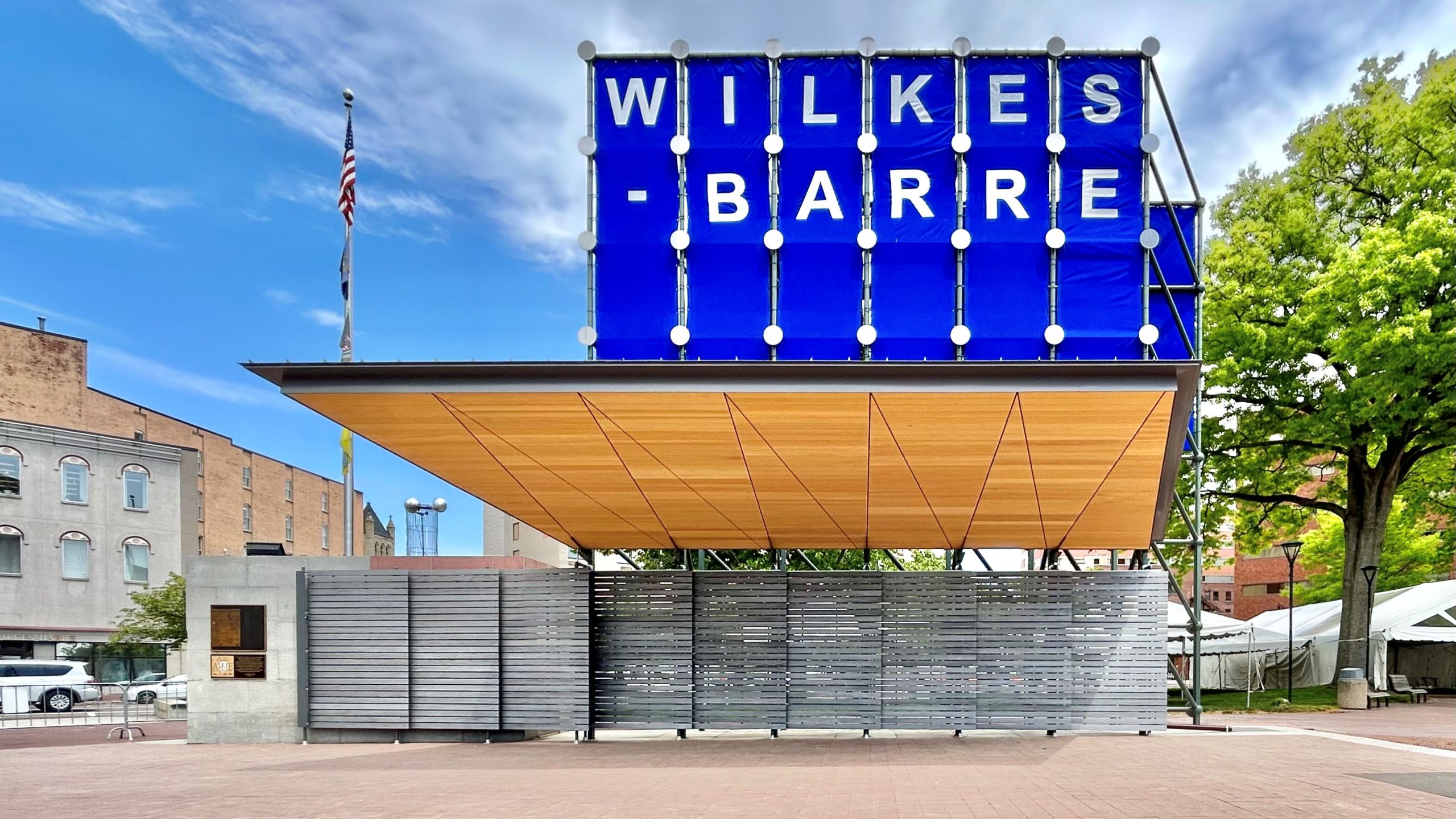 Revitalizing Wilkes-Barre Public Square
Ongoing improvements to the Square add vibrancy and resilience to downtown Wilkes-Barre.
Following catastrophic flooding from Hurricane Agnes in 1972, our practice was hired to redevelop parts of Downtown Wilkes-Barre, including Public Square. After 40 years of use, further development, and ongoing master planning, our firm was again engaged to design the next iteration of Public Square. The initial phase addressed needed site and landscape enhancements, including new path layouts, restored benches, and a new gathering space with movable café furniture, that improved foot traffic around summer farmer's market stalls and other events that take place year-round, while also activating the Square on non-event days.
The second phase focused on the amphitheater on the southwest corner of the Square. During temperate seasons when many events are held, a trailer bandshell had historically been rolled into the space and onto its original granite pavers. These pavers—above an underground service vault—had suffered considerable damage from continuous load-in and load-out. The completion of a permanent bandshell structure and new pavers this spring restored a civic destination for the Wilkes-Barre community. Made of steel and wood, the bandshell is inspired by the geometry of the existing truss backdrop and suspends from the structure, which now acts as a billboard for the city. The Diamond City Partnership—a nonprofit alliance for downtown revitalization—donated previously raised private funds to cover the cost of design services, while the City financed construction, demonstrating a highly successful partnership that is restoring a sense of place to downtown Wilkes-Barre.
Previous work at Public Square included the design of pop-up shops during the pandemic, seen below. Delivered in time for the 2020 holiday season, the shops, made with 2x4s and polycarbonate cladding, provided local retailers and craftspeople with a way to safely connect with customers. The rhythm of distinctive, sawtooth-shaped shops brought a festive, open-air market experience to downtown. While the initial goal was to deliver a more welcoming (and safer) shopping experience, the design process contemplated future use beyond downtown Wilkes-Barre, addressing material use and assembly, portability, and ease of modification.