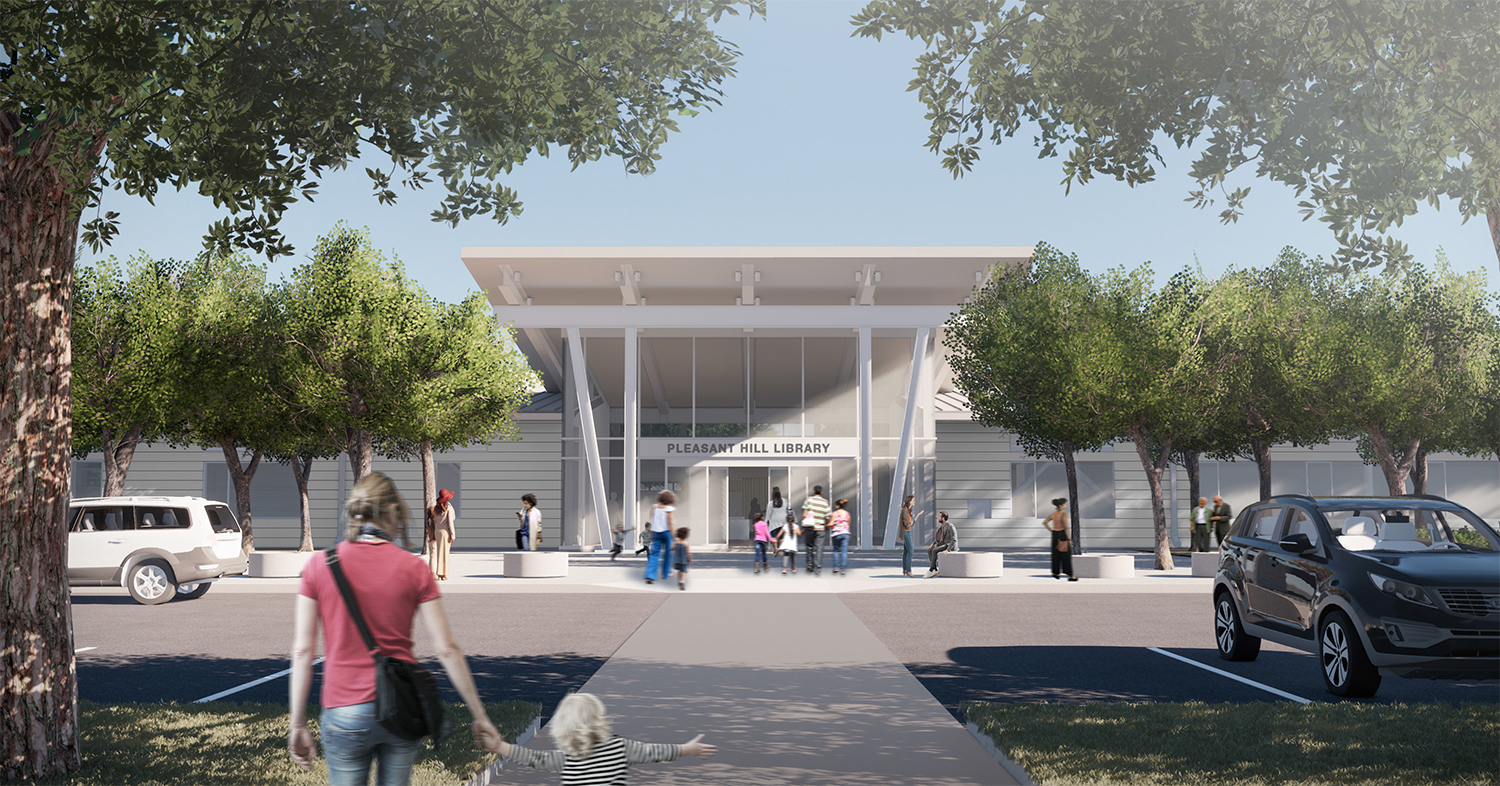 Pleasant Hill Library Celebrates the Start of Construction 
A new spacious modern public library is underway for the City of Pleasant Hill.
The City of Pleasant Hill in California held a small, socially distanced groundbreaking ceremony on September 18 for the new Pleasant Hill Library, kicking-off construction and marking a project milestone. The Pleasant Hill City Council selected BHM Construction, Inc. as General Contractor for the project, working with our San Francisco studio. With a completion date of Winter 2022, the library plans to open its doors to the public in Spring 2022.
Part of a more extensive mixed-use development, the library will be centrally located next to a new townhouse development and a sports field complex. Having long been a community staple in the Diablo Valley region, the updated daylit library will improve functionality and modernize programming for the city and the library system. A central 55-foot x 200-foot column-less great room will offer a large open space for a range of offerings, including expanded community events and improved flexibility. Adjoining this main hall are three intimate pavilions, each expressed as individual wooden volumes facing Oak Park Boulevard. These include a Messy Makerspace for classes and workshops, a Story Lab for children's storytimes and author talks, and a Retreat for quiet reading and study. Outdoor activity spaces and a Friends of the Library bookstore will offer visitors a more casual way to interact with the building.
To fit into the established aesthetic of the surrounding neighborhood, the new Pleasant Hill Library offers a contemporary approach to mid-century design. It makes use of extensive glass and a dramatic sweeping roof, which provides shade and shadow for both the building and its outdoor spaces. The entrance is marked with expressive columns and a pitched roof canopy to provide clear wayfinding. South sun casts shade on the entry plaza year-round, creating an inviting gathering place. Additionally, a south-facing clerestory allows for natural light to flood the interior of the library. The highly energy-efficient design offers radiant heating and cooling and natural ventilation to allow for nighttime cooling. Currently, the project is targeting Net Zero certification.