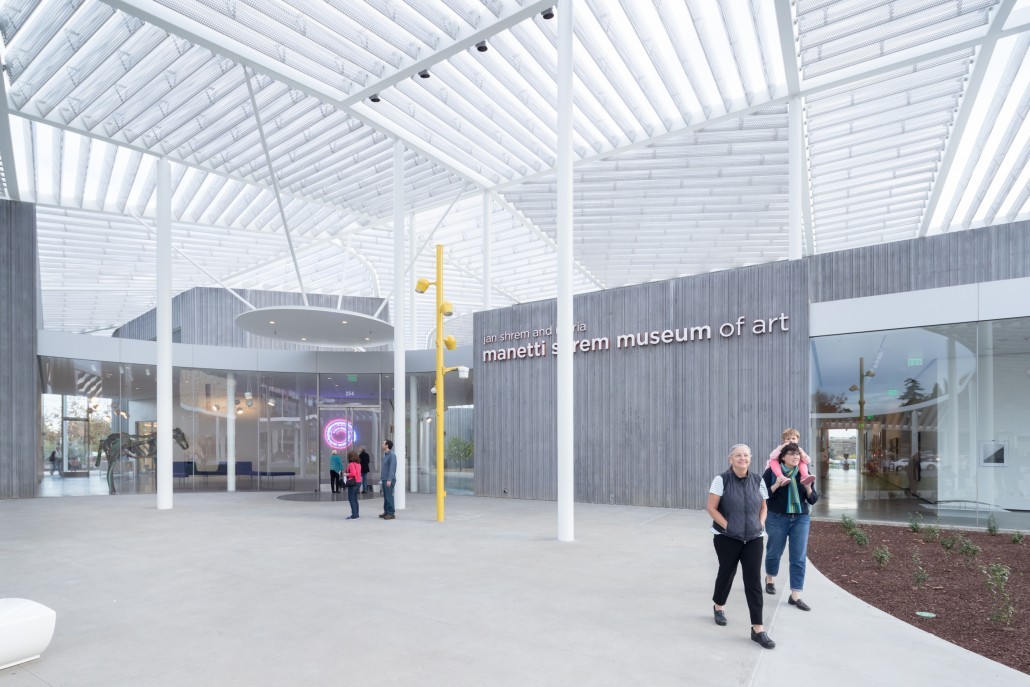 Manetti Shrem Museum Opens at UC Davis
Associated architects SO – IL and Bohlin Cywinski Jackson announce the opening of their collaborative design effort at UC Davis, the Jan Shrem and Maria Manetti Shrem Museum, which opens its doors to the public today. In keeping with the free-thinking, experimental legacy of the UC Davis School of Art, the light-filled, multiuse building is designed to further the educational mission of the museum.
As a new focal point and destination for the entire community, the Manetti Shrem completes UC Davis' vision for an arts district on the south side of campus, complementing the Mondavi Center for the Performing Arts. It will be home to rotating collections of works, classes, studios and shared communal spaces, all housed under its defining architectural feature, a 50,000-square-foot floating 'Grand Canopy' of perforated aluminum triangular beams
Under the canopy, events are generated by movement of the sun and changing seasons, producing a tapestry of shadows and constantly mutable silhouettes as visitors move through the public plaza. Lines from the site and its surroundings carry through to help shape the courtyard's design. Beyond serving as a gateway to the museum lobby, this outdoor space will provide opportunities for interactive learning, open-air exhibitions, and performance; two exterior projection walls will also display digital works and film.
Inside the single-story 30,000-square-foot LEED Platinum building is a portfolio of interconnected spaces, all with distinct spatial qualities and characteristics that trigger diverse activities. Gallery, education and operations pavilions are visibly connected via lightly polished concrete floors. Ceilings are custom aluminum mesh fitted with state-of-the-art occupant-controlled LED lighting, which enables effective illumination of a variety of media within close adjacency and accommodates natural light delivered by visible connections to the outside.
"The museum's design was inspired by the agrarian landscape of the Central Valley, which is rich in pattern, texture and color," says Karl Backus, design principal from Bohlin Cywinski Jackson's San Francisco office. "We incorporated these elements into the program of the building as a way to create smaller volumes and provide an approachable, human scale."
What makes this project especially unique is the method in which it was designed and constructed. SO – IL and Bohlin Cywinski Jackson, chosen from a design competition in 2013, were partnered with nationally recognized construction company Whiting-Turner. Through a design-build project delivery method, uncommon in museum design, the team has created a building that redefines the concept of a university museum and the manner in which the campus community will experience art.
This winter's inaugural exhibition will unveil gifts to the collection and feature major public and private loans in order to examine the role of UC Davis as the progenitor of some of the most important art to emerge from the West Coast in the late 20th century. Artists Wayne Thiebaud, William T. Wiley, Robert Arneson, Roy De Forest, Ruth Horsting, Manuel Neri and Roland Petersen are among those who will be represented.