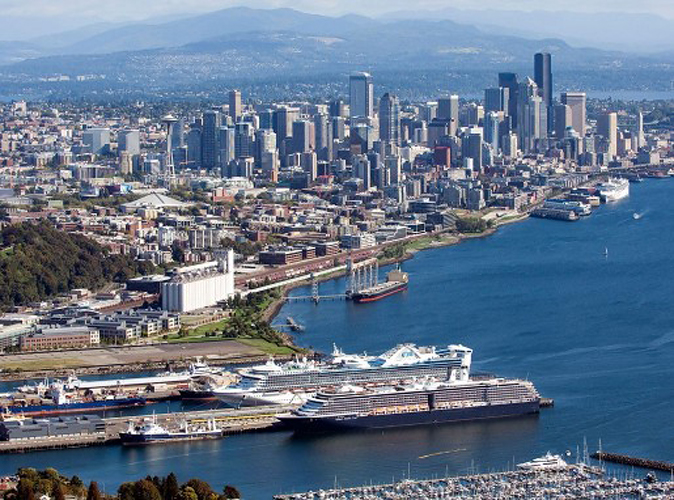 Expedia Selects Visionary Architecture Firm Bohlin Cywinski Jackson to Design its New Seattle Campus
Expedia, Inc today announced that it has selected award-winning architecture firm BCJ to design its new 40-acre waterfront campus in Seattle.
Expedia plans to relocate to the new campus in the City of Seattle from its current location in downtown Bellevue by 2018.
Expedia's future campus is ideally situated at the north end of Seattle's waterfront, which is in the midst of a billion dollar redevelopment and re-emergence as a world-class park, and located just minutes from downtown Seattle and along the Elliott Bay shoreline. It is also steps from the Seattle Art Museum's 8.5-acre outdoor sculpture park and Myrtle Edwards Park.
"It was important to Expedia to choose an architect that could help us build an iconic headquarters befitting the global technology company we are," said Dara Khosrowshahi, Chief Executive Officer, Expedia, Inc. "BCJ really stood out as a firm that would bring our vision to life with a campus that highlights who we are as a work hard, play hard global leader in technology with a passion for travel and deep roots in the Pacific Northwest."
The 50-year-old firm is highly-regarded for its elegant, innovative and responsive design, as well as its ability to bring these attributes to a wide range of client projects and building types. The firm recently designed technology company Square's new 291,000 sq. ft. corporate headquarters in San Francisco and is the lead design firm for several Apple retail stores, including its stunning Fifth Avenue store in New York. Locally, BCJ designed Seattle City Hall with Bassetti Architects and the Ballard Library. The firm was also hand-selected by Steve Jobs to design Pixar's open, collaborative corporate headquarters in 1997.
"We are excited to be working with Expedia to build their extraordinary new home in the City of Seattle," said Peter Bohlin, Founding Principal of Bohlin Cywinski Jackson. "Plans for the iconic campus are still being developed, but our vision is for an innovative balance of new and existing buildings that reflects the spirit of Expedia, as well as the natural beauty of Seattle and the Pacific Northwest."
Expedia is expected to move into the new headquarters in 2018 at the end of their leases in Bellevue. The company also launched a site today for the local community to learn more about the move.
Photo courtesy of Expedia.