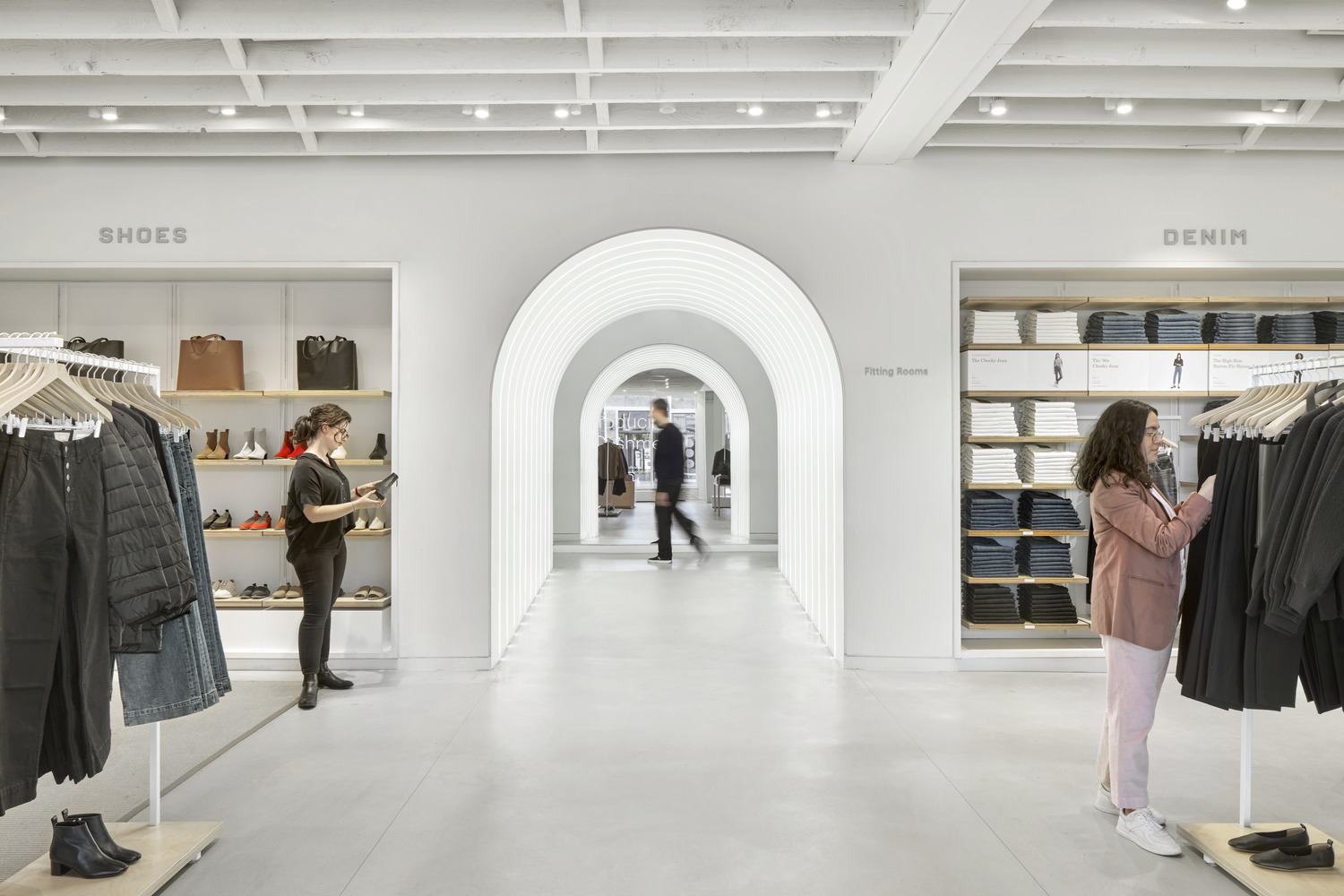 Designing for Brick and Mortar in the Digital Age
What happens when a digital brand built on values sets its sights on brick and mortar during an age of innovation? 
A joyous partnership of people, place, and physicality exemplified in our newest series of retail stores.
Online clothing retailer Everlane has captured the spirit of the millennial generation: providing minimalist clothing to consumers who want a streamlined supply chain with Radical Transparency in sourcing, manufacturing, and pricing, as well as evidence that nothing is going to waste. And for their foray into physical stores, they knew it was important their retail spaces reflect their brand values and aesthetic.
What brand loyalists can't find online, they can find in each of the warm and inviting yet minimalist stores. Each store focuses on the shopper's experience, the transparency of building materials, and engaging experiential spaces that create opportunities to pause, reflect, and gather in what typically is a transactional environment. Everlane sought to innovate and improve the retail experience on a human level. This resolution offered an intriguing design opportunity for three new stores Bohlin Cywinski Jackson designed in Brooklyn, NY, Venice, CA, and most recently Stanford, CA.
Every design detail was carefully examined from dressing rooms with oversized glowing disc light fixtures to provide pleasing and even illumination, to closet alcoves for hanging garments while dressing, to custom-designed stools for comfort scattered throughout the stores. In the Venice store, a light-filled portal with a mirrored wall at the end of the passageway creates a moment to engage with the architecture in an Instagrammable "forever space" before entering into the fitting rooms.
In the Brooklyn store, the airy double-height space welcomes guests to explore with a grand staircase leading to a glassed walled balcony which showcases the brand's first men's shop. Under the mezzanine, three large luminous stretched panels bring forth soft, bright, and uniform light to one of Everlane's best selling products – shoes. In the Stanford store, large central skylights flood the space with natural light illuminating the custom-designed modular display fixtures.
Everlane chose to celebrate the cultural heritage of the neighborhoods and unique elements of the original buildings they inhabited. From reusing existing features like brick and wood joists to modern twists on an existing façade such as the mural painted by acclaimed designer, Barbara Stauffacher Solomon on an exterior store wall in Venice. Each repurposed element relates to the brand, its unwavering commitment to values, the environment, and its desire to start discussions around retail's place in the digital age.