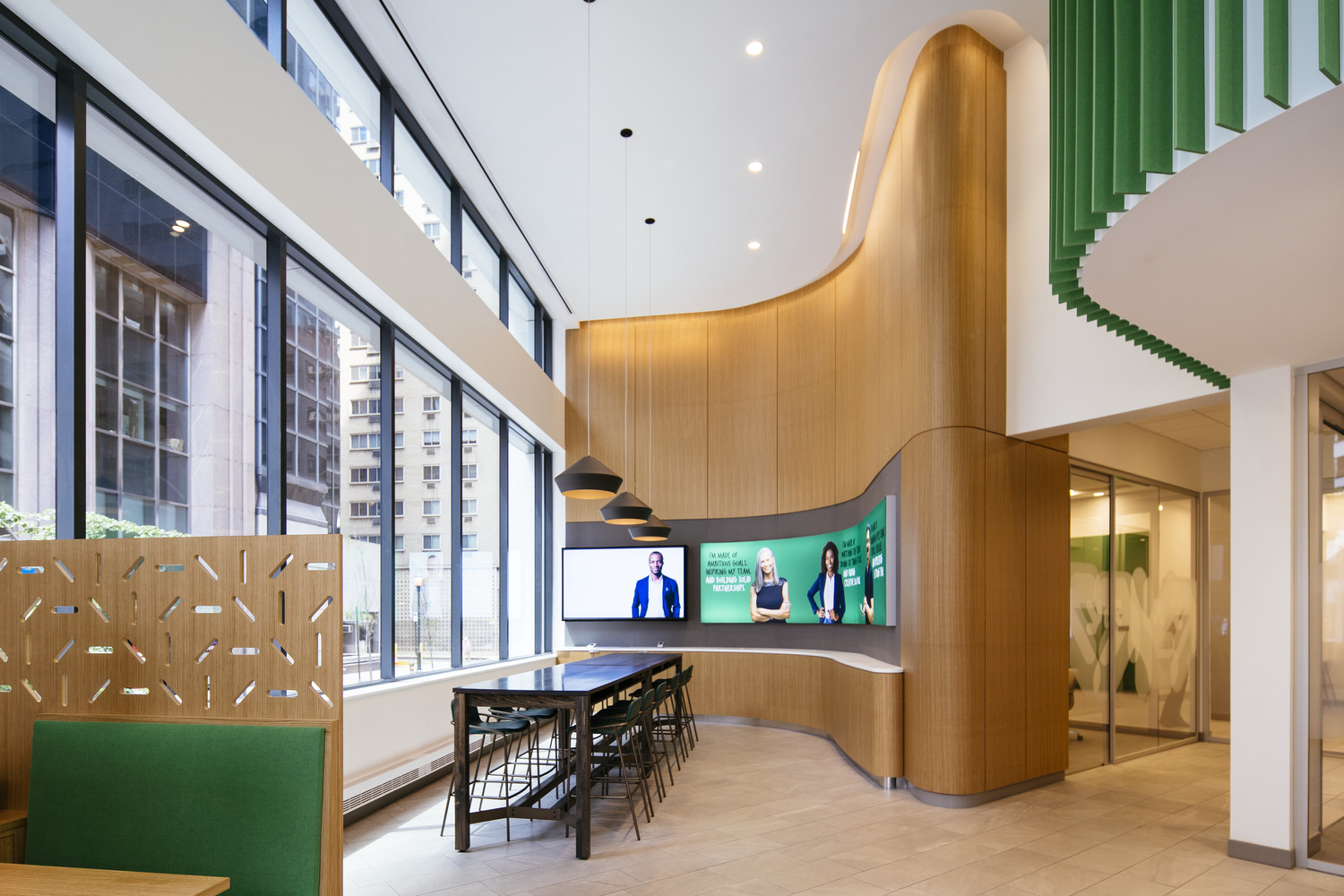 Citizens Opens Flagship Philadelphia Location
The new financial center offers an integrated banking, business and investing experience alongside a variety of community meeting spaces.
Citizens recently celebrated the opening of its flagship Financial Center at 1835 Market Street in downtown Philadelphia, gathering invited guests for a ribbon cutting to officially unveil the space. Mayor Jim Kenney and Citizens Mid-Atlantic Region President Daniel K. Fitzpatrick were on hand to highlight features of the space as well as the City's partnership with Citizens.
The 6,000 square-foot space provides an integrated experience for customers across business, retail banking, and wealth management offerings. The design weaves textures and materials reflective of the Citizens brand through distinct service areas and clear circulation pathways, creating a welcoming and intuitive customer-focused environment.
Inside the main entrance, the retail banking corridor houses staff offices and a variety of relaxed seating, including custom banquettes and flexible furniture. We worked closely with Citizens to create a refreshed layout that responded to their programmatic goals and site considerations, moving social spaces along the expansive windows facing onto Market Street to provide opportunities for informal meetings. Offices and a shared conference room move to the center of the space, taking advantage of the floor-to-floor windows and 21' high ceilings that allow daylight further into the interior. "We Are All Citizens," a mural created by artist Felix St. Fort and produced in partnership with Citizens and Mural Arts Philadelphia, features prominently as visitors move through the retail banking space. Tucked discreetly off the main entry, the wealth management area offers necessary separation and privacy.
Wrapping throughout the interior, a ribbon wall of white oak panels and acoustic felt slats unifies the interior while marking the transition between banking services. The Citizens daisy logo is cut into the felt slats at several points, underlaid by digital screens programmed to display a dynamic vibrant patterned backdrop. The graceful white oak paneling is reprised in the backdrop of the business banking area, which features a curved screen and long table for group meetings.
Thoughtfully integrated technology allows customers to engage with advisors and bankers in-person or virtually, while spacious meeting areas provide a place for local and non-profit organizations to gather, reinforcing Citizens' commitment to serving as a welcoming resource in the community.