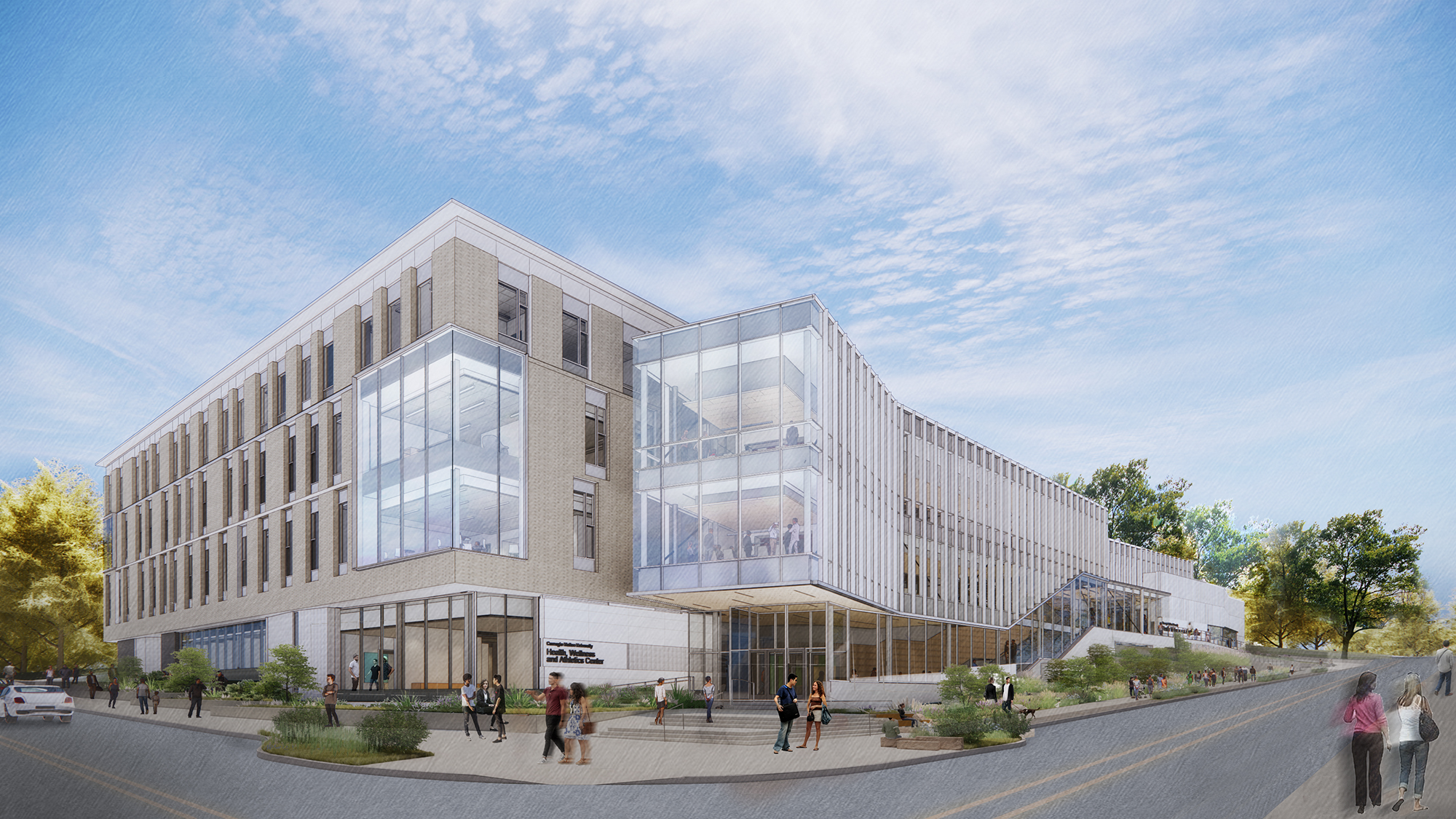 Carnegie Mellon University Announces New Health, Wellness and Athletics Center
Integrating with existing campus context, the Health, Wellness and Athletics Center will unite critical student well-being services under one roof.
Carnegie Mellon University has shared progress on its new Health, Wellness and Athletics Center planned to take shape at the corner of Tech and Margaret Morrison streets on the southern edge of campus. The 160,000 square-foot project, designed by Bohlin Cywinski Jackson, will be a welcoming hub for student life and whole-self well-being that integrates wellness and nature throughout. Thanks to a lead gift from Highmark Health, the Center will co-locate CMU's University Health Services (UHS), Counseling and Psychological Services (CAPS), Wellness Initiatives, Religious and Spiritual Life Initiatives, and Athletics all 'Under One Roof,' ensuring students have access to the support they need to thrive.
Looking out onto lush Schenley Park, the Health, Wellness and Athletics Center will present an inviting "front door" to campus that connects with surrounding natural context and puts wellness on display. The project design restores and integrates Carnegie Mellon University's historic 1923 Skibo Gymnasium, respecting the beloved Henry Hornbostel-designed structure through attention to scale and proportion, as well as a complementary material palette. Targeting LEED Gold-certification, the design establishes strong connections to the outdoors and creates healthy indoor spaces with access to natural light, ventilation, natural materials, and inclusive facilities.
In addition to the new Health, Wellness and Athletics Center, our practice has collaborated with Carnegie Mellon University on other recent additions to campus, including ANSYS Hall, for the University's College of Engineering, and TCS Hall, which houses the School of Computer Science's Institute for Software Research, the Master of Science in Computational Finance program, and the Center for Business Engagement.
Read more recent news on the Health, Wellness and Athletics Center below.