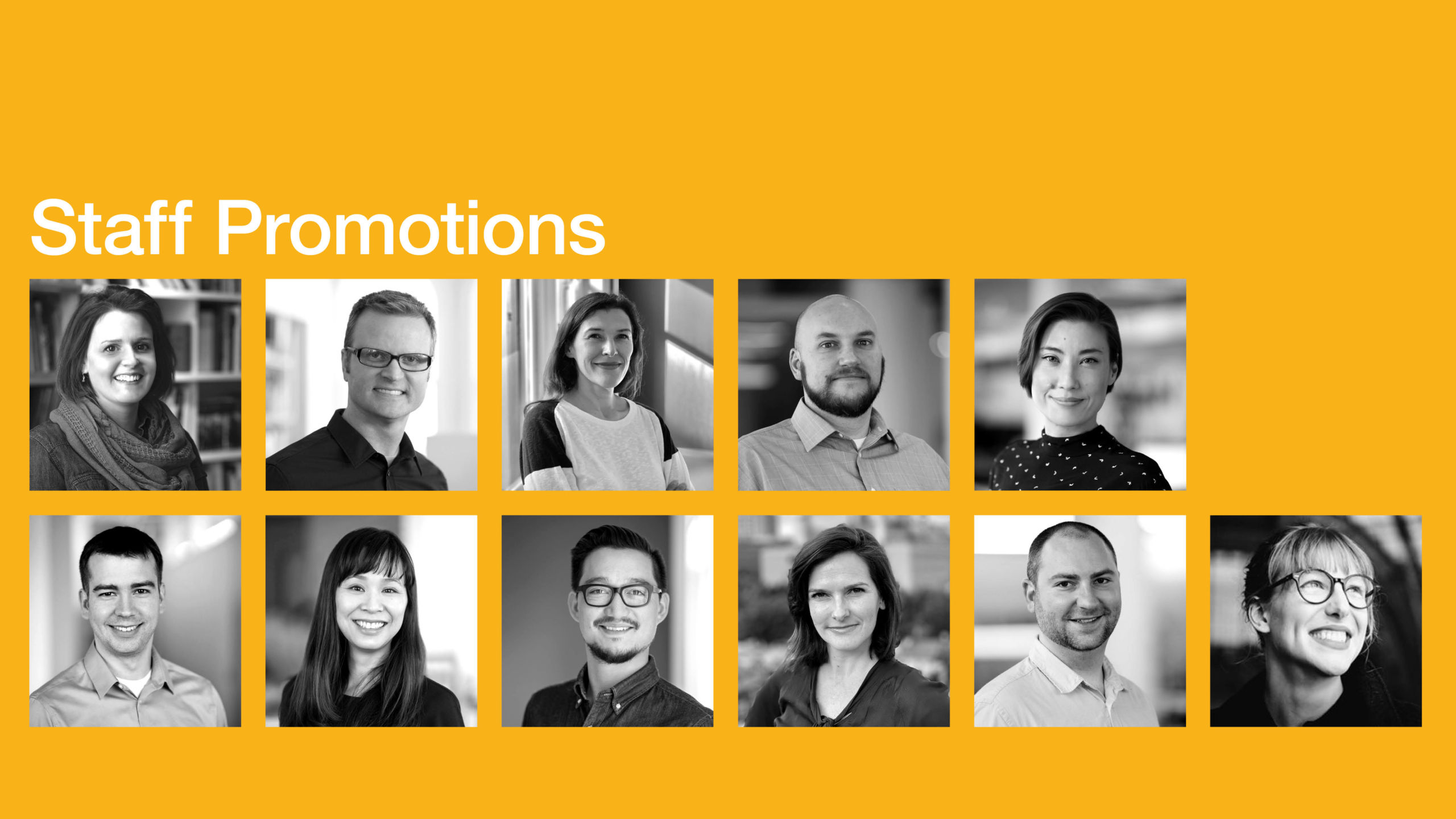 Bohlin Cywinski Jackson Announces Staff Promotions
We are pleased to announce the elevation of seven new Senior Associates, three new Associates, and a Senior Marketing Manager.
These individuals have played integral roles in growing our practice—stewarding projects across civic, commercial, higher education, and residential sectors. As Bohlin Cywinski Jackson's leadership group diversifies and expands, we are excited to continue evolving our practice and explore what is possible.
Julia D. Chaffee, Senior Associate
Over the last 13 years at BCJ, Julia's work has ranged from award-winning residential projects to large master plans—all thoughtfully focused on creating meaningful places that people love. Her ability to view a project as a whole—not just a collection of parts—and her focus on building an inclusive and collaborative design process makes her invaluable to project teams. Recently Julia has been an invaluable member of our Staffing Committee, helping our Wilkes-Barre studio balance workload and support other studios in the practice.
Jason Morris, Senior Associate
As a dynamic and thoughtful designer, Jason Morris' experience with BCJ over the last 12 years has ranged from single-family residences to large laboratory buildings at some of the nation's leading academic institutions. His ability to solve complex organizational and technical design problems has been key to the success of our many projects. Serving on our RTO/COVID taskforce, Jason has helped our firm navigate the uncertainties of the last two years with his characteristic level-headedness and dedication.
Stephanie Grandjacques, Senior Associate
After rejoining the practice over two years ago, Stephanie has proven to be an invaluable member of our San Francisco studio, diving into many of our commercial, retail, and residential projects, helping to push our design ethos forward. A dedicated, and highly collaborative team member, Stephanie brings 20+ years of experience to help lead an effective, creative design process. In addition to her leadership in project work, we greatly value her role as a mentor both within the office and in the community.
George J. Murphy, Senior Associate
George's thirteen years at BCJ have been characterized by his commitment to close collaboration with colleagues, consultants and clients. His work ranges from single family residences to prominent buildings on University campuses, creating spaces that celebrate human interaction at all scales. His ability to develop creative design concepts, as well as his experience managing complex teams, make him a strong asset to our firm.
Alisa K. Hintz, Senior Associate
As an intuitive designer, Alisa's experience ranges from public art installations to complex high-rise enclosures—spaces that inspire a sense of humanity and hapticity. Her leadership in project management over the last six years with BCJ has been invaluable and her interest in craft, materials, and technology have helped expand our design thinking. Alisa is also a member of our EDI group, helping the firm expand our understanding and build capacity around equity and inclusion.
Michael A. Henderson, Senior Associate
Michael creates spaces that are warm and inviting while inspiring curiosity and excitement about learning. Over the course of his decade-long tenure at BCJ, his experience has ranged from intimately scaled interpretative centers to large university science buildings and residential towers. His thoroughness and attention to detail are invaluable and his ability to carefully listen and discern clients' needs and translate them to elegant, yet highly functional spaces have been key to the success on many projects.
Huyen Hoang, Senior Associate
Huyen is a tenacious and skilled architect who values collaboration, experimentation, and playfulness as initial steps in early design. Huyen's work ranges from complex university buildings to private residences and retail spaces. Since joining the firm four years ago, she has become a core member of the Seattle studio, reinforcing our belief that good design—whether it be a large complex project or a finely crafted home—is rooted in striking a balance between expression of place, expression of craft, and meeting the needs of the client.
Toshiro Ihara, Associate
Since joining the San Francisco studio six years ago, Toshiro has contributed to many important residential and commercial projects, including a series of projects for Apple, and more recently, as a key design voice for Cuyana / Toyota Agile Space project and Caymus Suisun Winery. We greatly value Toshi's ability to develop powerful conceptual design ideas as well as his ability to refine beautiful design details that reinforce those big conceptual ideas. Toshi's understated, steady voice is one that is reassuring to our clients who seek his feedback during design presentations.
Bryan Sistino, Associate
Bryan brings a collaborative and client-focused approach to design, with experience over the last eight years on a range of building types including academic, commercial, and residential projects, as well as large-scale planning initiatives. With a focus on leveraging technology to enhance the design process for both the design team and client, Bryan investigates emerging software and BIM capabilities through his leadership role with BCJ's digital technology committee. Bryan is currently serving as Project Architect for University of Florida, Malachowsky Hall and collaborating with the North Philly Peace Park to design and build its community pavilion.
Margaret Sledge, Associate
Margaret's interest in the connections between the human brain and body, and the built and natural environment, makes her a great asset to our firm and the profession. Her work ranges from cultural institutions to private residences, creating spaces that inspire people to connect with each other, their communities, and the natural environment. She is currently leading work on the Greenhill School Valdes STEM + Innovation Center in Dallas, Texas.
Sam Moeller, Senior Marketing Manager
Stepping into a leadership role within our MarComm team over the last year, Sam has been instrumental in helping create and advance the firm's first MarComm Strategic Plan, which has already improved our success in recent pursuits and our strategic marketing and business development focus.