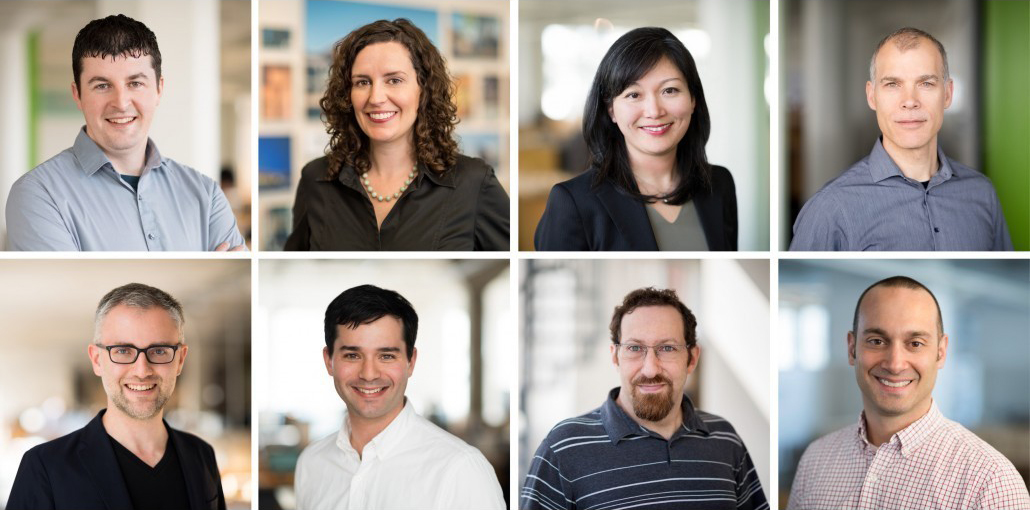 Bohlin Cywinski Jackson Announces One New Senior Associate, Seven New Associates
BCJ is pleased to announce the elevation of eight exemplary design team members to the level of Senior Associate and Associate.
These individuals are recognized as talented and dedicated architects whose collective leadership enables us to continue our history of design excellence.
Kyle Phillips, AIA | Senior Associate
Kyle is interested in architecture that is rooted in the unique character of its inhabitants, the richness of materials, the emotive qualities of light and space, and the craft of building. He finds pleasure in resolving the puzzle of the program, conceptualizing design and following through with precise detailing to the built form. Kyle's design leadership is apparent in numerous award-winning residential projects including the Henry Island Residence, Kicking Horse cabin, a recently completed residence in Jackson Hole, and the Butterfly residence under construction in Calgary.
Amy Cha, RA | Associate
Amy finds the process of following a project from master planning through construction particularly rewarding and enjoys working with construction and consultant teams to bring projects to life. Her project experience has focused on complex institutional and corporate facilities, ranging from master planning of multi-building campuses to core and shell designs and tenant interiors including the new Under Armour Campus in Baltimore. Her broad range of skills is evident in her management of large project tasks and her fascination with the craft of detailing.
Senan Choe, AIA | Associate
Senan's interest in design challenges of all scales has led to her experience in projects ranging from product design to multi-use masterplans. She believes in strong team collaboration to achieve critically designed structures. With an interest in mentoring emerging architects, Senan has taken a strong role in our internship program. Since joining our firm in 2014, she has contributed to the design of the Ae'o Tower mixed use project in Honolulu, Hawaii, and was the Project Manager for the first Reformation Retail Store on Valencia Street in San Francisco, which opened in February 2017.
Ed Kranick, RA | Associate
With a focus on large, complex projects, Ed excels at leveraging design solutions using a collaborative approach bringing all expertise to the table. By engaging client, contractor, consultant and trade partners, Ed strives for a holistic design result: a rich place-making experience through innovative use of light, materiality, and tectonics. His significant project contributions include the Amazon "Spheres" and the Seattle Central Library. Since joining Bohlin Cywinski Jackson in 2015, Ed led the design and documentation for the exterior of the Expedia Seattle Campus.
Ryan L. Keerns, RA, NCARB | Associate
Ryan's approach to design focuses on connecting each project to its culture, with one eye toward global architecture and one toward the specificity of its place, client, and program. He served as Project Manager for the recently completed Manetti Shrem Museum of Art at UC Davis, a project that captures the Central Valley's spirit of optimism, imagination, and invention. Ryan is also an Adjunct Professor at the California College of the Arts in San Francisco, where he teaches an Integrated Building Design studio that promotes an opportunistic exploration of techniques, ideas and research born of an endless fascination with the world around.
Michael J. Kross, RA | Associate
Michael's work displays a careful attention to detail and an astute balance between technical and aesthetic considerations. As Project Architect for Square, Inc. and KKR, a global investment firm in San Francisco, Michael played a prominent role in the design phases, and followed these projects through permitting and construction. He enjoys working closely with specialty consultants and contractors to deliver unique, functional solutions that create memorable spaces. His work can also be seen in the details of several Apple retail stores, where he focused on the design and coordination of their structural glass staircases, skylights and façades.
Jason Brody, AIA, NCARB | Associate
Jason is dedicated to the craft of architecture and his project experience has encompassed a wide range of scales. He has demonstrated the ability to work collaboratively and proactively through all phases to synthesize the special programmatic and experiential aspirations of each project. Most recently, Jason was the Project Architect for the Creative Campus for a Global Entertainment Company in Southern California, and is currently the Project Manager for the new Under Armour Campus in Baltimore.
Anthony Pregiato, AIA, LEED AP BD+C | Associate
Anthony believes buildings are the result of many minds and many hands. Behind each architectural experience there is a team of designers and makers, and the collaboration with the construction team and trades is key to the success of any detail or project. His leadership and enjoyment of the process is evident in his involvement from conceptual design through final construction on projects ranging in scale from condo renovations to university buildings. His most recent efforts can be seen at the award-winning Colombiere Jesuit Community Residence and in the New College House at the University of Pennsylvania.