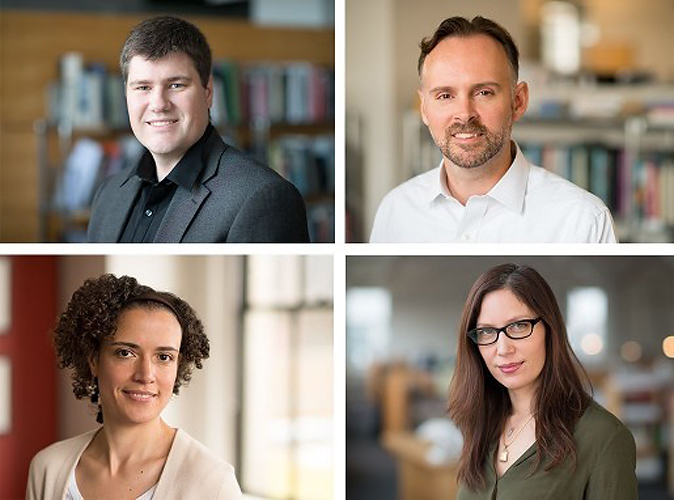 Bohlin Cywinski Jackson Announces Four New Senior Associates
Bohlin Cywinski Jackson is pleased to announce four new Senior Associates: Nick Snyder, Brigham Keehner, L.B. Young, and Jennifer Varner.
We honor these individuals for their exceptional contributions to expanding the depth and strength of our practice.Nick Snyder – Wilkes BarreNick Snyder – Wilkes Barre
Nick Snyder – Wilkes Barre
Nick joined Bohlin Cywinski Jackson in 2001 and has worked on a variety of projects ranging in size—from small residential projects to large university buildings. Some of his recent projects include Edge House, the 1140 6th Avenue NYC branch for City National Bank, and the Pegula Ice Arena at Penn State's main campus. Nick is currently managing two residential projects, assisting with fundraising efforts for Wagner College, and managing several community projects.
Brigham Keehner – Philadelphia
Brigham joined Bohlin Cywinski Jackson in 2007 and has been involved in the Newport Beach Civic Center & Park, Agnes Irwin School Athletic Center and Dining Facility, Tredyffrin Public Library, 1619 Walnut Street, Georgia Institute of Technology Clough Learning Commons, and an Urban Condo in Pennsylvania. Brigham is leading efforts to develop a stronger firm presence in the Big Apple and his recent projects include the completion of the front entrance at The University Club of NY and the ongoing renovations of The Astor Trust Building and The Heckscher Buildings.
L.B. Young – Philadelphia
L.B. returned to Bohlin Cywinski Jackson in 2005 and since returning she has worked on the Episcopal Academy Field House, a bookstore at Colby College, the Clough Learning Commons at Georgia Tech, and the East Carolina University School of Dental Medicine. She recently completed a planning study for a Brain Science Building at Johns Hopkins University. She is currently working on an apartment renovation in New York City.
Jennifer Varner Sadinsky – Seattle
Jennifer started working at Bohlin Cywinski Jackson in 2006. For the past eight years, Jennifer has made a significant contribution to the Seattle office, as well as to firm wide marketing efforts. She has concentrated on projects that broaden the firm's visibility, including managing the design and launch process for our new website. She is also involved with the public relations and publications for Bohlin Cywinski Jackson in the design media.