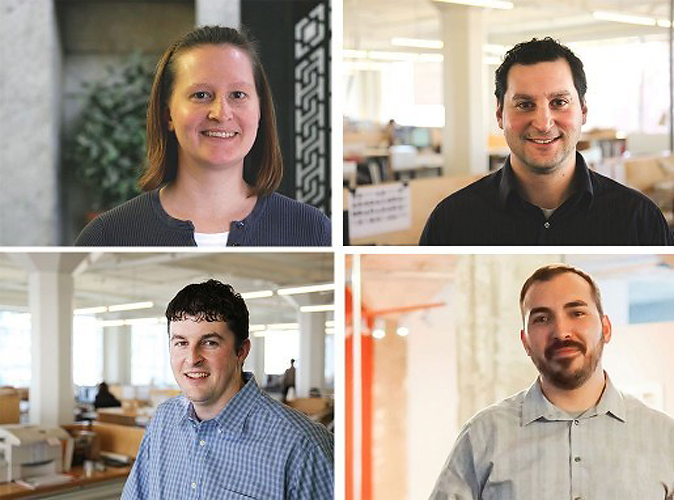 Bohlin Cywinski Jackson Announces Four New Associates
Bohlin Cywinski Jackson is pleased to announce four new Associates: Michele Mercer, Ethan Kushner, Kyle Phillips, and Aaron Gomez.
We celebrate these individuals for being instrumental to our success and playing a leadership role in our projects.
Michele Mercer – Pittsburgh
Michele joined Bohlin Cywinski Jackson in 2004 and has worked on a variety of projects with a focus on sustainable university laboratories, including the Dartmouth College Class of 1978 Life Sciences Center, Clarion University Science & Technology Center, and the Penn State-Harrisburg Campus Educational Activities Building renovation and addition. She is currently Project Manager for the Penn State-Berks Campus Luerssen Building renovation and is involved with the construction of the Environmental Center at Frick Park, which includes coordinating the vetting of materials for the Living Building Challenge.
Ethan Kushner – Seattle
Ethan has 15 years of experience as an architect working on a wide range of projects. Ethan joined Bohlin Cywinski Jackson in February 2013 to help complete the Soma Towers residential high-rise project in Bellevue, Washington. He is currently the project architect for our tallest project to date.
Kyle Phillips – Seattle
Kyle joined the Bohlin Cywinski Jackson Seattle office in 2005 and has managed a variety of residential projects spanning the western United States and Canada. Past projects include a retreat in the San Juan Islands and the Kicking Horse cabin in Golden, British Columbia. He is currently working on the Butterfly Residence in Calgary, the Lake Contau cabin and bunkhouse in Northern Ontario, and a residence in Jackson, Wyoming. In addition to residential work, Kyle assisted in schematic design for West Seattle Fire Station #32 and construction administration for Q Nightclub.
Aaron Gomez – San Francisco
Since joining Bohlin Cywinski Jackson's San Francisco office in 2006, Aaron has contributed to a diverse range of projects, including Mills College's Lorry I. Lokey Graduate School of Business, a residence in Sacramento, and a number of Apple projects. Aaron is currently Project Manager for the Seacliff Residence, Calistoga Residence, and Mountain Lake Park Playground.